Durant posterizes Ibaka
Kevin Durant dribbles behind his back, flies to the rim and throws down a thunderous one-handed dunk over Serge Ibaka.
Lowry feeds Ibaka for dunk
Kyle Lowry bounces a pass to a driving Serge Ibaka, who finishes with a two-handed dunk.
Valanciunas screams in pain after contact from Draymond
Draymond Green gets a part of Jonas Valanciunas' hand as he goes for the steal and Valanciunas seems to jam his fingers and screams in pain.
Lowry uses shot fake for and-1
Kyle Lowry drives to the basket, uses a shot fake to draw contact and still manages to bank in his shot.

Top Headlines
Kyrie's 38 power Celtics to OT win
Kyrie Irving hits some big shots down the stretch en route to a 38-point night as the Celtics edge the Wizards in overtime.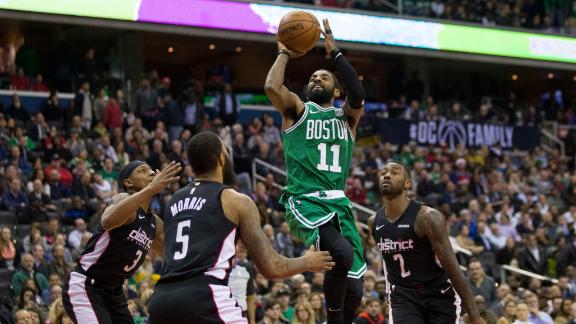 Marcus Morris drills fadeaway to beat the buzzer
Celtics forward Marcus Morris buries a long fadeway deuce to beat the 3rd-quarter buzzer.
Kyrie rocks sick bounce pass around Oubre for Tatum dunk
Kyrie Irving hooks a bounce pass around Kelly Oubre Jr. to Jayson Tatum for the dunk, putting the Celtics up three with 13 seconds remaining.
Irving and Wall duel it out in OT
Kyrie Irving sinks not one, but two clutch threes in overtime over John Wall as the Celtics and Wizards go back and forth down the stretch.
Beal follows missed FT, knots score in uncanny fashion
Bradley Beal makes his first free throw, misses the second and lays it in to tie the game at 113 with 11 seconds remaining.
Kyrie gets crafty with silky up-and-under
Kyrie Irving takes one baseline dribble and finesses a reverse, up-and-under lefty layup to pull the Celtics within four points.
Tatum shakes and bakes Satoranksy with nasty crossover slam
Jayson Tatum loses Tomas Satoransky on a smooth crossover and slams home the two-handed dunk.
Smart darts pass inside for Morris slam
Marcus Smart slips a pass to a diving Marcus Morris, who rises for the right-handed flush in the first quarter.
2018 pba rookie draft
PBA Draft Combine gets underway
CJ Perez, Bobby Ray Parks Jr. and Robert Bolick were among the prospects working out on the first day of the PBA Draft Combine.
Bolick finally gets greeting from Marano
Remember Robert Bolick's video asking for a greeting from his girlfriend Aby Marano? Well, he finally got one.
Governors' Cup Finals
Series tied 2-2
Alaska Aces pull even in PBA Governors' Cup Finals
The Alaska Aces down the Magnolia Hotshots 90-76 in Game 4 to even the series at two games apiece.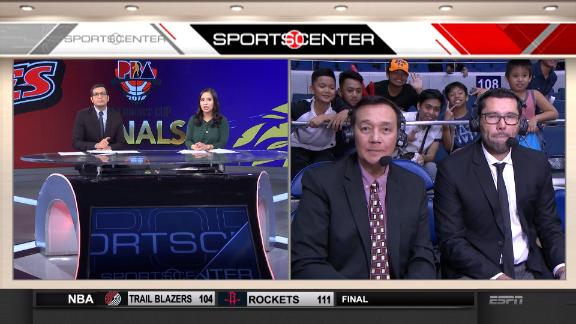 Paul Lee, Mike Harris win conference awards
Magnolia Hotshots' Paul Lee won his first Best Player of the Conference award, while the Alaska Aces' Mike Harris received the Best Import award.
Are Man City Champions League favourites?
The FC panel assess if Manchester City deserve to be ahead of Barcelona and Juventus as the oddsmakers' favourite to win the Champions League.
How much credit do Man United deserve for UCL qualification?
Despite qualifying for the UCL round of 16, the FC crew focus in on Man United's 'deep-rooted' issues that resurfaced in their defeat at Valencia.
Macca: Real Madrid fringe players not good enough
Steve McManaman says that Real Madrid topping their Champions League group has been marred by their two losses to CSKA Moscow.
Extra Time: Sacking Jose Mourinho, Liveprool injury woes
The FC guys answer your tweets on what it will take for Man United to sack Jose Mourinho, how Liverpool will make do with their injuries and more.
PSL All Filipino Conference Semis
Cargo Movers and Blaze Spiker set to renew rivalry
The Petron Blaze Spikers and F2 Logistics Cargo Movers renew their storied rivalry in the All-Filipino Conference Finals.
F2 Logistics Cargo Movers advance to finals
The F2 Logistics Cargo Movers advanced to the Chooks-To-Go PSL All Filipino Conference Finals following a five-set victory against the Generika Ayala Lifesavers, 21-25, 25-15, 25-20, 19-25, 15-5.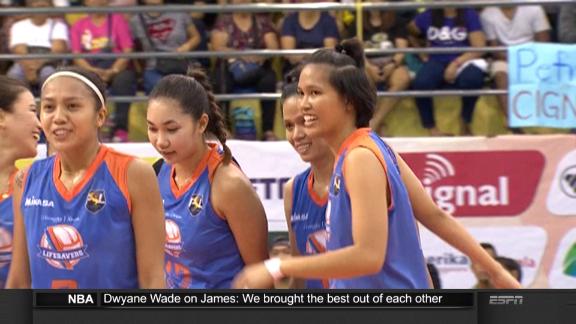 Petron Blaze Spikers return to finals
Defending champions Petron Blaze Spikers return to the Chooks-To-Go All Filipino Conference finals after a dominant straight set victory over the Cignal HD Spikers, 25-21, 25-20, 25-16.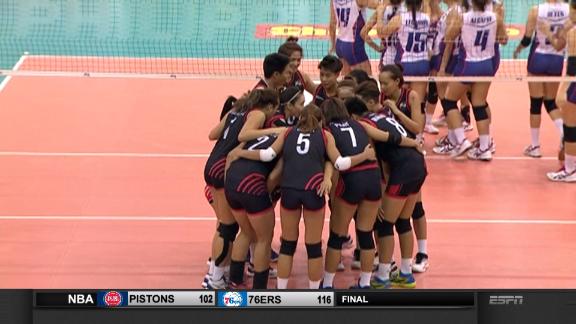 FIBA WORLD CUP QUALIFIERS
KC Cruz/ESPN5

Gilas Pilipinas plunges back into action soon for the fifth window of the 2019 FIBA World Cup Asian Qualifiers.
Photo by Lagardere Sports/AFF Suzuki Cup website

The Philippine Azkals will see action this November in the 2018 AFF Suzuki Cup.
Customise ESPN