Kyrie shakes and bakes to the rim
Kyrie Irving puts on a little shake as he hits the layup in overtime to extend the Celtics' lead.
Kyrie drops 43 in OT win for Celtics
Kyrie Irving drops 43 points and 11 assists leading the Celtics to a 123-116 overtime victory against the Raptors.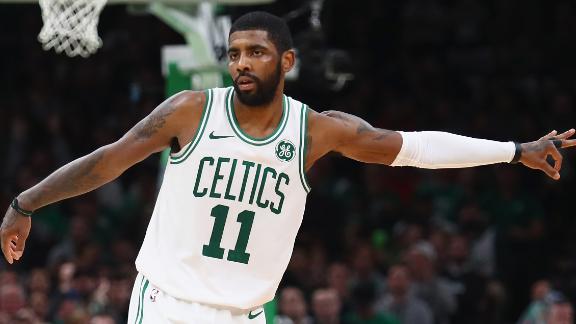 Kyrie: 'It's great to see the growth'
Kyrie Irving talks to Lisa Salters after his 43-point night as the Celtics defeat the Raptors in overtime 123-116.
Kawhi misses game-winning shot
Kawhi Leonard misses the game-winner as the Raptors and Celtics head to overtime.
Wright hits big-time 3 late
Delon Wright hits the deep three to put the Raptors up by four points late in the fourth.
Kyrie connects on back-to-back buckets
Kyrie Irving hits back-to-back buckets to give the Celtics the 92-90 lead in the fourth quarter.
Tatum hits 3 to pull Celtics within 3
Jayson Tatum hits a big 3-pointer as the Celtics pull within three points of the Raptors late in the fourth.
Horford block leads to fast-break layup
A big block from Al Horford leads to a Celtics transition layup late in the third quarter against the Raptors.
Leonard pulls off great 3-point play
Kawhi Leonard pulls off a backhand layup and gets fouled for the Toronto three-point play.

Top Headlines
Governors' Cup Semifinals
Magnolia vs. Ginebra
Travis goes for 50, Magnolia eliminates Ginebra
Romeo Travis went off for 50 points as Magnolia ends Ginebra's Governors' Cup run.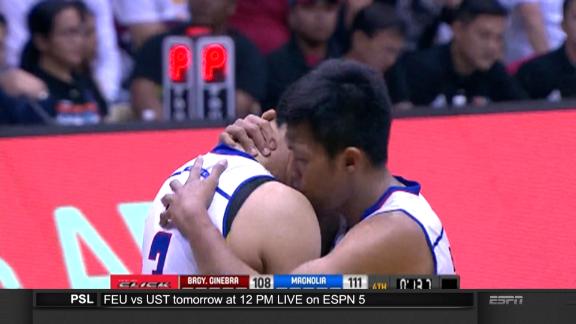 KD when questioned about Green: 'Don't ask me that again'
After the Warriors' loss to the Rockets, Kevin Durant quickly shuts down a reporter who asks about his relationship with Draymond Green.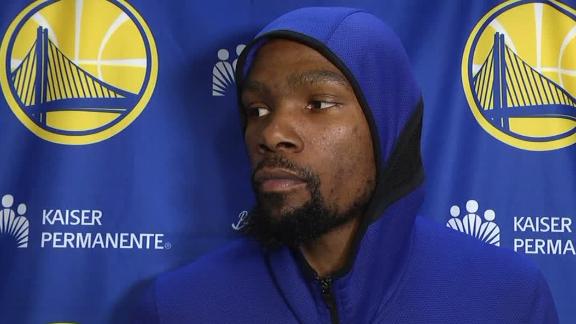 Governors' Cup Semifinals
Aces want to end series with Bolts
The Meralco Bolts are once again facing elimination as the Alaska Aces look to close things out Saturday.
Mike Harris has dinner with friends to cap win
Mike Harris celebrated Alaska's Game 3 win by treating a group of children to dinner.
Harris, Aces put Bolts on the brink
Mike Harris' late-game heroics move the Alaska Aces one step closer to advancing to the finals after beating the Meralco Bolts, 104-102.
Gilas pilipinas
fiba world cup qualifiers
Fajardo, Castro locks to make Gilas roster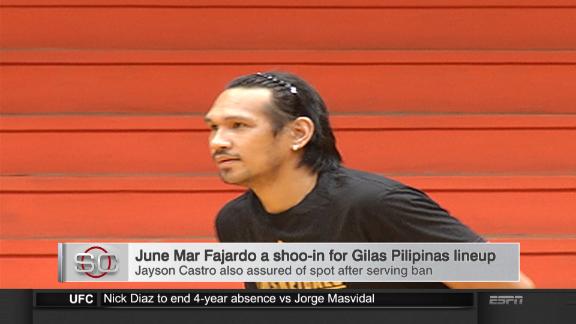 Guiao getting Gilas newcomers settled in
Yen Guiao is looking to Arwind Santos and Troy Rosario to create matchup problems for Kazakhstan and Iran.
Gilas dream team?
This 20-man Gilas Pilipinas pool for the fifth window of the FIBA World Cup Asian Qualifiers may be the best ever assembled.
Azkals have short prep time for Timor-Leste
The Philippine Azkals have just an hour to train in Malaysia before facing Timor-Leste tonight.
Eriksson keeps Azkals focused
Coach Sven-Goran Eriksson aims to keep the Azkals motivated ahead of their match against winless Timor-Leste.
Philippines 1-0 Singapore: Reichelt the difference maker
The Philippines prevailed 1-0 over Singapore in Group B courtesy of a late winner by Patrick Reichelt.
FIBA WORLD CUP QUALIFIERS
KC Cruz/ESPN5

Gilas Pilipinas plunges back into action soon for the fifth window of the 2019 FIBA World Cup Asian Qualifiers.
AFF Suzuki Cup 2018 Official Website

The Philippine Azkals will see action this November in the 2018 AFF Suzuki Cup.
Customise ESPN