MUST LISTEN
Rodgers & Douglas
Adam Schefter talks to NFL Films' Ken Rodgers about the selection of the Raiders for "Hard Knocks" (:54). Plus, Jets GM Joe Douglas (30:48) & a tribute to Pat Bowlen (51:30).
Play | Download | Apple Podcasts | RSS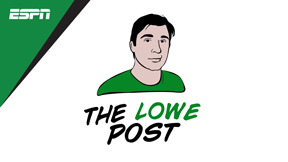 Kevin Arnovitz
Zach talks to ESPN's Kevin Arnovitz about the Anthony Davis trade (1:48), what's next for the Pelicans and Lakers (20:10), Boston's year from hell (32:27), the wide-open 2020 title chase (49:19), free agency, and much more.
Play | Download | Apple Podcasts | RSS
MOST POPULAR
Michael Wilbon and Tony Kornheiser discuss what kind of statement did the US make, the Warriors could sign-and-trade KD, Max Scherzer pitched a gem after breaking his nose, the Rays are looking to be a 2-city team and much more.

Max and Stephen A. discuss if Ja Morant is a can't miss prospect, concerns about Zion and R.J. Barrett. Also, Marvin Bagley III joins the show.

It's NBA Draft day and the guys get ready for tonight with the help of Jay Bilas and Danny Manning. They also talk with Raptors HC Nick Nurse and more.
The crew take a voicemail from a listener moving back home with his parents (0:25), talk about the Golden Knights making the Stanley Cup Finals in their first year as a team (15:30), the people at Preakness and the Royal Wedding who have "crazy hat confidence" (26:00) and Katie's Top 10 NBA moments of 2018 (42:30).

Adam welcomes Kirk Herbstreit & Chris Fallica to discuss their perspective on the top players in this year's NFL Draft, their role in ESPN's draft coverage and more (:31). Plus, the return of #AskAdam (21:09).
FIND YOUR FAVORITE PODCAST
FOLLOW US ON TWITTER

Get the latest updates on Twitter. Follow us.