MUST LISTEN
Rodgers & Douglas
Adam Schefter talks to NFL Films' Ken Rodgers about the selection of the Raiders for "Hard Knocks" (:54). Plus, Jets GM Joe Douglas (30:48) & a tribute to Pat Bowlen (51:30).
Play | Download | Apple Podcasts | RSS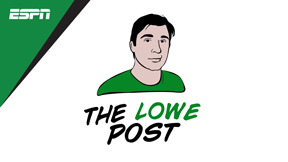 Kevin Arnovitz
Zach talks to ESPN's Kevin Arnovitz about the Anthony Davis trade (1:48), what's next for the Pelicans and Lakers (20:10), Boston's year from hell (32:27), the wide-open 2020 title chase (49:19), free agency, and much more.
Play | Download | Apple Podcasts | RSS
MOST POPULAR
Frank Isola and Michael Wilbon discuss the USWNT's confidence level after the Spain match, if Kevin Durant could be enticed by the Nets signing his friends, if they buy that CP3 is happy in Houston and more.

Max and Stephen A. debate who should win NBA MVP and where should Jimmy Butler want to go. Also, Amari Cooper and Trae Young join the show.

The guys recap the NBA awards from last night before talking about the USWNT's win over Spain. Buster Olney, Julie Foudy and Amin Elhassan joins the guys & more.
The crew take a voicemail from a listener moving back home with his parents (0:25), talk about the Golden Knights making the Stanley Cup Finals in their first year as a team (15:30), the people at Preakness and the Royal Wedding who have "crazy hat confidence" (26:00) and Katie's Top 10 NBA moments of 2018 (42:30).

Adam welcomes Kirk Herbstreit & Chris Fallica to discuss their perspective on the top players in this year's NFL Draft, their role in ESPN's draft coverage and more (:31). Plus, the return of #AskAdam (21:09).
FIND YOUR FAVORITE PODCAST
FOLLOW US ON TWITTER

Get the latest updates on Twitter. Follow us.