San Miguel-Ginebra highlights
Even without guards Terrence Romeo and Alex Cabagnot, the San Miguel Beermen still managed to bounced back from their stunning loss to the Columbian Dyip with a huge 99-91 victory over Brgy. Ginebra.
NLEX-NorthPort highlights
The NorthPort Batang Pier are off to a 2-0 start to the 2019 PBA Philippine Cup after taking down the winless NLEX Road Warriors, 95-90.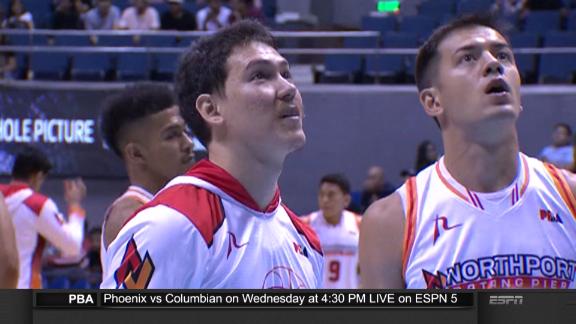 ROS veteran Washington on outside looking in, for now
Rain or Shine coach Caloy Garcia explains why veteran Jay Washington was not included in the team's lineup for the 2019 PBA Philippine Cup.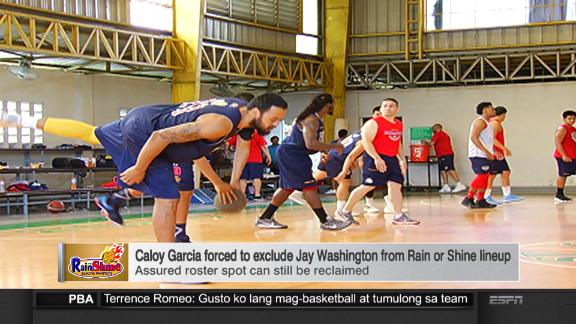 Spider-sense will tell him to dunk
Arwind Santos insisted that he will continue doing his signature "Spider-Man" dunk despite the PBA's new ruling.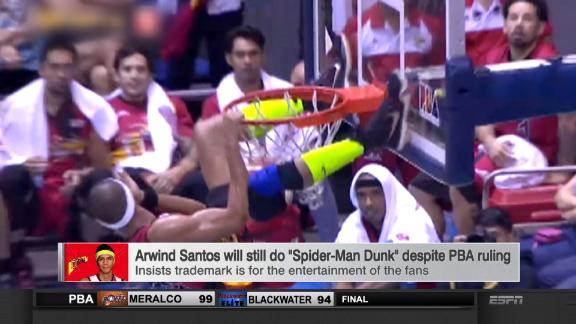 Phoenix shows growth with another OT victory
ESPN5 courtside correspondent Carla Lizardo reviews Phoenix's 93-84 overtime win over TNT.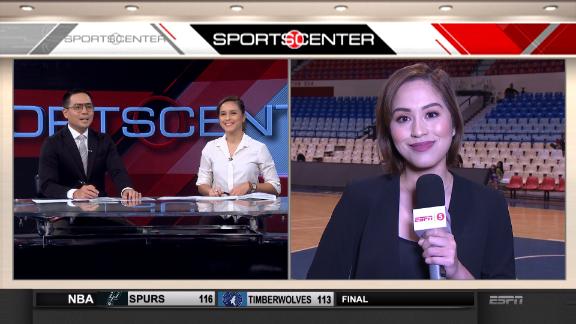 Phoenix emerges from heated contest with win
The Phoenix Fuel Masters claimed another overtime victory in the 2019 PBA Philippine Cup, overcoming the TNT KaTropa, 93-84.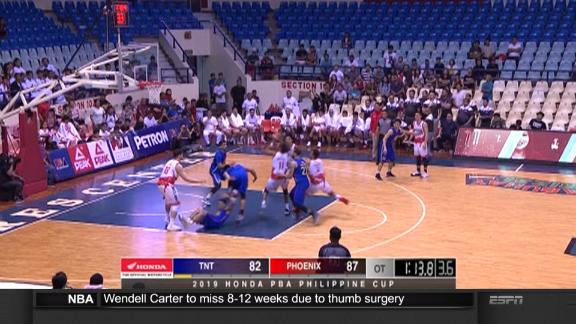 Rookie Jackson powers Meralco to first win
Rookie Trevis Jackson scored a game-high 19 points, including five triples, as the Meralco Bolts barged into the win column of the 2019 PBA Philippine Cup, edging Blackwater Elite, 99-94.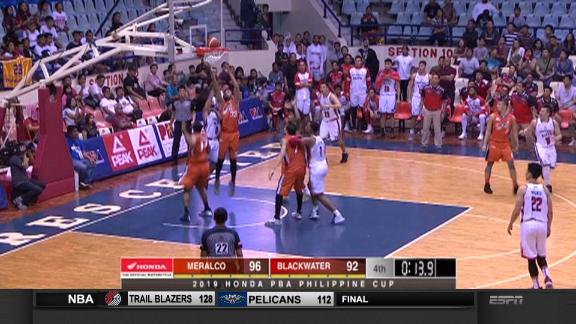 Top draft pick's second-half barrage stuns Beermen
2018 PBA first overall draft pick CJ Perez scored 24 of his 26 points in the second half to lead the Columbian Dyip past defending Philippine Cup champions San Miguel 124-118.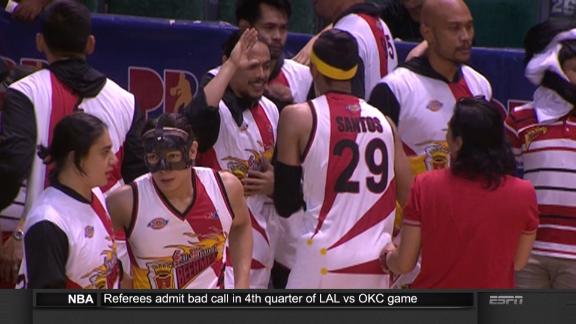 James Yap shows range for Rain or Shine
Yap poured in 20 points and hit four 3-pointers in the Rain or Shine Elasto Painters' 96-87 win over the NLEX Road Warriors.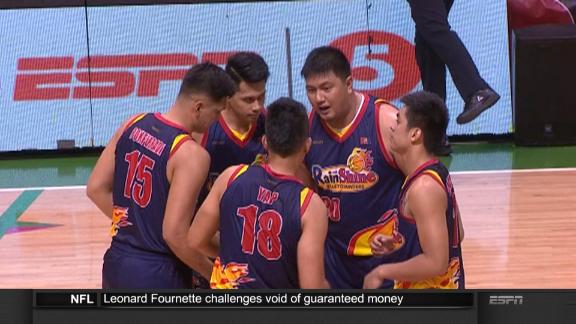 Romeo's SMB debut
Terrence Romeo might sit out against Brgy. Ginebra on Sunday after injuring his ankle in the third quarter of his SMB debut against Columbian Dyip.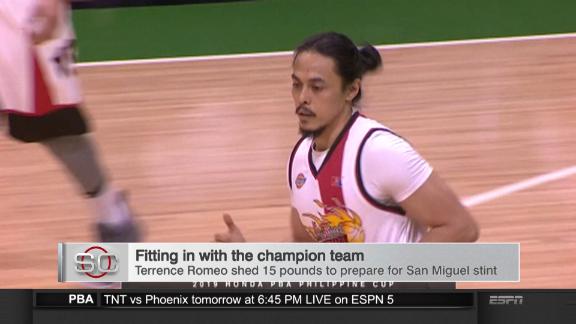 Abueva's clutch basket saves Phoenix
Calvin Abueva hit the game-winner with four seconds left in overtime to give Phoenix Fuel Masters a 93-92 win over Meralco Bolts.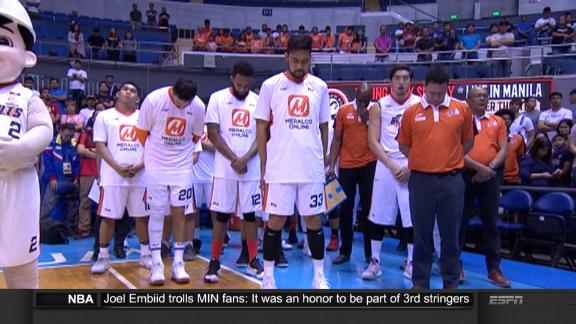 Robert Bolick powers NorthPort in debut
Paolo Taha and rookie sensation Robert Bolick combined for 47 points in NorthPort Batang Pier's 117-91 victory over Blackwater Elite.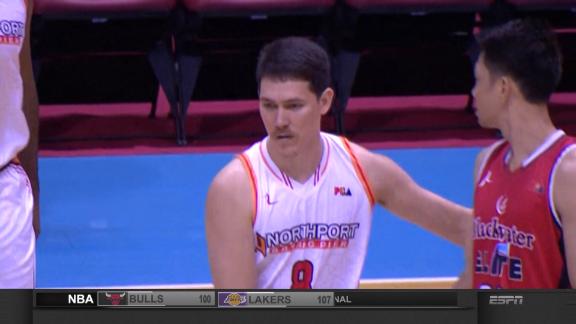 Phoenix comes together in time to hold off Meralco
Phoenix Fuel Masters held on for a 93-92 overtime win against the Meralco Bolts. Charlie Cuna and Andy Jao break down the key plays.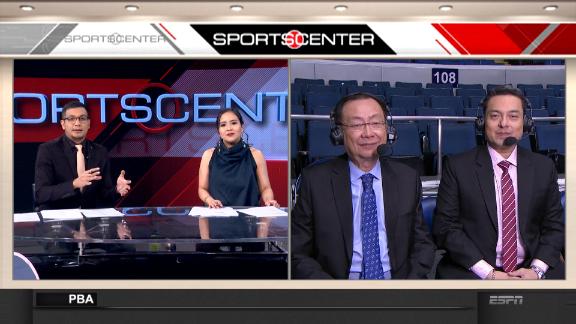 Blackwater, NorthPort star rookies set to debut
Heralded rookies Robert Bollick, Paul Desididerio, and Abu Tratter make their debut when NorthPort takes on Blackwater.
Guiao: Blatche brings experience to Gilas
Coach Yen Guiao tells SportsCenter why he wanted Andray Blatche back for the sixth window of the 2019 World Cup Asian Qualifiers.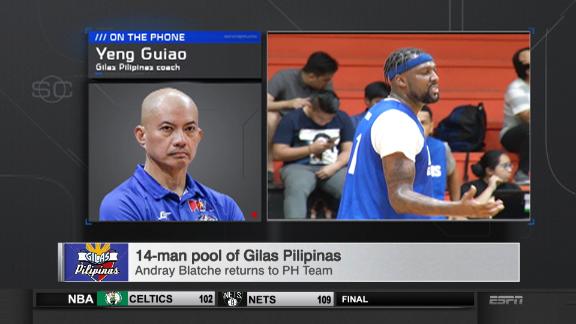 Mallari, Marcelo give Fuel Masters depth
The Phoenix Fuel Masters bolstered their roster with the addition of veterans Alex Mallari and Dave Marcelo.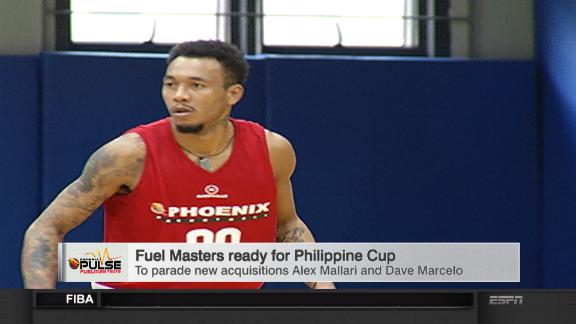 PBA bans "Spider-Man" dunk
The PBA will now assess an unsportsmanlike technical foul for players that hang on the rim and place their feet on the backboard after dunks.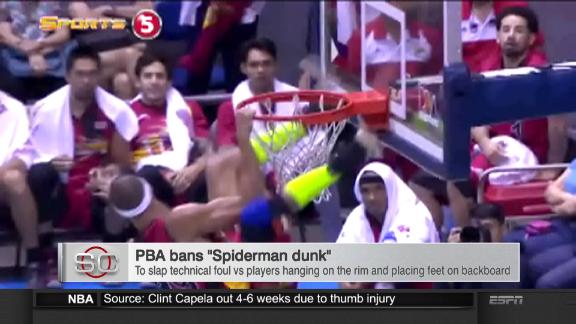 Pasig wins preseason tournament
The Pasig Grindhouse won the Chooks-To-Go Pilipinas 3x3 preseason tournament after defeating the San Juan Knights, 21-17.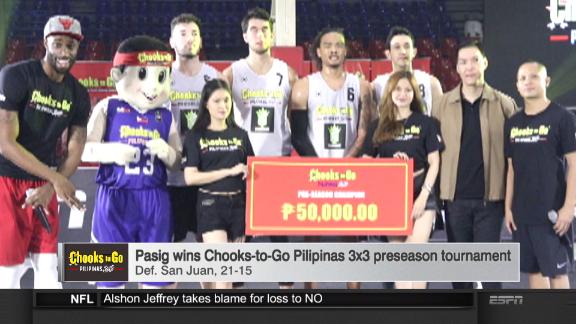 Chooks-to-Go Pilipinas 3x3 launches
Chooks-To-Go Pilipinas 3x3 was launched today with 12 teams to battle in the President's Cup starting on February 16.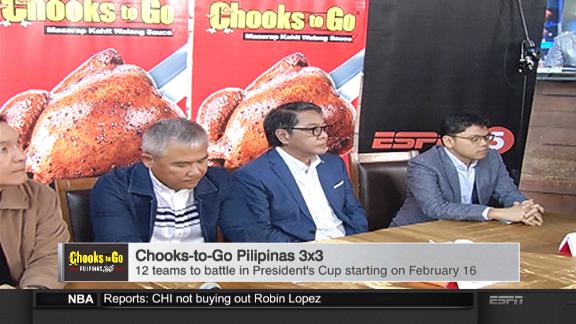 Troy Rosario out with broken nose
Troy Rosario sustained a broken nose in practice and will be out until February.
Scottie Thompson wins Most Improved award
Barangay Ginebra guard Scottie Thompson was named the Most Improved Player of the 43rd PBA season.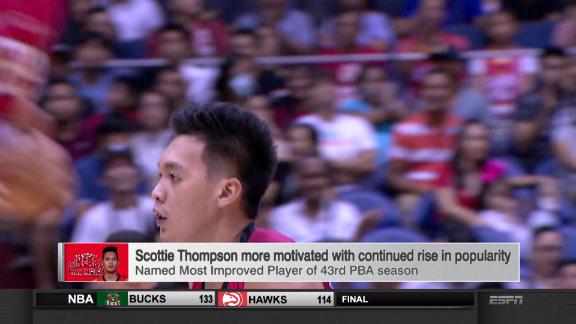 June Mar Fajardo's dominance sparks debate
June Mar Fajardo won his fifth consecutive MVP award and passed PBA legends Alvin Patrimonio and Ramon Fernandez.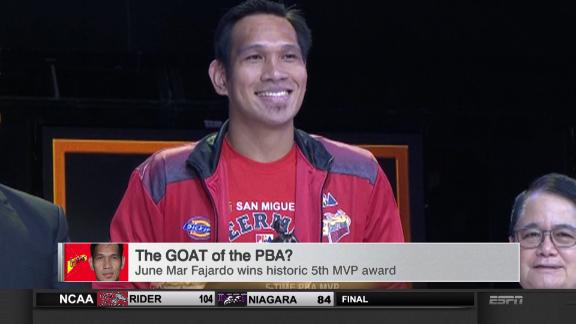 philippines basketball video
Liga Manila
Polygenesis Commercial took home the Liga Manila Superstar Division championship.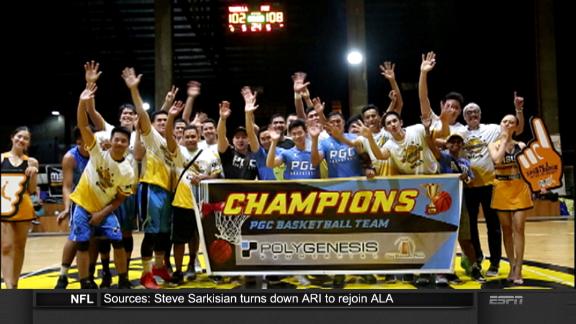 Leo Awards
June Mar Fajardo was the biggest winner of the 43rd PBA season Leo Awards after racking up a historic fifth straight MVP.