Nicol: Smith Rowe looks like a veteran already for Arsenal
Steve Nicol praises Emile Smith Rowe's play for Arsenal, calling him a "throwback."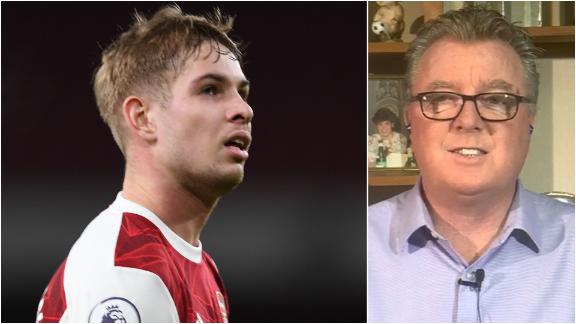 Zlatan back to his best with brace for Milan vs. Cagliari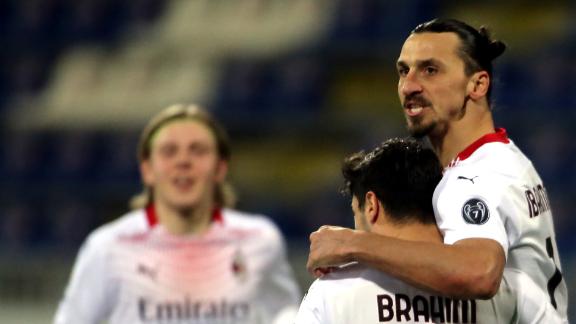 Inter Milan dominate Juventus as title race heats up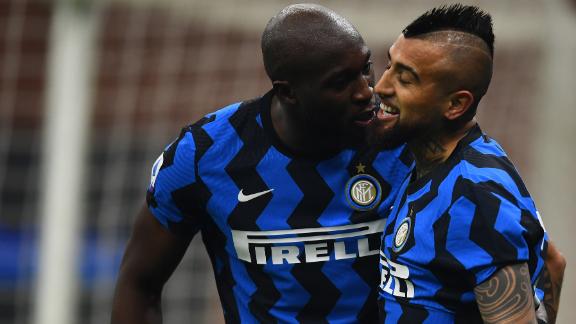 Napoli hit six past sorry Fiorentina
Atalanta draw Genoa to go 11 games unbeaten
Neither Atalanta nor Genoa can score as the sides split the points at Gewiss Stadium.
Last-place Crotone crush Benevento 4-1
Crotone remain bottom of Serie A but end a three-match losing streak with a rout of Benevento.
Sassuolo strike late to deny Parma needed victory
Relegation-threatened Parma are now winless in nine matches after a late penalty earns Sassuolo a 1-1 draw.
Lazio breeze past Roma in Derby della Capitale
Ciro Immobile and Luis Alberto find the back of the net as Lazio beat AS Roma 3-0 in the Derby della Capitale.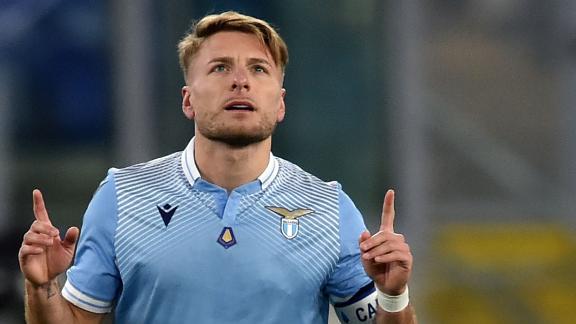 Bologna edge tight encounter vs. Verona
Riccardo Orsolini's first-half penalty gives Bologna a 1-0 win vs. Hellas Verona.
Sampdoria surge late to beat Udinese
Italian journeyman Ernesto Torregrossa scores on his Sampdoria debut to seal a 2-1 win vs. Udinese.
Ozil: 'Dream come true' to play for Fenerbahce
Former Arsenal star Mesut Özil says he's excited to play for Turkish club Fenerbahce as he arrives to complete his move.
How does the arrival of Huntelaar affect Hoppe's development?
Did Real Madrid give up on Luka Jovic too quickly?
Gab Marcotti and Julien Laurens debate whether Real Madrid should have let Luka Jovic leave on loan.
How Mandzukic and Tomori will fit into Milan's title push
Gab Marcotti explains the roles he envisions for Mario Mandzukic and Fikayo Tomori if they join Milan.
Sam Mewis nets 1st career hat trick in USWNT's win vs. Colombia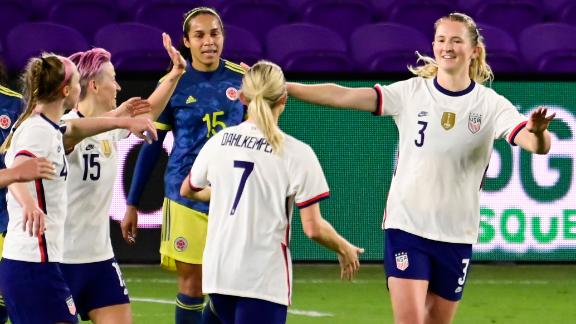 Reus' missed penalty 'big emotionally' for Dortmund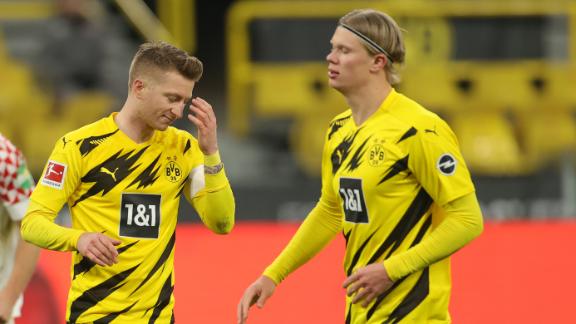 Is Frank Lampard's time up at Chelsea after Leicester defeat?
Craig Burley explains why Frank Lampard may not be able to save his job after losing to Leicester City.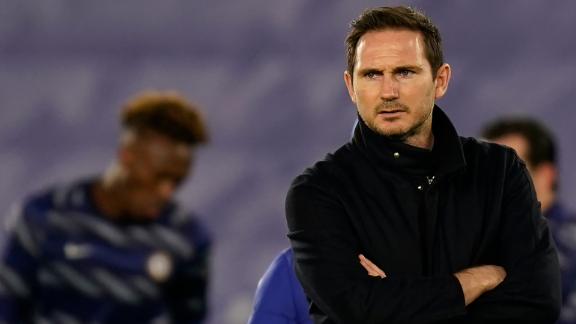 Why Brendan Rodgers would be 'perfect' for Chelsea
Frank Leboeuf explains why Brendan Rodgers' temperament and character would suit Chelsea well.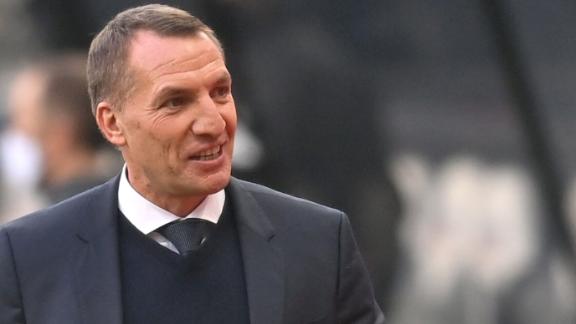 Leboeuf: Chelsea are not a team
Frank Leboeuf wants Chelsea players to show a bit of accountability for their dismal display vs. Leicester City.
ESPN

Is Frank Lampard's time up at Chelsea

Marcelo Boeri/El Grafico/Getty Images

On Dec. 14, 2000, Barcelona agreed a deal that would take Lionel Messi to Spain and change the course of soccer history. Here's how they did it.

ESPN Illustration

ESPN's annual ranking was selected by 65 global experts and is broken down into Top 10s for every position on the pitch as well one for the managers.

AP Photo/Carlo Fumagalli

Diego Maradona is gone, but as Lionel Messi put it, "he'll be with us for eternity." As well as his legacy, the scope of his talent and humanity will endure.

Photo by Paolo Bruno/Getty Images

Euro 2020 was postponed once due to COVID-19, but with the rescheduled tournament approaching in June, questions remain unanswered.

ESPN

Borussia Dortmund striker Erling Haaland is writing history with every game he plays, and he is only 20 years old. But the Norwegian wants a lot more.

ESPN Illustration

Messi or Maradona? Is Pele Brazil's No. 1? Dempsey or Donovan in the U.S.? What about England? We try to settle the debates.

Getty

My message is simple, writes Shaka Hislop: Whether you speak out or stay silent, show up and be a part of the movement.

Rafa Alvarez

Want to get into German soccer but don't know your Bayern from your Borussias? Our quiz has you covered! Catch the Bundesliga on ESPN+.

Puma

We have compiled every one of them here and ranked each club by their collective output from worst to best.

David Inderlied/picture-alliance/dpa/AP Images

The son of 'Captain America' and a USWNT international, the teenage midfielder is a rising star for Bundesliga club Borussia Dortmund.

ESPN Illustration

Man United's invisible grey, Liverpool's 'Crystanbul' attire, Barcelona's Tequila Sunrise; there have been some shockers. But only one had tassels...

ESPN Illustration

The American's form in his first Chelsea season has been so good that his statistics compare him favorably to top Premier League stars.

Getty

With the help of ESPN's soccer writers and editors from around the globe, we have gone through the years to rank the 101 best kits.

Timothy A. Clary/AFP via Getty Images

On its 10th anniversary, Landon Donovan and others relived the goal that beat Algeria and took the U.S. to the 2010 World Cup knockout rounds.

ESPN Illustration

For more than 15 years, Lionel Messi has been scoring, assisting and winning countless trophies. But how has his game changed over time?

ESPN Illustration

Cristiano Ronaldo has been a dominant force in England, Spain and Italy during his illustrious career. But how has his playing style altered?

ESPN Illustration

I'm a brother, son, friend, former pro footballer, entrepreneur and annoyingly competitive lad. I'm a lot of things, and one of them is gay.

ESPN Illustration

Eight writers took on management duties to lead the world's top leagues in head-to-head showdowns. Who will emerge victorious?

Mike Egerton/PA Images via Getty Images

From Jordan Henderson's barber to lifelong season-ticket holders, supporters are ready to party. But has coronavirus affected their joy?

ESPN Illustration

Look away now, Fernando Torres, Mario Balotelli and Bebe; Bill Barnwell is back to reveal the worst moves in Premier League history.

ESPN

Welcome to the next generation! Players from 15 countries and seven leagues are evaluated by Tor-Kristian Karlsen, a former scout.

Matthew Ashton/EMPICS via Getty Images

In 25 seasons since the league began, MLS has come a long way. We reflect upon the its early days with those who were there.

ESPN.com Illustration

Bill Barnwell's rank of the best moves since the league's launch features legends like Cristiano Ronaldo, Frank Lampard and Thierry Henry.

Amanda Mustard for ESPN

Imagine not one unseen Picasso, but an entire exhibition. Meet Sattawat Sethakorn and his potentially million-dollar collection of memorabilia.

ESPN

There are unhappy and frustrated fans everywhere, but these 10 teams have had it particularly rough.

Samuel Wilson for ESPN

Take a trip across the country for a look at the raucous fans who make some of the best matchday atmospheres in American pro sports.

Melissa Lyttle for ESPN

Once a teen phenom, Freddy Adu was supposed to save U.S. soccer. His career appeared to fizzle out, but he is not done yet.

Getty

The world's best striker has his sights set on an NFL career. Why can't he make it happen?

Getty

Keep track of all the important upcoming fixtures in the Premier League, Champions League, La Liga, Major League Soccer and more.

Getty

Results and scores from the Premier League, Champions League, La Liga, Major League Soccer and more.

Paul Ellis/PA Images via Getty Images

Updated standings from the Premier League, Champions League, La Liga, Major League Soccer and more.
Customise ESPN