The winter meetings are wrapping up, but speculation on what further moves will be made is heating up across baseball. Here is what you need to know:
More from Vegas: Bryce Harper Watch | Winter meetings guide | Winter meetings moves for every team (ESPN+)
Hot stove coverage: Top 50 free agents (ESPN+) | Free-agent tracker | Complete coverage
Thursday's buzz:
The Dodgers stressed leading up to and throughout the Winter Meetings that they didn't feel pressured to trade from their surplus in Vegas, and it held true. They would love to free up payroll by finding a taker for Yasiel Puig and Matt Kemp, but it doesn't sound like there's much interest there unless they take on some salary in return. For Kemp, it's expected. For Puig, not ideal. Still expect them to trade at least one outfielder and one starting pitcher at some point. Bryce Harper badly wants to be a Dodger, but he'll have to sacrifice years — and thus, total value — to play in Los Angeles.
---
Besides catcher, the Angels are basically done on the position-player side. And they might not do anything groundbreaking in the bullpen, either. They still need at least two starting pitchers, with lefties Dallas Keuchel and Yusei Kikuchi remaining at the top of the free-agent market — and a pretty big drop-off from there.
---
Thursday at the winter meetings is usually more about flights out of town than trades, but we've now had two this morning in Vegas as reliever Alex Claudio heads to the Brewers from the Rangers. Claudio struggled for most of 2018, but finished the season strong with a 1.80 ERA over his last 11 appearances.
---
As they dismantle the stage in the media workroom, the biggest trade of these winter meetings has become official with Carlos Santana headed back to the Indians, Edwin Encarnacion going to the Mariners and Yandy Diaz to the Rays headlining the three-team deal.
---
I'm scratching my head over the Rays' portion of this three-team deal. Yandy Diaz makes far more contact than Jake Bauers, and I suppose he's a Rays launch-angle project for 2019? I'd have rather kept Bauers, who looks a lot closer to developing into a 25-homer player.
---
The @Orioles pick Richie martin as the 1st pick in rule five draft

— Eduardo Perez (@PerezEd) December 13, 2018
Wednesday's buzz:
Yankees GM Brian Cashman takes the "Evil Empire" monicker to another level: "We're a fully operational Death Star."
---
The Reds have been searching for a veteran starting pitcher and got one in Tanner Roark from the Nationals in exchange for reliever Tanner Rainey, the never-before-seen Tanner-for-Tanner trade. Roark has pitched 180 innings each of the past three seasons and gave the Nationals some reliable innings, but now they have two big holes at the back of the rotation. They do, however, save an estimated $8.5 million in salary. Reds GM Dick Williams, meanwhile, says the Reds are still hoping to do more. Sonny Gray remains a possibility and Buster Olney reports the Reds have interest in Marcus Stroman.
---
Multiple sources are reporting that the Rangers have agreed to terms with veteran right-hander Lance Lynn to help shore up their rotation. Lynn failed to get a multiyear contract last winter as a free agent, and he converted his 10-10 season with a 4.77 ERA pitching for the Twins and Yankees into a three-year deal for $30 million heading into his age-32 season.
---
The Angels have agreed to terms with first baseman Justin Bour, which creates this obvious fallout: Albert Pujols is now a very expensive platoon first baseman, since Shohei Ohtani will be the DH. Trouble is, Pujols hasn't even hit lefties the past two seasons, with a .217/.284/.353 line. Pujols has three years left on his contract, but at some point -- soon -- the Angels have to decide whether he's really worth the roster spot.
---
Brad Ausmus' most difficult task as Angels manager will be juggling Albert Pujols and Shohei Ohtani at DH. "There's going to be a balance," Ausmus said. "We don't expect Ohtani to be ready when the season (starts). There will be DH at-bats earlier in the season made available to (Pujols). And hopefully he gets off to a hot start. But for me, the bigger and more delicate balance is how often can (Pujols) go to first. That's really the most important thing based on the health of his knees."
---
The Giants are evolving under new GM Farhan Zaidi, but this doesn't feel like an all-out rebuild. Not yet anyway. Asked what direction Zaidi is trying to take his team, manager Bruce Bochy said, "He's trying to get us more athletic, more versatile, and he's trying to give me more options."
---
This wasn't a particularly deep crop of free-agent starting pitchers, and another name is off the board, as the Tampa Bay Rays have landed former Astros right-hander Charlie Morton. He started 25 games with Houston in 2017 and 30 games in 2018. It was the first time in his career that he made at least 25 starts in back-to-back seasons.
---
In his annual winter meetings address with reporters, agent Scott Boras said a Bryce Harper signing could come at any time -- or still take a while: "We've had a lot of meetings over the last 3 weeks. When you get to that point..something can happen quickly and then something can also happen in a matter of weeks...Bryce is open to a lot of different venues (teams). It's really about what a lot of owners have said to him about their commitment."
---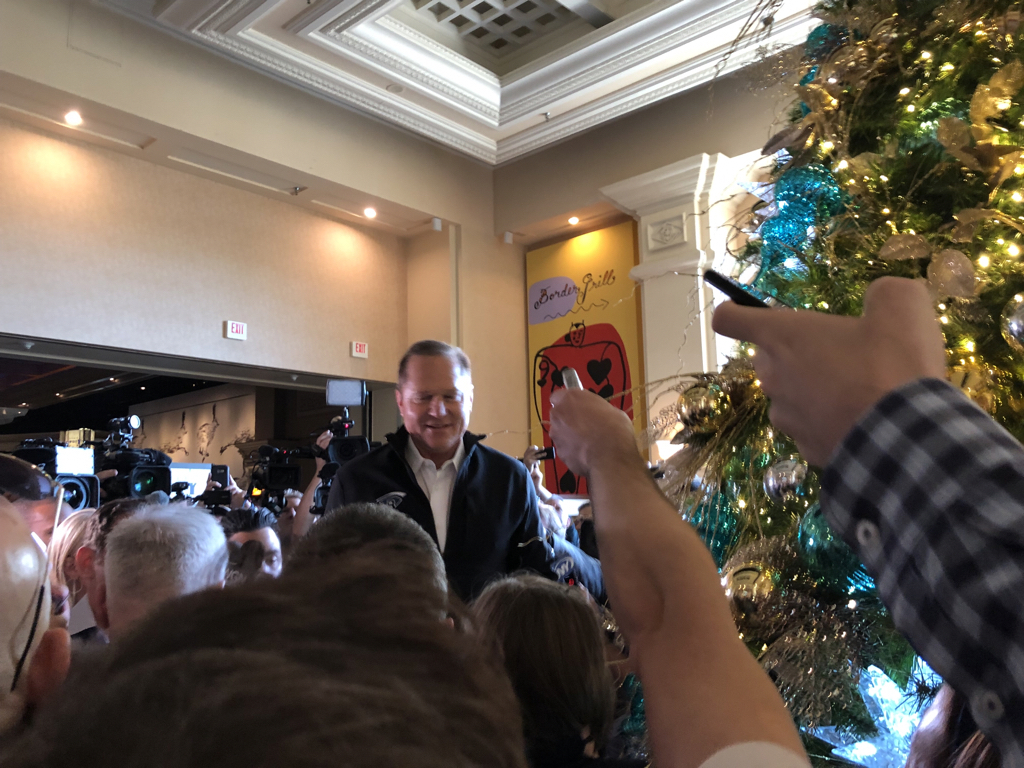 Scott Boras is in the building
---
Terry Francona is confident that Andrew Miller will bounce back from an injury-plagued 2018, even if it won't be in Cleveland: "I hope he goes to the National League."
---
Cardinals manager Mike Shildt says rehabbing pitcher Alex Reyes is healthy and doing well. Shildt was noncommittal about what role Reyes might fill next season, saying "There is not a role he couldn't work within."
---
According to ESPN's Buster Olney, the Yankees have interest in J.A. Happ, but sources are saying that at this moment, there is no agreement with the lefty. We'll see if that changes.

Tuesday's buzz:
The Dodgers, unsurprisingly, have been aggressive in pushing their outfielders, specifically Matt Kemp and Yasiel Puig, who would free up money, but don't feel pressure to get something done at the Winter Meetings. Said Dave Roberts: "It's a luxury when you're in a situation where you have a lot of good players already on your 40-man roster that you don't need to chase a certain player, overpay."
---
Mariners manager Scott Servais says he's fully "on board" as the team takes a step backward with this year's offseason moves. He says the strength of the Red Sox, Yankees and Red Sox was a factor in the decision-making process for the organization.
---
Peter Alonso hit 36 home runs in the minors for the Mets and Mickey Callaway says the big first baseman has a chance to make the Opening Day roster — suggesting the Mets maybe won't worry about service time: "He's put himself in a position to make the team and maybe hit in the middle of the lineup."
---
Mets manager Mickey Callaway says there won't be anything fancy with the way the team uses Edwin Diaz: "He's our closer. ... It makes the most sense to keep him in that role." Diaz recorded 57 saves for the Mariners but entered before the ninth inning just three times. So expect to see him remain as strictly a one-inning guy.
---
Astros manager A.J. Hinch was asked about ace pitching prospect Forrest Whitley. He answered by pointing out that Whitley was mowing down hitters in his Arizona Fall League debut in October while the Astros were still playing in the postseason. After Whitley's outing, a scout texted Hinch, saying, "I've got your starter for Sunday." Suffice to say, the Astros are excited about Whitley.
---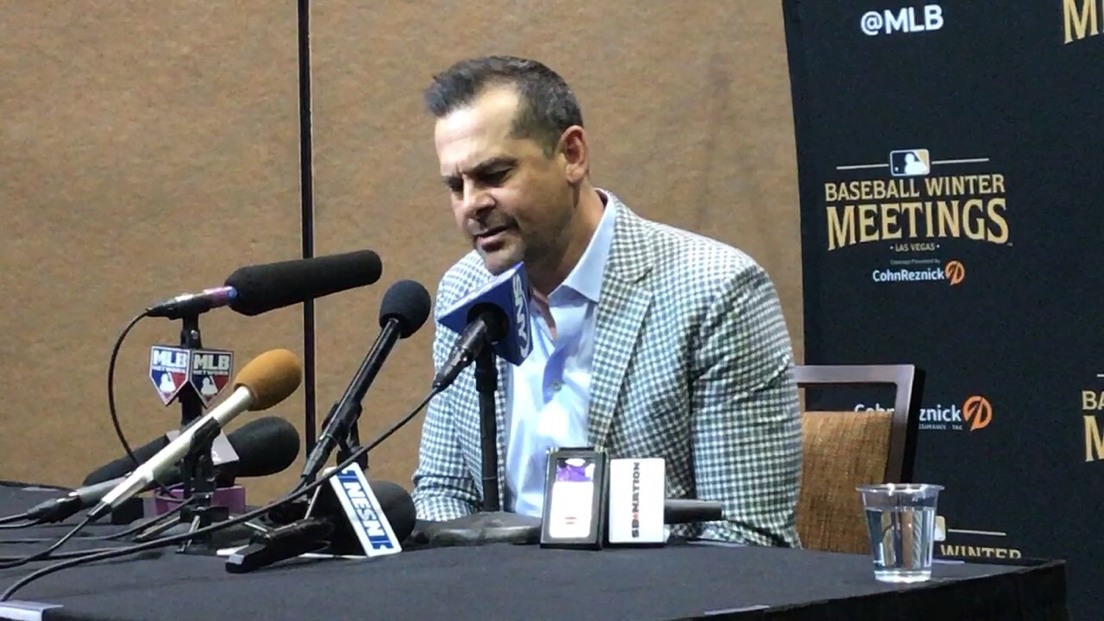 Aaron Boone talks about what was the biggest challenge in his first year as manager of the New York Yankees.
---
Brian Cashman says the Yankees are currently "very engaged" with other teams and agents. But "where this leads? I couldn't tell you." Naturally, isn't discussing the reported pending multi-team trade, but did add he "likes to think we're aggressive and open-minded" to offers sent their way.
---
Alex Cora said his plan is to switch Mookie Betts and Andrew Benintendi in the lineup in 2019, with Benintendi moving to the leadoff spot and Betts batting second. Makes sense. Betts hit .325 and slugged .714 with runners in scoring position, but finished with "just" 80 RBIs since the bottom of the Boston lineup wasn't getting on base. This arrangement should offer him more RBI opportunities.
---
White Sox manager Rick Renteria was asked what his club's best selling point was in the chase for the winter's top free agents. "The future," he said, which about sums it up.
---
When he was Tampa Bay's bench coach, Charlie Montoyo organized and called the Rays' various defensive shifts. He's bringing some of them — and the "opener" — to Toronto. "I've seen it work, so we're going to use all this stuff." We'll see how much. Oh, and as a shift proponent, he's all about keeping the defensive rules the way they are. "They're big-league players. They should make an adjustment; and I think they will."
---
A's manager Bob Melvin laughed that he watched a lot more Oklahoma football than he usually does. "We're big Oklahoma fans right now," he said, referring to Heisman-winning quarterback Kyler Murray, Oakland's first-round pick in the 2018 draft. "It's kind of tough watching him scramble around sometimes," he did admit.
---
You can add a new free agent to the pool of available players after the Blue Jays released shortstop Troy Tulowitzki with two years and $38 million left on his deal. The injury-prone veteran is expected to be healthy for spring training after missing the entirety of the 2018 season after surgeries to remove bone spurs in both heels in April.
---

The White Sox are pushing to take a step forward in 2019, according to ESPN's Buster Olney. Tuesday's trade for Ivan Nova improves the rotation, and they're looking at Yasmani Grandal as a possible catching upgrade.
---
The Phillies make the first big splash of the winter meetings, agreeing with Andrew McCutchen on a three-year, $50 million deal. McCutchen obviously isn't the MVP candidate he was from 2012 to 2015, but he still has power -- he's hit 32 home runs on the road the past two seasons -- and drew 95 walks. His defense in a corner outfield is fine and the Phillies get him from ages 32 to 34. Looks like a good signing at the price and allows them to remain in the Bryce Harper/Manny Machado sweepstakes as well.
---
We have a trade! No, not that one. The White Sox have acquired Ivan Nova from the Pirates to bolster a rotation that will be without prized prospect Michael Kopech in 2019. Nova is ... well, consistent, with ERAs of 4.17, 4.14 and 4.19 the past three seasons. He's homer-prone, so a move to Guaranteed Rate Field could be problematic. The Pirates, meanwhile, clear a spot for Nick Kingham or, later in the season, top prospect Mitch Keller.
---
There is a lot of stuff slinging around Vegas in regards to the rumored Mets/Marlins/Yankees deal. With so many moving parts, it seems unlikely to move from rumor to reality, but you never know. It's been awhile since baseball had a great blockbuster three-teamer. The big clog in the machine: Would the Yankees really want to part with Miguel Andujar and a package of meaningful prospects for three years of Noah Syndergaard, who has started just 32 games over the last two years? Also, it still seems like any win-right-now scenario for the Mets would involve Thor, but Andujar and JT Realmuto would be an amazing return. Should be an interesting day in Vegas.
---
According to ESPN's Buster Olney, the sense among some other teams is that the Marlins have begun to push to make a J.T. Realmuto trade, which is a major change from their past approach. For a year, they set a very high price and challenged anyone to meet it -- and waited. Now they seem to be looking to finish a deal.
---
Buster Olney: The Dodgers have talked to other teams about moving two outfielders among the group of Matt Kemp, Yasiel Puig, Joc Pederson and Cody Bellinger. As they look to reshape payroll, they also are prepared to move starting pitchers Rich Hill and Alex Wood.

Monday's buzz:
Brian Cashman said today the Yankees have been in varying levels of talks with 11 teams concerning a trade for Sonny Gray. Some potential deals have been prospect-driven, some have been bigger MLB-player-for-MLB-player deals. "He's still here because we haven't found that sweet spot yet."
---
Angels GM Billy Eppler, looking for lots of pitching and a starting catcher, said he was a little bit more active on the trade market than the free-agent market today. The Angels reportedly fell short on Patrick Corbin and Nathan Eovaldi, which at least shows they have been active. Eppler said he has deals in place that he could make. "We could kick a field goal if we wanted to, but let's go for a touchdown."
---
Raise your hand if you had the Tigers as the first team to add a pitcher at the winter meetings. Anyone? Detroit is making a mild bet on Tyson Ross picking up where he left off after a strong finish to 2018 with St. Louis.
---
Nathan Eovaldi, on hand in Vegas to talk about his $68 million contract with the Red Sox, said "there were a lot of teams that reached out that wanted me to be a closer. A lot of teams wanted me to come out of the bullpen and others wanted me to do part time to save my arm." Eovaldi wanted to remain a starter.
---
The Mariners announced Kaleb Cowart as an infielder and a pitcher. Looks like they're going to try him as a two-way player. Cowart was a pitcher as well as an infielder as a Georgia high school player before being drafted by the Angels.
---
Marlins manager Don Mattingly, on Miami's place is a rapidly improving NL East, "You're realistic about the division and where we are right now. (However) we can't just say this will be another year like last year. We have to get to get guys into their next phase. Anything can happen."
---
The Reds let go Billy Hamilton go this offseason (he just signed with the Royals), so new manager David Bell doesn't have an obvious starting center fielder at the moment. "We have options," he said and one of those could be Nick Senzel, the team's top prospect who has played third and second in the minors but will get some reps in center as the Reds bank on his athleticism to potentially play multiple positions.
---
According to ESPN's Buster Olney, Billy Hamilton is joining the Kansas City Royals on a one-year, $5.25 million deal with $1 million in incentives after being non-tendered by the Cincinnati Reds earlier in the offseason.
---
Looking for a surprising team to watch at the winter meetings? Try the Cincinnati Reds, who keep coming up in conversations about team who could make an unexpected splash in Las Vegas.
---
Rays manager Kevin Cash confirms the team will stick with the "opener" strategy in 2019 and says the internal discussions right now are whether they'll do it two times through the rotation or three times.