We've covered the leading candidates for rookie of the year and most valuable player, as well as predictions for first-time All-Star selections. Now our panel is projecting which additions will prove to be the best and worst this season.
We asked the ESPN Forecast panel of 44 experts to rank its top three choices for the 2017-18 season's worst newcomer, with a first-place vote receiving five points, a second-place vote receiving three and a third-place vote receiving one.
Here are the results:
Forecast: Worst newcomer of 2017-18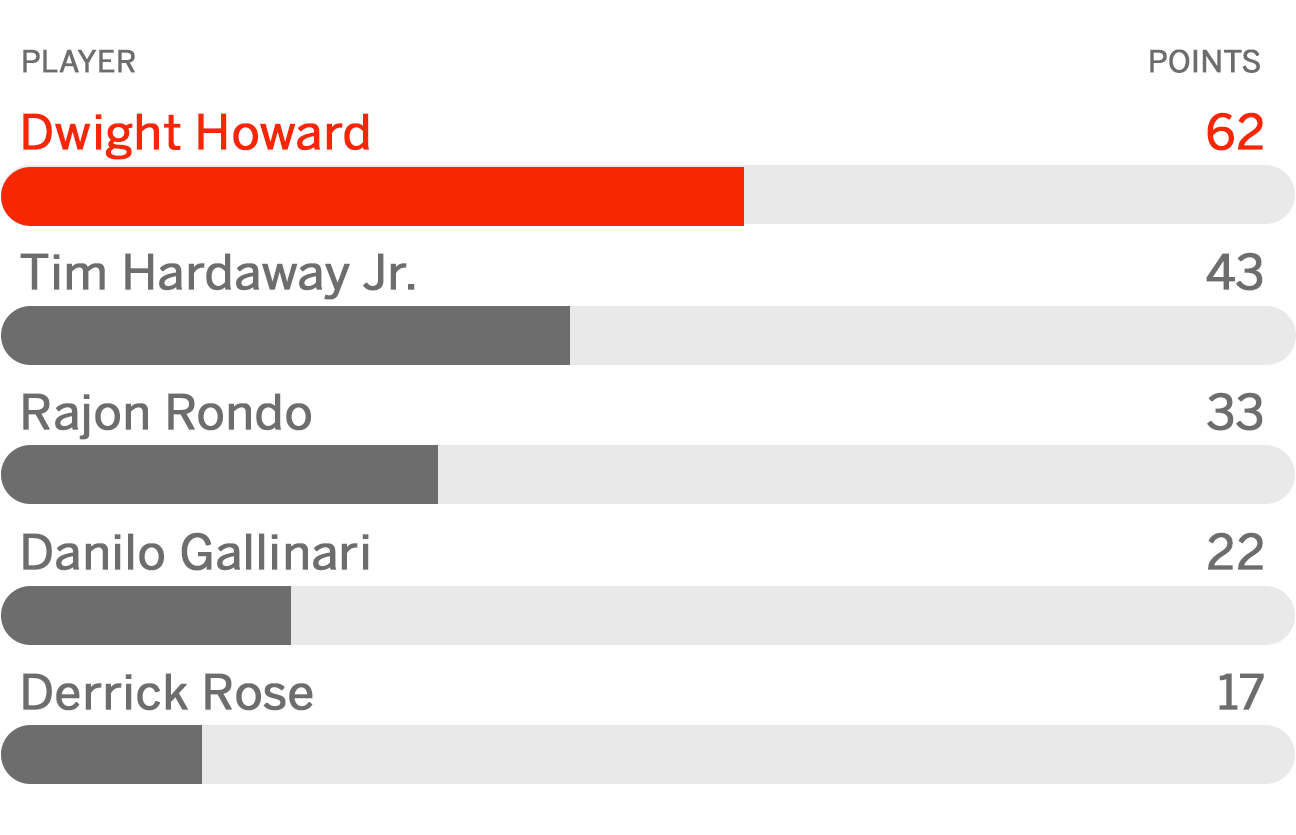 ---
1. Dwight Howard
Charlotte Hornets | C
First-place votes: 10
Total points: 62
Comments: In terms of gap between perception and production, there might not be a more polarizing player than Howard. He's certainly no longer the game-changing defensive presence that made him a three-time defensive player of the year, and his offensive game is not ideally suited for the pace-and-space era.
However, Howard is still one of the league's best rebounders, as he quietly set a career high in rebound percentage last season while ranking 14th among 62 centers in Defensive Real Plus-Minus. If you made a list of coaches most likely to get the most out of Howard, it would include the Hornets' Steve Clifford, who was a Magic assistant during Howard's best seasons in Orlando. -- Micah Adams, ESPN Stats & Info
---
2. Tim Hardaway Jr.
New York Knicks | SG
First-place votes: 6
Total points: 43
Comments: As recipient of this year's unofficial "He got how much?" award, the skepticism with Hardaway likely has more to do with his contract than his play. Though his numbers don't pop upon first glance, a closer look reveals a more than serviceable 2-guard with upside, as Hardaway ranked 15th among shooting guards in Real Plus-Minus last season overall, averaged 17.5 points per game on 47 percent shooting after the All-Star break and is just 25 years old with decent size (6-foot-6).
With Derrick Rose in Cleveland and Carmelo Anthony potentially on the move, someone outside of Kristaps Porzingis will need to score, so from that perspective, it's a reasonable short-term bet. The hope in New York is that Hardaway's contract doesn't eat up the books and preclude them from an impact signing in the summers to come. -- Adams
---
3. Rajon Rondo
New Orleans Pelicans | PG
First-place votes: 3
Total points: 33
Comments: Rondo's season in Chicago featured so many peaks and valleys that it's impossible to predict how the experiment will work in New Orleans. A regular-season benching, a war of the words with star teammates over social media and a two-game "Vintage Rondo" return in the postseason, it was nothing short of a basketball soap opera.
If you're a Pelicans fan, the glass-half-full approach leaves you convinced that Rondo leading the league in assists playing next to Cousins in 2015-16 in Sacramento means something, and that Rondo's cerebral feel for the game will extract the most out of the Cousins-Davis frontcourt.
If you're the glass-half-empty type, you'd be skeptical of taking too much stock in those inflated numbers while also questioning how Rondo will fit next to re-signed point guard Jrue Holiday. -- Adams
---
4. Danilo Gallinari
LA Clippers | SF
First-place votes: 1
Total points: 22
Comments: There are times when it seems no matter who's involved, the Clippers can't get out of their own way. Shortly after the ink dried on his three-year, $65 million contract with the Clippers, Gallinari injured his right thumb punching an opponent in an exhibition game in Europe.
Though he's expected to be ready for training camp, it wasn't a good start to Gallinari's tenure with the team as they were already taking somewhat of a leap of faith on a player who has struggled to stay on the floor. He missed 19 games last season in Denver and has played in more than 65 games just twice in his nine seasons.
Perhaps it will all work out, but it's one more reason to give pause for a franchise already gambling on the questionable health of Blake Griffin in Year 1 of the post-Chris Paul era. -- Adams
---
5. Derrick Rose
Cleveland Cavaliers | PG
First-place votes: 2
Total points: 17
Comments: Rose's role obviously depends on what the Cavaliers ultimately decide to do with Kyrie Irving. Should the Cavaliers trade the star guard, Rose's ability to attack off the dribble will help in times when LeBron James rests, as Rose ranked among the league leaders in scoring off drives in 2016-17.
Though he will need to produce off the ball regardless, his struggles from the outside will be magnified if Irving returns. Of the 291 players who attempted at least 50 3-pointers last season, Rose ranked 289th in 3-point percentage. He also shot just 9-42 on catch-and-shoot jumpers, ranking in the bottom 10 percentile league-wide. -- Adams
---
Also receiving votes: Kris Dunn, Chicago Bulls (16); Jeff Green, Cleveland Cavaliers (16); Zach LaVine, Chicago Bulls (13); DeMarre Carroll, Brookyn Nets (13); Rudy Gay, San Antonio Spurs (12); Chris Paul, Houston Rockets (11); Jeff Teague, Minnesota Timberwolves (9); Jamal Crawford, Minnesota Timberwolves (8); Victor Oladipo, Indiana Pacers (8); George Hill, Sacramento Kings (6); Michael Carter-Williams, Charlotte Hornets (6); Ben McLemore, Memphis Grizzlies (5); D'Angelo Russell, Brooklyn Nets (5); Marcus Morris, Boston Celtics (5); Paul George, Oklahoma City Thunder (5); Ricky Rubio, Utah Jazz (5); Tyreke Evans, Memphis Grizzlies (5); Allen Crabbe, Brooklyn Nets (4); Avery Bradley, Detroit Pistons (3); Carmelo Anthony, if traded/released (3); Domantas Sabonis, Indiana Pacers (3); Harry Giles, Sacramento Kings (3); Nick Young, Golden State Warriors (3); Gordon Hayward, Boston Celtics (1); Jonathan Isaac, Orlando Magic (1); Kentavious Caldwell-Pope, Los Angeles Lakers (1); Paul Millsap, Denver Nuggets (1).