This summer, NBA stars -- well, some of them -- are taking on the world in China. With players such as James Harden, Anthony Davis, Damian Lillard and Bradley Beal withdrawing from Team USA participation, who remains on the roster to challenge powerhouses Spain, France and Serbia?
Team USA also is looking to pull off a FIBA World Cup three-peat, which has never been done in the 69-year history of the event.
The action tips off Aug. 31 in China. Keep it here for the latest news and updates all tournament long.
More: Full schedule | Teams/groups | Past champions

Team USA roster: FIBA World Cup
Players cut after Las Vegas training camp: Bam Adebayo (Heat), Thaddeus Young (Bulls).
Players to withdraw: Marvin Bagley III (Kings); Bradley Beal (Wizards); Anthony Davis (Lakers); Andre Drummond (Pistons); De'Aaron Fox (Kings); Eric Gordon (Rockets); James Harden (Rockets); Montrezl Harrell, Clippers; Tobias Harris (76ers); Damian Lillard (Blazers); Kevin Love (Cavaliers); Kyle Lowry (Raptors); CJ McCollum (Blazers); Paul Millsap (Nuggets); Julius Randle (Knicks); and ; and P.J. Tucker (Rockets).
Head coach: Gregg Popovich (HC, San Antonio Spurs)
Assistant: Steve Kerr (HC, Golden State Warriors)
Assistant: Lloyd Pierce (HC, Atlanta Hawks)
Assistant: Jay Wright (HC, Villanova University)


Team USA exhibition schedule (all times ET)
Aug. 9, 10 p.m.: Team Blue 97, Team White 78 (T-Mobile Arena | Las Vegas, Nevada)
Aug. 16, 10 p.m.: USA 90, Spain 81 (Honda Center | Anaheim, California)
Aug. 22, 5:30 a.m.: USA 102, Australia 86 (Marvel Stadium | Melbourne, Australia)
Aug. 24, 12 a.m.: USA vs. Australia (Marvel Stadium | Melbourne, Australia)
Aug. 26, 5:30 a.m.: USA vs. Canada (Qudos Bank Arena | Sydney, Australia)
---
FIBA World Cup schedule (all times ET)
Sept. 1, 8:30 a.m.: USA vs. Czech Republic (Shanghai, China)
Sept. 3, 8:30 a.m.: USA vs. Turkey (Shanghai, China)
Sept. 5, 8:30 a.m.: USA vs. Japan (Shanghai, China)
Sept. 6-9: Second round (Foshan, Nanjing, Shenzhen and Wuhan, China)
Sept. 10-11: Quarterfinals (Dongguan and Shanghai, China)
Sept. 13: Semifinals (Beijing, China)
Sept. 15: Finals (Beijing, China)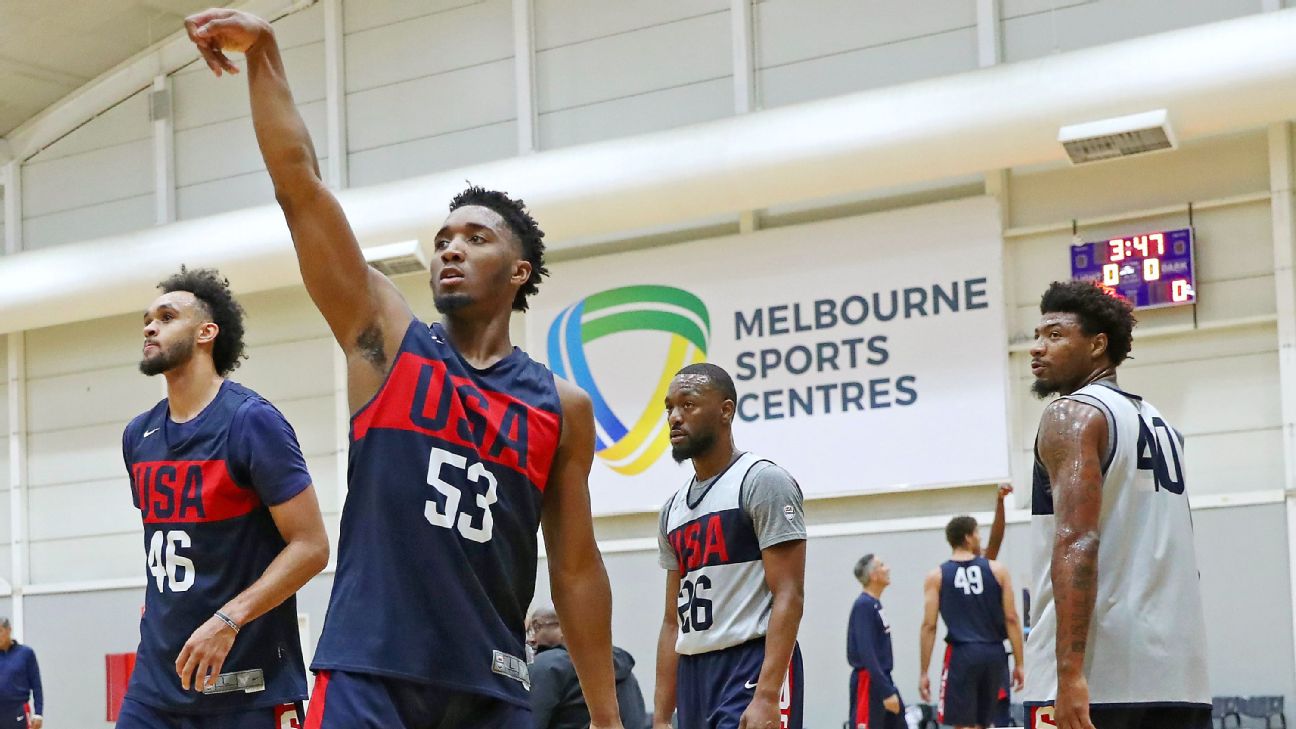 Team USA has won five straight gold medals, with its last loss coming in 2006. But with many of the league's stars sitting out this summer's tournament, there is talk that Team USA is ripe for an upset. That kind of talk, though, has become motivation for the players who are preparing to represent the United States in the World Cup.
Read Marc J. Spears' full story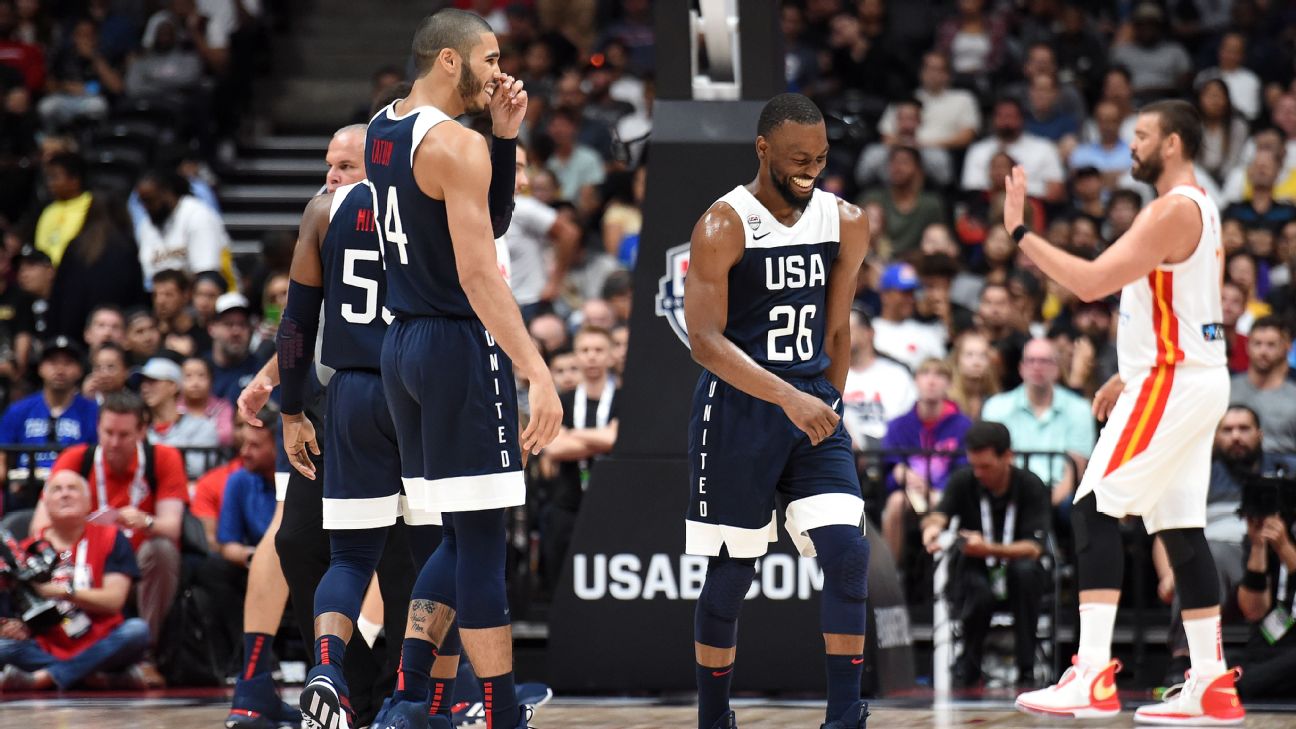 Brian Windhorst: I was really surprised De'Aaron Fox pulled out over the weekend. I thought he looked great in the practices and was a lock to make the team. But he didn't play much in the games. After he played only six minutes in the exhibition against Spain, maybe he wasn't totally sure he would make it and didn't want to go all the way to Australia only to have to come back in a week.
Ohm Youngmisuk: I'm pretty stunned. I recently wrote about how he seemed poised to not only be on the team but be a potential breakout candidate. Marcus Smart and Kemba Walker raved about Fox being the fastest player in the NBA, and Fox told me how he was picking up leadership tips from Kyle Lowry.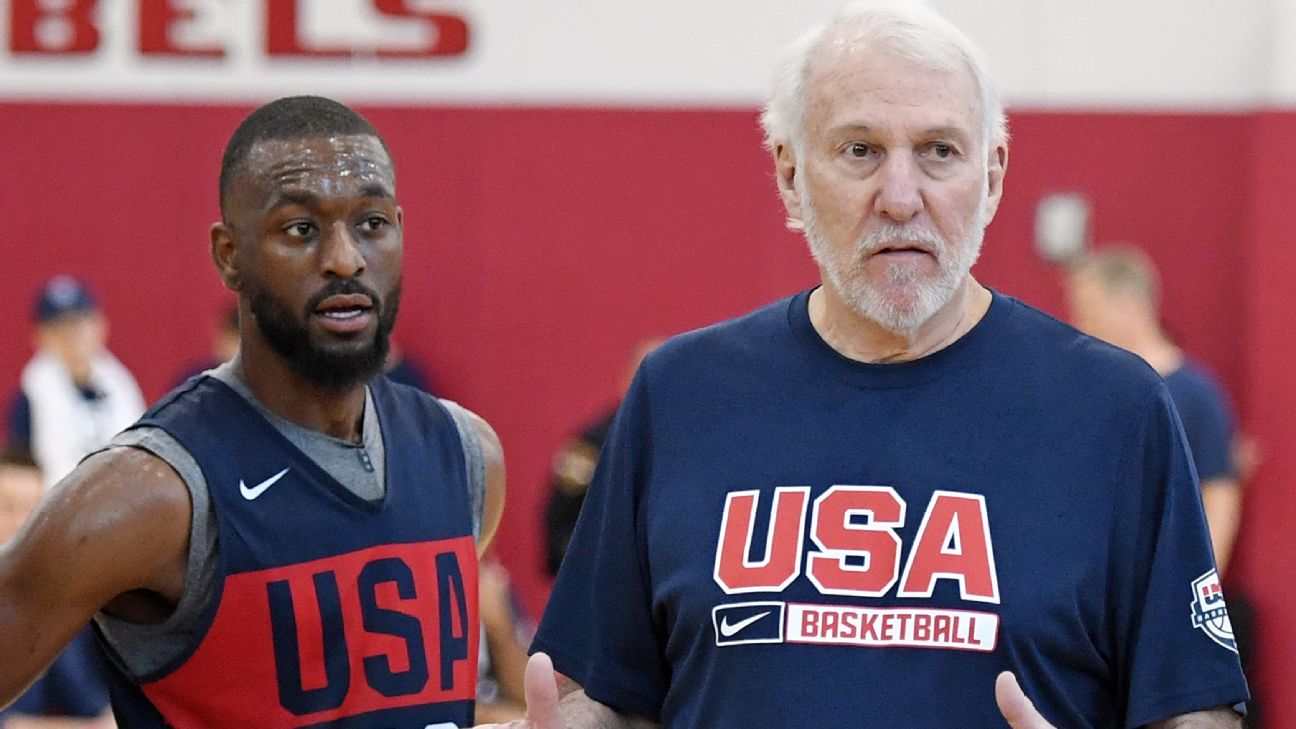 Q: Is the U.S. going to win?
A: The U.S. will still have the most talent by far, even with a roster that will be missing many top stars. Not unlike the NCAA tournament, historically international basketball is won with superior guard play. Europe has produced many fantastic big men but not nearly as many top guards, and since the Americans have been sending NBA talent, they have generally won this way.
Read Brian Windhorst's full Team USA FAQ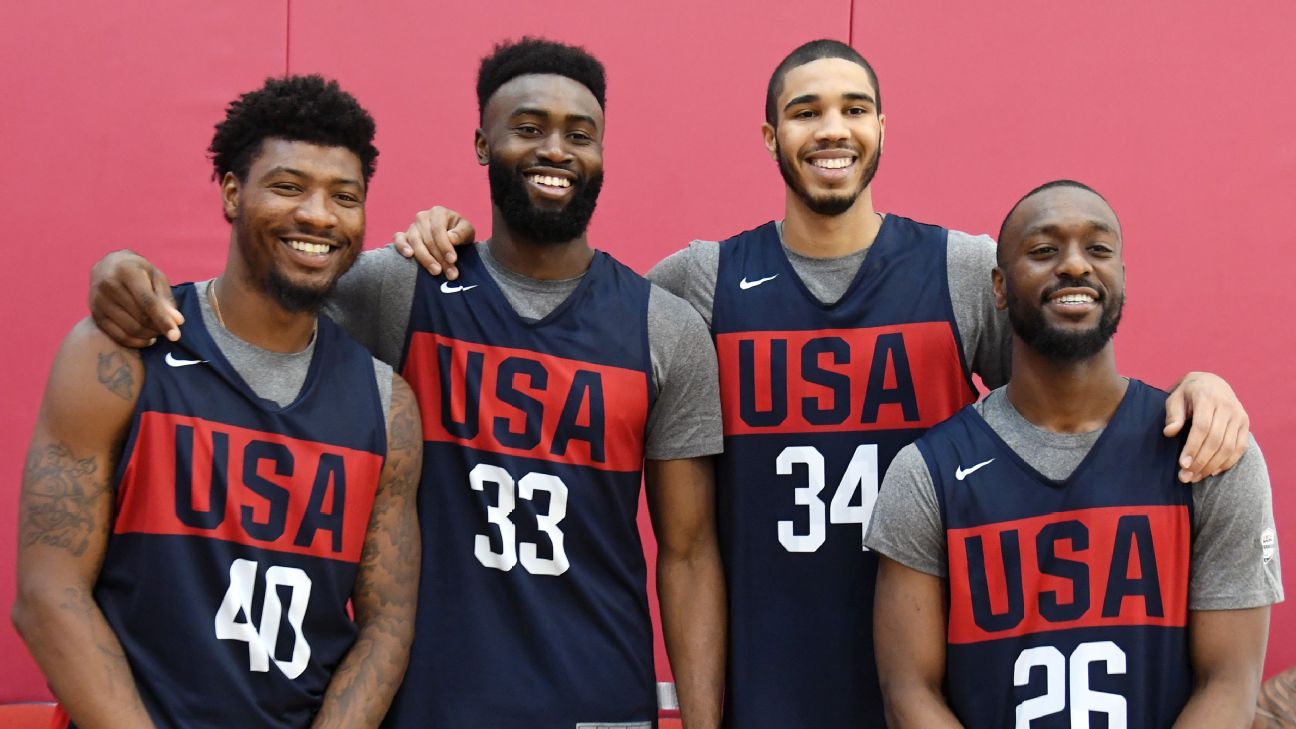 The shifting Team USA roster over the past several weeks enabled Jaylen Brown and Marcus Smart to earn invites. Jayson Tatum was already on the roster, and Kemba Walker had committed before he signed with the Celtics in free agency. It all created an unexpected chance for the established Celtics to get time together with their new teammate.
Read Brian Windhorst's full story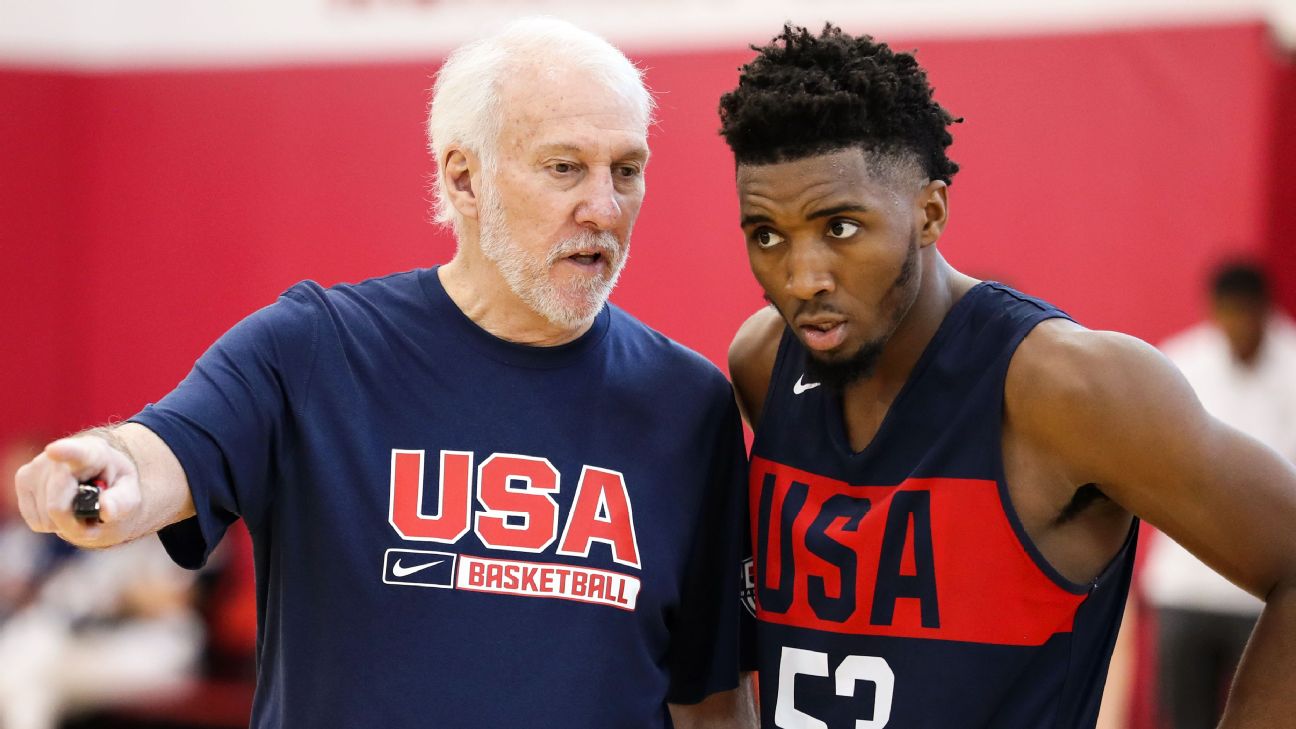 What does Gregg Popovich have left to prove? Putting together this team is a big lift. Leading it to an undefeated run and a world championship is a big ask, even for a living legend with an impeccable record and solid gold reputation. The risk/reward ratio is off. So why is he doing it?
Read Brian Windhorst's full story

Latest World Cup news