Almost a dozen years ago, in the bitter cold of downtown Milwaukee, the vague contours of a construct began to take shape for Jeff Van Groningen.
At the time, the Sydney Kings managing director was fresh off masterminding a title-winning season for the Brisbane Bullets. Flanked by star guard and Boomer C.J. Bruton, Van Groningen led a gaggle of starry-eyed travellers on an NBA fan's tour across the U.S.
After one such stop -- a Milwaukee Bucks home game against the Atlanta Hawks -- the 30-strong group headed off to a nearby restaurant for dinner.
As the frigid winds battered at the establishment from the outside, the more hospitable interior was wreathed in warm sentiment. The Bucks' second-year rising star, Andrew Bogut, had made a surprise appearance. The seven-footer, a year removed from being drafted No. 1 overall, was busy regaling the entire Australian contingent.
The shindig was not a sponsored event for Bogut, nor was it an endorsement opportunity. The young Boomer simply showed up.
"He spent time with each and every member of the travelling party," Van Groningen tells ESPN. "He didn't leave until everyone had had a chance to get a photo and say hi. He was just terrifically gracious."
Afterwards, when Bogut had departed, Van Groningen was surprised to learn he had also paid for the entire dinner.
Yet what struck the seasoned executive the most, apart from Bogut's humility and generosity of spirit, was his keen mind. Bogut wasn't just blazing a path in the NBA, he was also forging a long-winding journey towards an ambitious gambit.
In a quiet moment during the evening, Van Groningen and Bruton quizzed Bogut on the minutiae of NBA life.
"Jeff, don't worry about all that," Van Groningen remembers Bogut saying at the time. "How did you put that Bullets roster together?"
Bogut was eager to grasp how a front office constructed a title contender; he was curious of the business process, and the machinations of roster-building amidst budgetary constraints. Bogut joked about salary cap gymnastics.
"We had a good laugh about it," Bogut quips in a sit down with ESPN. "And they made it work."
Something crystallised in Van Groningen's mind after that encounter: Bogut was not a run-of-the-mill athlete. He had an innate curiosity about life outside of the sporting bubble. He wanted to know how disparate pieces fit to make the sum of its parts.
"It's always been an interest of mine with any business, even small businesses," says Bogut. "I'm always intrigued."
After 13 years plying his trade for the likes of the Bucks, Golden State Warriors, Dallas Mavericks, Bogut's NBA career ended on January 6 when he was waived by the Los Angeles Lakers. The 33-year-old Australian could have chased a career lifeline with a playoff contender, but he instead opted to return home.
Later in 2018, Australia's most accomplished NBA product is squished in a quiet nook of a hotel lobby at Sydney Olympic Park.
Attempts to look non-descript garner mixed results. He's outfitted in a black tee, chinos and a cap pulled so low that the brim threatens to obscure his eyes. Underneath, Bogut's eyes dart as he parses the shifting sea of humanity in peak alertness. There's something oddly fascinating about watching a seven-footer contort inwards, a coordinated effort to shrink unto himself.
Amidst a rolling tide of hotel patrons who shuffle along the periphery, some cast curious glances towards the giant human in the corner. Others recognise the Aussie great but hesitate to approach until the necessary courage is worked up.
Bogut looks decidedly uncomfortable.
Yet the eyes sparkle, and there's a noticeable pep in his manner as he describes a recent encounter in the south-east suburbs of Melbourne. At a local fish and chips shop, the owner reveals they were once a nurse. One day, she just decides to quit, uses her life savings and opens a fish and chips shop in the suburbs.
"That kind of stuff intrigues me -- it's such a cool story," he says, the passion evident. "Same with basketball, I like hearing the foundations of stuff."
Just like those Brisbane Bullets.
The chat shifts to investments, and the Kings' new centre has a rapidly developing portfolio. One investment is with an e-gaming enterprise.
"They get more eyeballs than the NBA Finals," enthuses Bogut. "They're about to catch the Super Bowl."
Another, is a venture that is looking to disrupt the coffee roasting industry. He's unsure if it would work in Melbourne. But in San Francisco? He's adamant it's a good investment -- a smart investment play.
"I wouldn't say I'm a genius by any means, [but] I have my investment portfolio heavily diverse," he says.
Shysters beware. Bogut, who confesses to struggling to say no in his early 20s, is now comfortable with rejecting bad ideas.
"These days, I've built enough of a reputation where I don't really get approached with bulls--- anymore," he says. "I just say no quite easily."
Amidst the roiling volley of subversive tweets, and counter-tweets, lies an inquisitive mind. Plastered front-and-centre within Andrew Bogut's Twitter profile is the apt description: "Be you".
An authentic Bogut experience is one that seeks discovery, to problematise norms. The message is simple enough: Be critical and question everything.
"I'm a conspiracy theorist, by nature," he says. "I always think there's a story within a story."
There are echoes of defiance in that ethos; he's a man intent on finding his own place and his own path. It's one that led to a return to home, and the preamble to perhaps the most ambitious sports deal in Australian sport.
As the story goes, it was a courtship that began in earnest in January, when Van Groningen reached out to Bogut. Melbourne United were the original suitors, but ultimately no deal was struck. Bogut and the Kings spoke, and the rest is consigned to history.
What Melbourne exactly offered is still unclear.
"We still don't know what that offer was," says Kings supremo, Harvey Lister. Yet the Kings pounced.
"It was as mundane as that," says Bogut.
The anatomy of a deal that brought Bogut to the NBL is laced with self-empowerment.
Bogut negotiated his own deal -- a two-year contact understood to be less than what he would have commanded as an NBA veteran -- directly with the Kings because, in his own words, he wanted "just to have that experience."
"I sat in a room with some of the most powerful businesspeople in Australia and negotiated my own deal," says Bogut. "It was just something that I thought I was confident and capable enough to do."
"He's actually a very clever businessman," NBL boss Larry Kestelman tells ESPN.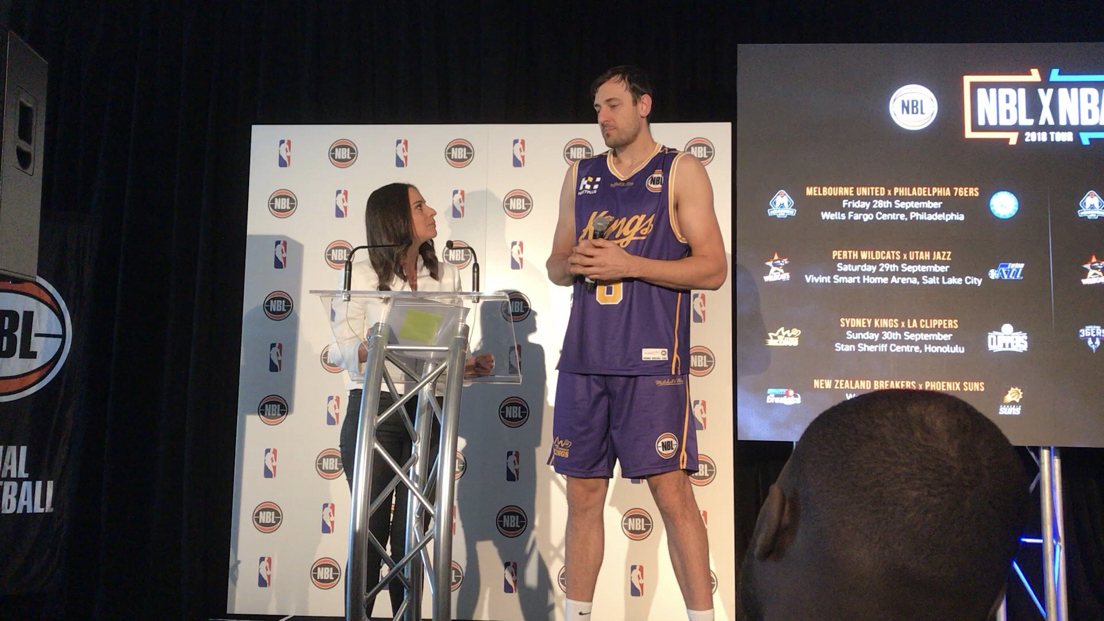 Andrew Bogut says the announcement to play seven games against NBA teams shows just how far the NBL has come in the past five years.
League executives have been speaking to Bogut for years about what coming to the NBL would look like.
In mid-April, Van Groningen flew to Melbourne, with the blessing of Lister, on a Thursday night to meet with Bogut. According to the Kings' managing director, the initial meeting lasted for an hour and a half.
"Feeling each other out -- what's Sydney about, what's Andrew Bogut about," Van Groningen says of the meeting. "I felt like at the end of that chat that we'd get Andrew Bogut."
The following day, one of Lister's business confidantes, Geoff Jones, drove to Bogut's gym to "eyeball" him, as it were.
"I wanted somebody to sit and eyeball him," recalls Lister, "and make sure that we weren't just being played off against somebody else."
Lister wanted assurances that the Kings were not being used as leverage in negotiations with United. They weren't.
"It showed how serious they were," says Bogut.
By the evening, Bogut and the Kings were already combing through the blueprints of a deal.
"It was literally me sitting on the couch on my computer going backwards and forwards through draft agreements," says Bogut.
In the span of days, the most important deal in the NBL's history was conceived by the Kings, and ratified by the league office.
"In basketball," says Van Groningen, "I think it's the most unique deal we've ever seen."
The uniqueness of the deal is the opportunity for Bogut to be a part-owner. Bogut has 10 percent of what Lister terms "player shares" -- or P-class shares -- with the option to increase that capacity.
"But he's not a shareholder in the business," explains Lister, "until he's finished his playing career. Then he has the option to convert those P-class shares to full ordinary shares in the business. He also has the opportunity to acquire that valuation at an agreed price, and at least another 25 percent of the business."
In fact, Bogut has been quoted as saying he'd like eventually to become a 50 percent partner in the team -- a valuable proposition. If Sydney's NBL rivals, Melbourne United, are anything to go by, the Kings could be worth anything up to, and possibly beyond, $(Aus)10 million. Media organisation Crocmedia recently acquired a 25 percent stake in Melbourne United, and the Australian Financial Review reported the franchise had been valued at the price.
In conversations with both the Kings and Bogut, the term "skin in the game" seems to be a mantra. It's clear that both sides have insulated themselves from risks inherent in their partnership -- your usual smart business.
According to spotrac.com, Bogut's financial earnings from the NBA alone stand at $(US)116, 739, 321 (before tax), a figure which helped him place him 39th on the Australian Financial Review's Young Rich List for 2017.
It's clear that money is anything but the chief motivation in Sydney. Conversely, the opportunity for personal growth and development abounds.
"Sydney is an unexplored market for me," says Bogut. Whereas he's already a well-entrenched entity in Melbourne, the Harbour City offers a blank canvas. Another smart investment.
"He put his entrepreneurial hat on," agrees NBL CEO, Jeremy Loeliger.
"He's made it really clear he wants to understand the business," adds Lister. "He wants to know how the back-of-house of the business works. He wants to understand the accounts. He wants to know the marketing targets and ticket sales targets."
To see how all the pieces intersect and matter.
"I think he's got a really high basketball IQ," says Loeliger, "but he's got good business acumen as well."
"Andrew Bogut impressed us in that he knew precisely what he wanted," says Lister. "Here's a player who understands his responsibility to the whole of the sport."
All parties involved understand the inherent importance of the move.
The Kings and the NBL say they are not just leveraging the popularity of Bogut for ticket sales and broadcast viewership. Bogut's experience may prove the starting point of a trend that sees other Australian NBA players take their talents to the NBL, before the tail-end of their careers.
Which brings us back to Bogut leading the landmark negotiations himself.
"Ten years ago? No way," he says.
Thirteen years in the NBA invariably helps. It also shaped him and his worldview of business. Having played for an eclectic group of owners -- including Herb Kohl, Joe Lacob and Mark Cuban -- his takeaway of NBA ownership is that "everyone does things differently."
Cuban is famously omnipresent, whether it be courtside or huddled in timeouts. Like a player on his team, Cuban employs his own game-day routine, religiously riding the stairmaster, even during press conferences.
"He gets knocked for that, but at the same time, I think it's cool," says Bogut. "He owns the team. He actually cares."
His view of the business side of the NBA is far more murky.
"It's all chess," he says. "It's all smoke and mirrors."
Organisational in-fighting, teammates striving to outdo each other for the chance for a bigger payday. On any given day, a team insider will leak news to further an agenda.
"I know for a fact that there's a team in the NBA that's leaking Kawhi Leonard stuff," Bogut says. "It's not the Spurs."
Bogut himself confesses to having dabbled in a bit of chicanery himself. Survival within the greatest basketball league in the world demands it.
"There's no doubt you have to [play the game]," he admits. "I'd like to think that I didn't. But there are portions where you kind of have to smile and wave and keep your mouth shut at certain things. I definitely do it a lot less than most players out there."
All of which coalesced to lead him on the homeward trail to the NBL.
"I can't do the fake side of it," says Bogut. "Just being around that every day, it's hard. [You] really question yourself as a person, because you have be fake."
They're lessons that should serve him well as his long winding path places him firmly in the vanguard of a new Kings' era. It's been a journey thirteen years in the making.
And one day, Bogut will hang up the sneakers and cash in on that 10 percent. Or more.
As a minority owner, he envisages himself as "a bridge between the players and owners". He wants to advocate for players and their interests, which aren't always strictly financial; culture and enjoying your workplace matters.
"Oh, I'm sure he will have no opinions whatsoever," Kestelman jokes.
Bogut will continue to use his voice, to speak up and be different. He'll continue to challenge norms and defy echo chambers.
"I'm not going to label myself into one box," says Bogut. "And that's what p---es people off more than anything. They want to label you."
"I think he'll be very well respected because he is honest," says Van Groningen, the man who envisioned Bogut coming to the NBL all those years ago. "It's hard not to respect honesty -- you may not agree with it, but you should respect it."
The art of a deal lies in one's ability to hold fast to one's conviction. In that respect, Andrew Bogut is taking care of business, and it's brought him to the NBL. Australian players abroad will gaze with vested curiosity over the success of this venture. The league envisages this as a viable pathway to lure talent back.
Says Van Groningen:"I don't think now he'll be the last. The first one's always the toughest."
Can you imagine Andrew Bogut in a suit all day, dissecting the numbers of a business?
"There will be times when it needs to be worn," says Bogut, "but I don't want to do that every day. I want to have the flexibility to do a few different things."
At the top of that list will be leading an on-court Sydney resurgence.