Week 6 is past the point of bad on-pace and "as we all expected" jokes. The NFL is beginning to resemble the league we expected before the season.
The Eagles, Patriots and Steelers have all overcome their slow starts and are either in or near first place, while the Broncos and Buccaneers have faded. The roughing the passer calls have faded, although we're still seeing about one truly awful flag per week and the remnants of those fears in plays where defenders turn down what should have been legal hits on a quarterback, including Breeland Speaks' non-hit on Tom Brady on Sunday night. And the most productive quarterbacks of the week by passing yardage were Jameis Winston and Brock Osweiler.
Wait, maybe we aren't past the "as we all expected" jokes. There are plenty of things we saw in Week 6 that I certainly couldn't have anticipated or did not believe would happen before the season. In some cases, we saw the latest installment of a surprising, season-long trend. We also saw ugly cameos or surprisingly excellent games from players and teams that weren't really on the radar heading into the campaign. Let's go through those stories, and while I might not have foreseen them happening in August, I'll try to figure out whether they're going to keep popping up in the weeks to come.
Here are the things I didn't think I would see in Week 6 of the 2018 season:
Jump to an unpredictable storyline:
KC-NE | LAR | MIN | MIA
BUF-HOU | JAX-DAL | LAC
---

The Chiefs would lose a heartbreaker to the Patriots ... and not be fazed
If any team doesn't fear a trip to Foxborough, it's Andy Reid's Chiefs. Kansas City had been 2-1 against the Patriots since Reid took over as coach, though their one loss came in the postseason. In that game, the Patriots held Alex Smith under 5 yards per pass attempt in a 27-20 Chiefs loss. One year later, the Steelers held Smith to 5.1 yards per attempt in winning 18-16 at Arrowhead. The following spring, the Chiefs traded up to draft Patrick Mahomes. You get the feeling that they wanted to add a more dynamic weapon to give them a shot in games like this.
Chiefs fans obviously don't want to lose, and given that Kansas City came back from 15 points down at halftime to take a 33-30 fourth-quarter lead with 8:38 to go on Sunday, there is unquestionably some level of heartache in suffering their first loss of the season to a team that will surely be in the tiebreaker picture in the AFC come January. Kansas City is still still atop the AFC at 5-1, but it would have felt great to sneak out of Foxborough with a comeback victory and an intact undefeated record.
At the same time, though, this was a different sort of game than the ones the Chiefs lost in the postseason against the Patriots, Steelers and even the Titans a year ago. The Patriots weren't able to put them away. New England didn't win because Kansas City kept stalling out at midfield and struggled to pick up any meaningful scoring opportunities. The Patriots won because they got the ball last. It would be impossible to say that the Chiefs will have different luck come January, but they're not a team that should be afraid of anyone this winter. Everyone in the AFC bracket, instead, is going to be terrified to get matched up against Mahomes and the Chiefs.
If you want to diagnose where the Chiefs lost this game -- 43-40, as time expired -- you have to look back to the first half, when Bill Belichick squeezed some life out of his defense and came up with a couple of key stops. Early in the game, Belichick dialed up a few exotic pressures on third down, crowded the line and dared Mahomes to both identify those pressures before the snap and adjust on the fly afterward when he was wrong.
The Patriots survived by the skin of their teeth. On the opening drive, Mahomes badly missed a wide-open Kareem Hunt on the same route concept the Chiefs used for a touchdown pass to Hunt in Week 1 last season. On the ensuing third down, a pressured Mahomes threw off his back foot and overthrew Tyreek Hill on a more difficult attempt on a pass he'll think should have resulted in six. The Chiefs kicked a field goal.
On the next drive, the Patriots lined up with two down linemen on first down, crowded the line and then fooled Mahomes by dropping Dont'a Hightower back into coverage. Hightower, who was burned badly on the would-be Hunt touchdown, got back into Mahomes' throwing lane to pick off the second-year passer. Hightower also would create a second pick just before halftime on a play in which he jammed Travis Kelce on the snap and plunged through the line to pressure Mahomes, who forced a throw into coverage.
On the third possession of the half, Belichick lined up on third-and-4 on the edge of the red zone with one down lineman and six other defenders lurking at or running toward the line of scrimmage standing up. It looked like a Rex Ryan pressure package, although I'm sure Belichick has used it before in his years as a coordinator. The Patriots sent them all forward at the snap but then had three of them drop back into zones after taking their first steps forward. Mahomes was pressured but still recognized that he had Kelce in a mismatch against Patrick Chung. Unfortunately, his throw was 2 yards too far, and the Chiefs had to kick another field goal (animation below courtesy NFL Next Gen Stats).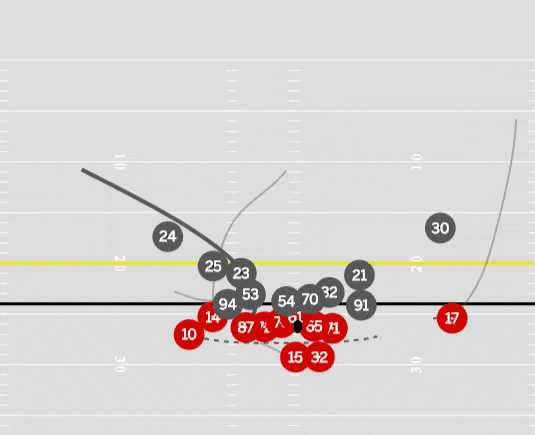 As it turned out, the Chiefs lost the game there. Those four possessions might very well have generated 17 points. Instead, they scored six points and set up the Patriots with a short field for a one-play touchdown drive. The swing probably ended up costing the Chiefs about 14 points. Mahomes & Co. had scored 16 touchdowns and five field goals on 21 trips to the red zone before Sunday night, but in their first three trips inside the 20, they came away with two field goals and an interception.
You just can't do that in Foxborough and hope to have much of a chance. Since Brady took over in 2001 (and excluding the 2008 season), teams that kick four or more field goals in a road game against the Patriots are 2-6. Teams that kick three or more field goals are 4-16. If we look at how the rest of the league did when they kicked three or more field goals on the road since 2001 when teams weren't playing the Patriots, they went a combined 549-272-2. Scoring is usually good! Against the Patriots in Foxborough, though, the old adage holds true. You can't settle for field goals.
After the break, the Chiefs were basically unstoppable. They scored 31 points on six possessions, two of which were short fields. One came on a play in which Brady bizarrely decided to do his Tony Romo impression and hold the football for what felt like a full minute on third-and-10 before being strip-sacked, and the other was after a 97-yard kickoff return from rookie Tremon Smith, the latest in a series of terrifying Chiefs return men.
Again, the Patriots got two stops, and only then because of pressure. Danny Shelton got in Mahomes' face up the A-gap on third-and-2 in the red zone, and the quarterback's pass was knocked down, forcing the Chiefs to kick a field goal. On their lone three-and-out, the Patriots abandoned the deep center of the field with a Cover 0 look, ceding any deep help if any of Mahomes' receivers were able to win against man coverage. It was a brazenly aggressive move from Belichick, who dared the Chiefs to do the thing they do best -- run away from defenders with the football -- and believed that he could overwhelm Mahomes with pressure before he could get the ball away.
The Patriots looked like they sent six but again dropped two defenders off the blitz to take away shallow crossing routes. They were able to get pressure around either edge, and it did just enough to throw off Mahomes. The former Texas Tech star knew he had a dream matchup with Hill lined up against 31-year-old defensive back Jason McCourty and no help over the middle of the field, and he launched the ball off his back foot with all of the might Mahomes could muster. It wasn't enough. The pass was badly underthrown and should have been picked off. If Mahomes had been able to set his feet at the end of his dropback -- heck, if there had only been a free rusher on one side of the field and Mahomes had been able to scramble around him -- Hill would have brought in a touchdown.
Instead, the Chiefs punted. On the next play, Tom Brady hit Rob Gronkowski for 42 yards. The Patriots hit a field goal to go up seven, and the Chiefs then hit Hill on a long touchdown to tie the game up at 40-40. The Patriots got the ball with just enough time to score and bleed the clock dry, however. Sony Michel converted a third-and-1 before Gronkowski added to his fourth-quarter heroics with a 39-yard reception, putting the Patriots in range of a game-winning chip shot for Stephen Gostkowski.
Even then, given that their defense was essentially picked apart in a game in which the Patriots threw for 340 yards and ran for 173 more, the Chiefs can hold hope for a potential rematch in January. The primary defender in man coverage on that 39-yard completion to Gronkowski was reserve defensive back Josh Shaw, who had been inactive all season before Sunday night. The Chiefs rushed only three and somehow ended up with a defensive back who hadn't taken a defensive snap in a K.C. uniform matched up one-on-one against the best tight end in league history on a seam route out of the slot with the game on the line. You can understand why Reid might not have been happy with defensive coordinator Bob Sutton after the game.
Shaw was on the field because the Chiefs have been hit hard by injuries in their already-limited secondary. Special-teamer and fill-in starter Eric Murray wasn't able to play, and Armani Watts and Daniel Sorensen are already on injured reserve, but the real absence was star safety Eric Berry, who has yet to play this year while suffering from a heel ailment. With edge rusher Justin Houston also sidelined by a hamstring injury, the Chiefs had $33.6 million of defensive All-Pros unable to play Sunday night. It showed.
Berry was last seen, coincidentally, stopping Gronk. He hasn't played since the season opener in 2017, when Berry helped hold Gronkowski to two catches and 33 yards on six targets before tearing his Achilles in the fourth quarter. The Kansas City secondary hasn't looked right ever since Berry went down, and while there's no guarantee he'll be able to shut down Gronk the next time these two teams play, the old Berry is one of the few defenders in the league capable of holding up against him in man coverage. The Chiefs might have lost, but I think they'll be quite happily hoping for a rematch against these Patriots with a more experienced Mahomes and a healthy Berry. To be honest, after watching one of the games of the year on Sunday night, I hope we see a rematch in January, too.

The Rams would start 6-0
While everyone thought the Rams would be among the best teams in in the league, even good teams struggle to make it to 6-0. Los Angeles hosted the Cardinals, Vikings and Chargers and had road games against Oakland, Seattle and Denver, all of which have fearsome reputations as road destinations. ESPN's Football Power Index favored Sean McVay's team to win each of these six contests before the season started, but FPI gave the Rams just a 14.2 percent shot of winning all six.
Instead, it's not simply that the Rams have started 6-0. It's how they've started 6-0. When you look at ESPN's win probability metrics, opponents haven't even really needed to get an extra gear out of the Rams this season. They have been underdogs in the second half for any stretch of time just twice. After trailing 13-10 on the opening possession of the second half in Week 1 against the Raiders, the Rams have been favored to win on every second-half snap outside of their game with the Seahawks in Seattle.
The scary thing about the Rams so far is that they seem to be able to step on the banana peel and keep going. This hasn't been an unsustainably perfect team. In the Seahawks game, they lost Brandin Cooks and Cooper Kupp to injuries and had Marcus Peters suffer from periodic bouts of hypnosis on a pair of long touchdown passes. In the Vikings game, Wade Phillips' defense dropped at least one-would be interception against Kirk Cousins and saw fill-in kicker Sam Ficken miss a 28-yard field goal, but the Rams still won by a touchdown against one of the NFC's best teams.
In Sunday's 23-20 win over Denver, the Rams were able to overcome an excellent game from the Broncos' pass rush, which hadn't previously delivered on the promise of Von Miller's pairing with fifth overall pick Bradley Chubb. The rookie doubled his season total on Sunday, racking up three of Denver's five sacks while lining up across from All-Pro tackle Andrew Whitworth. Jared Goff was pressured on only 22.9 percent of his dropbacks, but the Broncos were able to do enough in coverage downfield for their pass rush to catch up to Goff as he scrambled.
The passing attack had a day to forget. With Kupp leaving temporarily with a lower-leg injury and failing to catch a pass, Goff went just 14-of-28 for 201 yards and an interception, with a pass bouncing off replacement Josh Reynolds' chest and into the arms of Darian Stewart to hand the Broncos a short field and a touchdown. The usually dominant L.A. red zone offense didn't make it to Denver, as it scored just 20 points on five trips inside the 20-yard line. Goff took a sack on third-and-3 to set up a 47-yard field goal, which Cairo Santos promptly missed.
Instead, the Los Angeles running game took over. Todd Gurley, who had just one run of 20 yards or more in 101 rushing attempts heading into the game, had four runs of 20-plus yards on 28 carries. The Broncos came within 20-13 with 8:57 to go in the fourth quarter, but the Rams sealed things up with a 5-minute, 30-second drive that featured all of one pass completion, leading to a 21-yard Santos field goal to go up 10. The Broncos scored a late touchdown to make the final score look better, but they never touched the ball in the second half with a chance to tie the score or take the lead.
That Broncos run defense is becoming a serious problem. Denver didn't allow the opposing team to top 100 yards during the first three weeks of the season, but after Kareem Hunt ran for 121 yards in Week 4, the floodgates opened. The Jets ran for a scarcely believable 323 yards in Week 5 before the Rams followed up with 270 yards on 39 rushing attempts in Week 6. Vance Joseph's defense, which ranked third in the league in rush defense DVOA a year ago, became the first team to give up 250 or more rushing yards in consecutive games since the Buccaneers in 2011.
If anything, it's about to get more difficult for the Rams. They have a relatively comfortable game against the 49ers in San Francisco, but they'll get the toughest stretch of their season afterward: home games against the Packers, Seahawks and Chiefs, and a road trip to New Orleans. FPI gives them just a 17 percent chance of winning those four games and a 12.8 percent chance of making it to their bye at 11-0. At the same time, though, the Rams might understandably feel comfortable taking on the numbers -- or anyone else -- right now.

Adam Thielen would look like the best wideout in league history
"League history" is a bit of an exaggeration, but even after a breakout 2017, what Thielen has done to start the season is remarkable. Sunday marked Thielen's sixth consecutive game with 100 receiving yards, as the Vikings wideout went for 123 yards and a touchdown during Minnesota's 27-17 victory over Arizona. He is now on pace to hit 1,899 receiving yards by the end of the year, and while "on pace" statistics can often amount to parody, Thielen doesn't show any sign of letting up.
Thielen became the 10th player in league history to rack up six consecutive 100-yard games, joining a group that most recently featured Odell Beckham Jr. in 2015. The record is eight, set by Calvin Johnson in 2012. That was the year in which Megatron became the first wideout in league history to top 1,900 yards, coming 36 yards short of the fabled 2,000-yard mark.
Johnson benefited from plenty of garbage time that season; while he didn't set the record because he was catching meaningless passes, 278 of his receiving yards came on drives in which his team had no more than a 1 percent chance of winning, which led the league. Thielen has 100 such yards this season, which is third among wideouts behind Zay Jones and Beckham.
It's remarkable to think how things could have gone differently. The Vikings nearly marginalized Thielen after the 2016 season by attempting to sign Alshon Jeffery to a multiyear deal. Adding Jeffery would have pushed Thielen into the slot and taken away plenty of his target share, given that the third wideout in the actual 2017 Vikings offense -- Laquon Treadwell -- racked up only 35 targets. Thielen probably would have seen something like 50 or 60 targets before hitting free agency in 2018.
Instead, Jeffery turned down Minnesota's offer and went to Philadelphia. The Vikings turned their efforts toward extending Thielen, who signed a four-year, $19.3 million contract. At this point, Thielen's deal has to be considered the best veteran contract in football when you remember that inferior wideouts such as Paul Richardson and Albert Wilson got deals at $8 million per season this spring. Sammy Watkins will nearly make more in the average year of his current deal ($16 million) than Thielen will make over the entirety of his new contract. The Minnesota State product would get close to $20 million per season if he hit free agency in 2019.

Brock Osweiler would throw for 380 yards in a win against the league's best pass defense
Forget the preseason; this one seemed improbable as recently as this week, when Ryan Tannehill's shoulder injury seemingly went from nuisance to problem. Tannehill was scratched Sunday morning, opening up Osweiler for what seemed like a hold-your-breath matchup against the Bears. You can imagine Vic Fangio's defense drooling at the idea of facing a backup quarterback for part or all of a game for the fourth time in five matchups.
And then, to perhaps even Osweiler's surprise, he had the game of his life against the Bears, a 31-28 overtime win. The same Osweiler who had posted a 72.9 passer rating since leaving the Broncos racked up 380 yards and three touchdown passes on Sunday. Osweiler threw two interceptions, but he brought the Dolphins back for two game-tying touchdowns in the fourth quarter, put them in position for a game-winning touchdown in overtime, and then recovered after Kenyan Drake's unimaginable goal-line fumble to complete two passes and set up the game-winning field goal with 3 seconds left.
While Osweiler might have made more throws than just about anyone would have expected on Sunday, we can probably let some air out of his performance. His two interceptions on either side of halftime, both to Bears cornerback Kyle Fuller, were straight out of the Bad Brock playbook. They set up the Bears for one touchdown and cost the Dolphins a shot at three points, and the resulting 10-point swing was enough to help push the game into overtime.
More notably, the 6-foot-7 Super Bowl winner was helped out by a ferocious game from Miami's receivers. With Osweiler checking to screens throughout the game, the Dolphins racked up 274 yards after catch on Sunday, most notably on Albert Wilson's two long touchdown catches. Miami's YAC total was the most for any quarterback in a single game this season and the fifth most of the past decade. In terms of percentage of passing yards, 72.1 percent of Osweiler's yards were generated by his receivers after the catch, which is the 10th-highest total for a passer with 40 or more attempts over that time frame.
The Dolphins have placed an emphasis on receivers who can create after the catch -- they were fourth in average YAC heading into the game -- but this was an incredible outlier of a performance against a team that had been fifth best in the league at preventing yards after catch heading into the game. The Dolphins routinely made what had been the league's best pass defense by DVOA flail after the catch. With Osweiler getting the ball out quickly and Khalil Mack slowed by an ankle injury and successful double-teams, the Bears failed to record a sack and knocked down the quarterback just four times on 44 dropbacks. If you don't rush the quarterback and don't tackle after he gets the ball out, even Brock Osweiler can beat you.

The Dolphins would have the most terrifying red zone defense in football
What the Dolphins are doing in the red zone is unsustainable ... except they keep sustaining it. The goal of a good red zone defense is to keep teams out of the end zone and hold opposing offenses to field goals. Doing that was enough to win the game for the Patriots on Sunday night. Opposing offenses have nine touchdowns against just three field goals when they get into Miami's red zone this season, the sort of ratio a defensive coordinator would hate to see next to his team.
What makes this notable, though, is that the Dolphins have faced 21 red zone possessions. The average NFL team outside of South Florida turns about 12 percent of opposing red zone possessions into stuffs, which are when it doesn't allow any points. That average team has two stuffs this season. Miami has nine. Opposing offenses have failed to score on more than 42 percent of their trips inside the promised land against the Dolphins.
As you saw on Sunday, they are mostly doing this by creating takeaways. They forced two turnovers inside their own 5-yard line, with Jordan Howard losing a fumble at the 1-yard line before the Dolphins picked off a terrible pass from Mitchell Trubisky in the end zone for a touchback. While Drake's fumble at the 1-yard line took much of the postgame attention, Howard's fumble earlier in the game was equally as painful.
It's going to be tough for the Dolphins to keep this up, but I would have said that before the Bears game, and Miami keeps on going. Over the past decade, no team has racked up more than nine red zone takeaways over a full season, with the 2012 Patriots topping those charts. The 2017 Dolphins went all season without a red zone turnover. Outside of their own red zone this season, the Dolphins have essentially a league-average takeaway rate at 2.5 percent. (The average is 2.4 percent.) If Miami was really a takeaway factory, you'd figure it would start doing it before getting into the shadows of its own end zone.
Even if the red zone defense doesn't quite stay this good, though, the Dolphins have a talented enough secondary to keep taking away passes and are in the thick of the AFC playoff picture. Even after losing a heartbreaker to the Bengals last week, the Dolphins still have a 21 percent shot of making a return trip to the postseason, according to FPI. With the Lions, Texans and Jets on the schedule over the next three weeks, the Dolphins could start a winning streak.

The Texans would be in first place in the AFC South
As someone who was quite optimistic about the Texans heading into the season, it wouldn't have shocked me to believe that Bill O'Brien's team would be atop the AFC South and in position for a playoff berth after six weeks. I'm also not going to pretend for a moment that my optimism has been warranted. This has been a bad team through those six weeks, one that has managed to cobble together a three-game winning streak on the generosity and mistakes of its opponents.
The Texans lost to the Patriots in Foxborough during the opener. Here's what has happened over the five ensuing games:
On Sunday, the Texans comfortably led Josh Allen and the Bills 10-0 at halftime. Buffalo had 69 offensive yards, while the Texans were about to get the football. A score might have put the game out of reach. Instead, the Texans racked up as many first downs as giveaways (two) over their next five drives, scoring zero points in the process.
On their sixth and final drive of the half, Watson fumbled again, but the Texans recovered. Houston then rode Hopkins and a 41-yard pass interference penalty to the Buffalo 1-yard line, only to be pushed backward to the 8-yard line by a run for minus-1 yard, a pass for minus-1 yard and a false start. Watson missed a third-down throw, and the Texans -- now trailing 13-10 -- had no choice but to kick a game-tying field goal. And then Nathan Peterman happened ...

Brock Osweiler and Nathan Peterman would throw touchdown passes within an hour of one another
The Bills got back in the lead because the Texans couldn't stop Peterman. The oft-ridiculed Bills backup came in for an injured Josh Allen, who took big hits on consecutive plays and suffered what appeared to be an elbow injury. (Allen was not injured as a runner, but it's worth mentioning here as an aside: The Bills need to teach him how to slide. It's one thing for a quarterback to lay out for a touchdown, and Allen has been effective as a runner, but he's taking unnecessary hits while scrambling for meaningless yards on second downs in the middle of the field.)
Peterman played well enough for the Bills to take the lead. After the Bills kicked a field goal to make it 10-6, Peterman picked up a short field and converted a third-and-11 with a perfect fade to Zay Jones to give the Bills the lead. On the next drive, Peterman converted a third-and-3 and a third-and-15 to take valuable time off the clock while the Texans trailed before the Bills eventually punted with 4:08 left.
You know what happened next, of course. After the Texans tied the score, the Bills took over with 1:34 left and two timeouts. With the Houston defense totally unafraid of Peterman making accurate throws downfield, the Pittsburgh product threw a brutal pick-six to Jonathan Joseph to hand the Texans a 20-13 lead. The Bills even had a chance to tie the score with 1:16 to go, but Peterman badly overthrew LeSean McCoy in the middle of the field on a checkdown for his second interception in 12 pass attempts.
At this point, Peterman is approaching historically bad levels. In an era in which quarterbacks throw interceptions less frequently than ever before, Peterman has thrown 10 picks on 82 pass attempts across the regular season and playoffs. Tyrod Taylor, whom Peterman replaced last season, has thrown just seven picks on 541 passes since the start of 2017. Alex Smith has thrown seven interceptions on 709 pass attempts over that same time frame. Smith could throw interceptions on each of his next 90 pass attempts and still have a better interception rate than Peterman since the start of 2017.


The Jaguars would allow 40 points to the Cowboys
If I told you the Cowboys would have put up 40 against Jacksonville, you might have imagined a scenario in which Blake Bortles perhaps literally self-destructed and left Dallas with a bunch of short fields, or a game in which Ezekiel Elliott threatened the single-game rushing record. Neither really happened. The Jaguars turned the ball over only twice in Sunday's 40-7 loss in Arlington, Texas, and Zeke racked up only 106 yards on 24 carries, though the Cowboys ran for 206 total yards.
Instead, the Cowboys pressed small advantages across the board. They recovered all three of the game's fumbles. Dak Prescott threw for only 183 yards, but he racked up 82 rushing yards and a touchdown to go with two passing scores. The only receiver Prescott hit more than twice was slot receiver Cole Beasley, who took advantage of blown coverages and mismatches against the likes of Tyler Patmon to rack up nine catches, 101 yards and two touchdowns.
Since their triumphant win over the Patriots to go to 2-0, the Jaguars have faltered. They're 1-3, and the offense has been a bigger problem than the defense. Since he threw for 376 yards and four touchdowns during the Week 2 win over the Patriots, Bortles has spent the next month struggling to find any traction. He has posted a 75.5 passer rating over the past four games, with four touchdowns against six interceptions. He offered virtually nothing in the 9-6 loss in Week 3 to the Titans, when even a decent game would have resulted in victory given that an injured Marcus Mariota could barely spin the ball.
Bortles racked up meaningless yardage against the Chiefs in Week 5, so when the situation-adjusted Total QBR algorithm looks at his numbers, it pegs Bortles for a mark of 37.1 over the past month, placing him between C.J. Beathard and Josh Allen in 30th place. He's looking up at both Eli Manning and Case Keenum over that stretch.
You can blame the injuries along the offensive line for those problems, and Bortles is indeed taking heat. He's being pressured on 33.7 percent of his dropbacks, which is 25th in the league. The line isn't about to get any healthier. Jacksonville is already on its third-string left tackle with Cam Robinson and Josh Wells on injured reserve, and it signed colossal Giants washout Ereck Flowers to potentially fill in once he learns the playbook. Andrew Norwell, Brandon Linder and A.J. Cann have all missed time with injuries.
The defense will eventually help out with takeaways. The Jags forced turnovers in 17 of their 19 games last season, missing out only on a pair of midseason games against the Colts and Bengals. Over the past month, they've forced only two takeaways, both coming against Mahomes during the loss to the Chiefs. The Jags forced 17 fumbles last season -- six from Yannick Ngakoue alone -- but had created only one fumble all season before the Cowboys fumbled twice on Sunday. Jacksonville didn't recover either of those fumbles, but you can't recover a fumble without creating one. The Jags need to start creating takeaways and protecting Bortles to get back atop the AFC South.
Philip Rivers would be a viable MVP candidate
Let's finish up with Rivers, who seemed to get painted with the same brush as Eli Manning over the past few years in terms of throwing his team into two or three losses per season. Over his past 16 games, Rivers has a case as the best quarterback in the league. His numbers are instructive. Since Week 7 of last season, Rivers is 352-for-539 passing for 4,584 yards with 33 touchdowns and eight interceptions. His 106.2 passer rating is third among qualifying starters over that time frame behind Drew Brees and Jared Goff, while he trails only Carson Wentz with a Total QBR of 74.1. (Wentz, at 74.4, has taken 114 fewer dropbacks.)
As always, Rivers has done that while shuffling through offensive pieces. His offensive line is already beat up. Hunter Henry is out for the year. Travis Benjamin is missing. Keenan Allen has only one touchdown. His wideouts dropped catchable balls that cost the Chargers 115 yards and two touchdowns in the Week 1 loss to the Chiefs. Melvin Gordon dropped a red zone pass into Christian Kirksey's hands for an interception in Sunday's 38-14 rout of the Browns, Rivers' third pick of the year.
Rivers is always going to inspire memes. Nobody else in the league is like him or could imitate him if they tried. You couldn't -- and wouldn't -- teach someone to emulate that looping passing motion Rivers has made work for more than a decade. Outbursts and angry facial expressions that might seem corny or manufactured from other quarterbacks feel genuine when they're coming from Rivers six or seven times a game. Some quarterbacks scare you when they look downfield and fire. The viewer at home can sense the open receiver before the camera even whips downfield. Rivers is the only quarterback who gives you that same feeling on shallow crosses.
The Chargers are 11-5 over those last 16 games. Their five losses are to the stiffest competition. In 2017, they lost to the Patriots in Foxborough, the Jaguars in Jacksonville, and the Chiefs in Kansas City in their one truly disastrous game of the span, when Rivers threw three picks. This season, their losses have come to the 6-0 Rams and the 5-1 Chiefs. If they keep beating the teams they're supposed to beat, the Chargers will be back in the postseason. And if he keeps throwing four touchdowns for every interception, Rivers should be considered for MVP.