The 2019 NFL draft is over, and the league's rookies are already on the field.
ESPN's NFL Nation reporters were on location at the NFL team facilities to document players hitting the field with their new teams for the first time. Here is a collection of the sights and sounds from some of the NFL's newest members.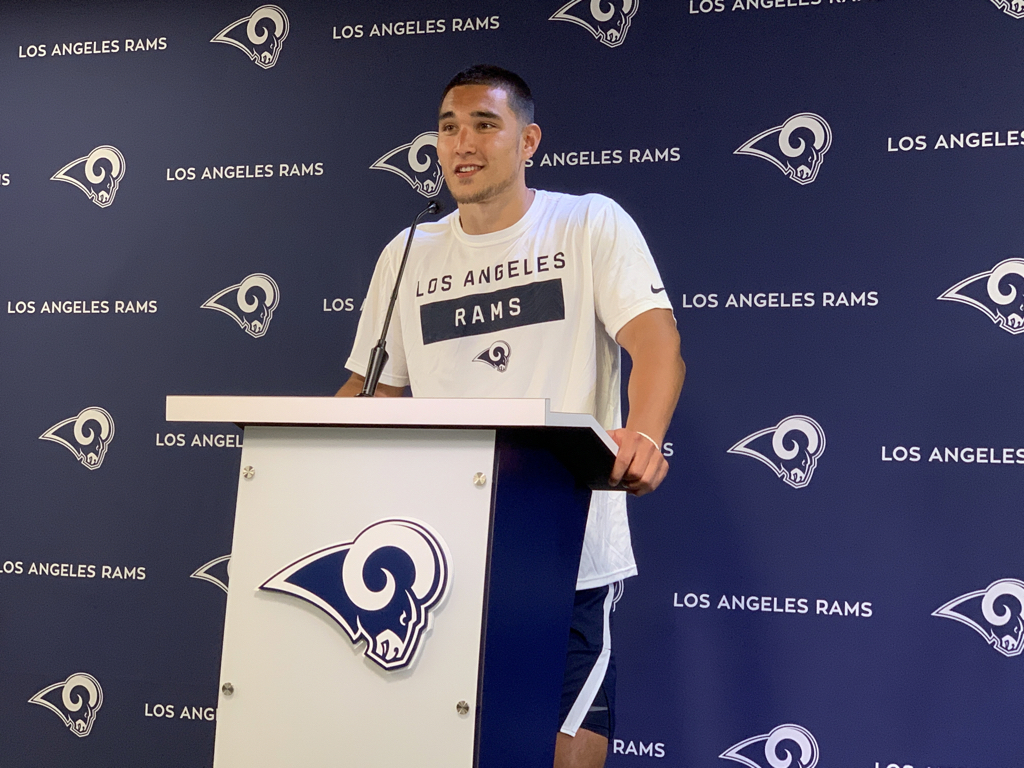 The Rams did not hold a rookie minicamp with their drafted players, opting instead to throw the rookies into offseason workouts with the veterans. Safety Taylor Rapp said Tuesday that it was "surreal" to finally join the team after he was selected in the second round. "When we were in the team meeting, we were getting introduced... it kind of hit me like, I'm actually here." Rapp is expected to compete for a spot in a position group that includes Eric Weddle and John Johnson. Rapp is among four players on the roster who played at Washington, joining defensive tackle Greg Gaines (Selected in fourth round after Rapp), linebacker Cory Littleton and cornerback Marcus Peters.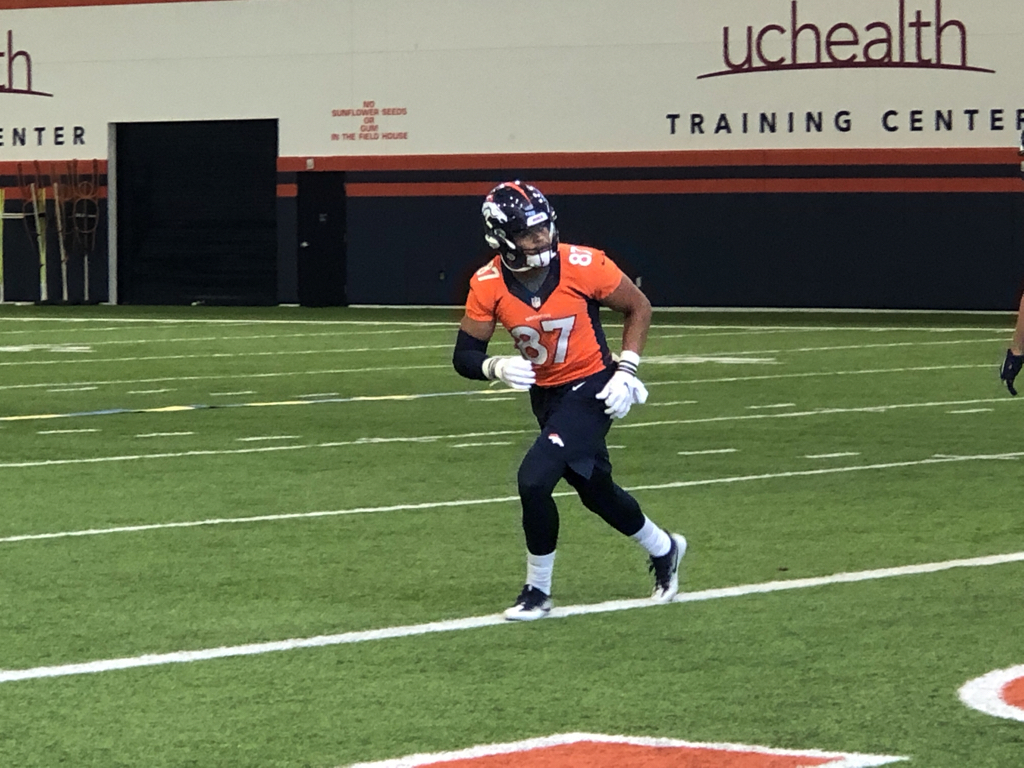 The Broncos wrapped up their three-day rookie minicamp Sunday and first-round pick (20th overall) Noah Fant showed why the Broncos figure to quickly work him into the offense. The rookies were given just a sliver of the playbook, but Fant's speed and quickness at the top of routes was evident.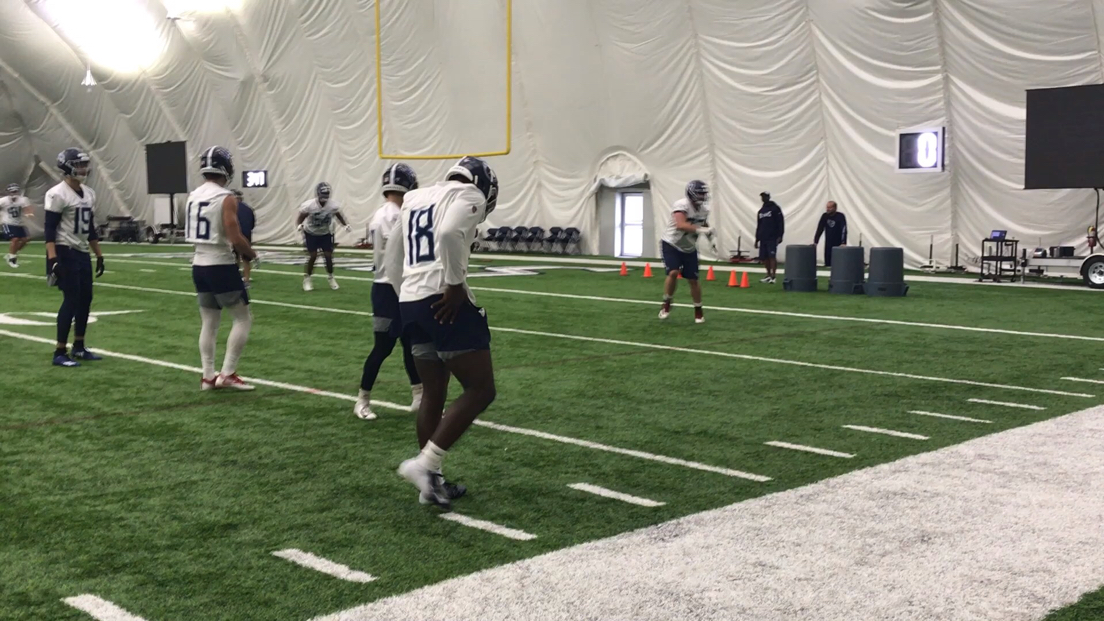 A.J. Brown on display during his second practice as a Titans WR. Position coach Robb Moore got to work with Brown during individual period. Brown made an impressive catch at the end.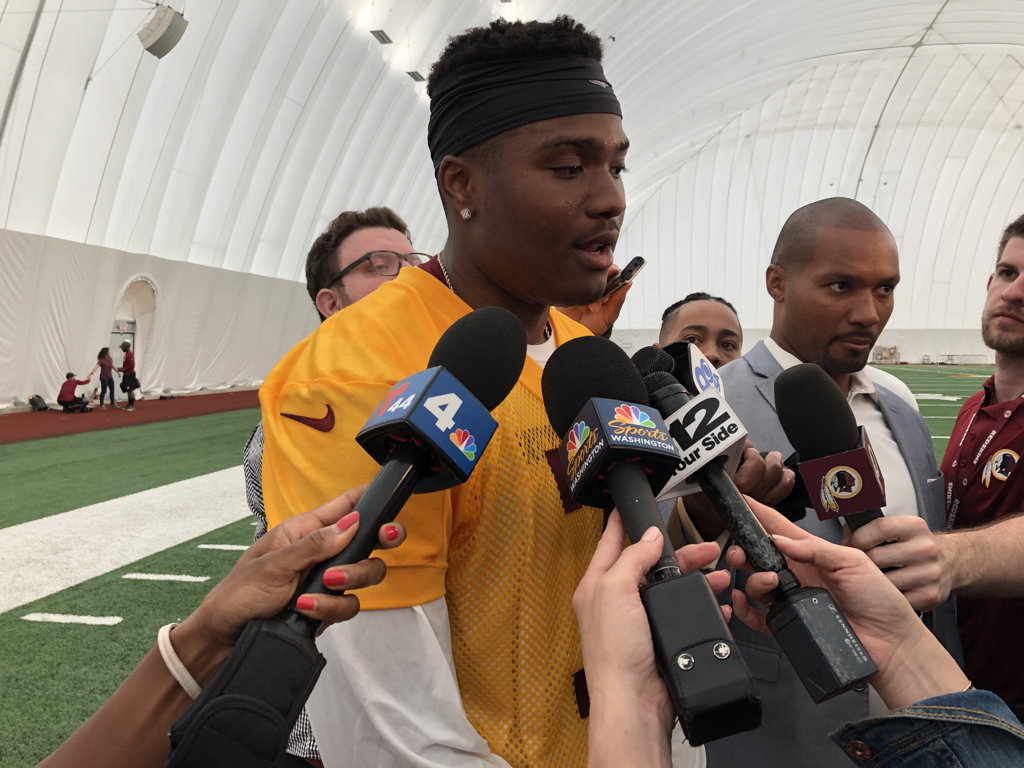 Quarterback Dwayne Haskins has impressed Jay Gruden with his arm through the first two days of rookie minicamp. "It's been a treat," Gruden said. "He's made some throws that turn your head without a doubt...When he's got a clean pocket and his feet are there, he's just a big fundamentally sound guy. The ball just jumps off his hand."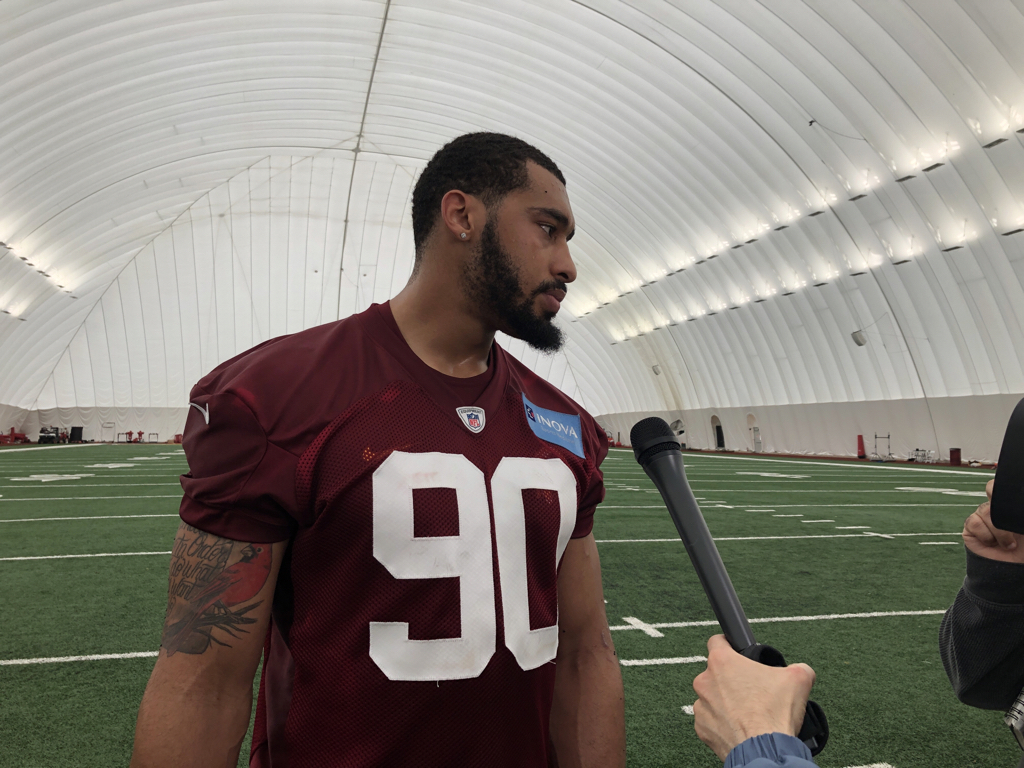 The Redskins other first-round pick, linebacker Montez Sweat, stands out because of his measurables. "I have no doubt he'll play a lot," Redskins coach Jay Gruden said. "The skill set is obvious. You see his length, you watch him run after practice and he's probably faster than anyone we have right now."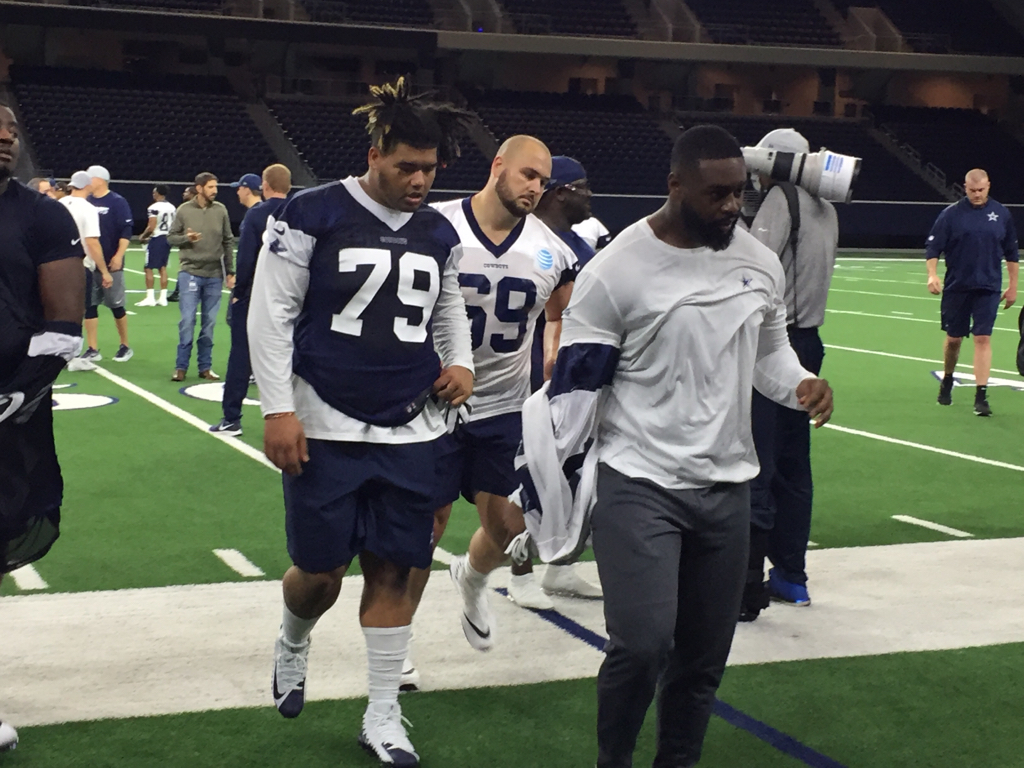 Trysten Hill, the Cowboys' top pick, is two days into a career, but the mini-camp is more of an orientation. The players are not in helmets and there is no offense vs. defense work in the workouts that last less than an hour. Hill has already built a bond with defensive coordinator Rod Marinelli, who worked him out at his pro day and kept tabs on him through the draft process. "It's a dream come true," Hill said. "Knowing that he wants the best, he definitely takes care of me. He watches out for me. He makes sure to coach me up the right way, the way I want to be coached. He's unwavering. It's just important to be around him. It motivates me to go out and give my best."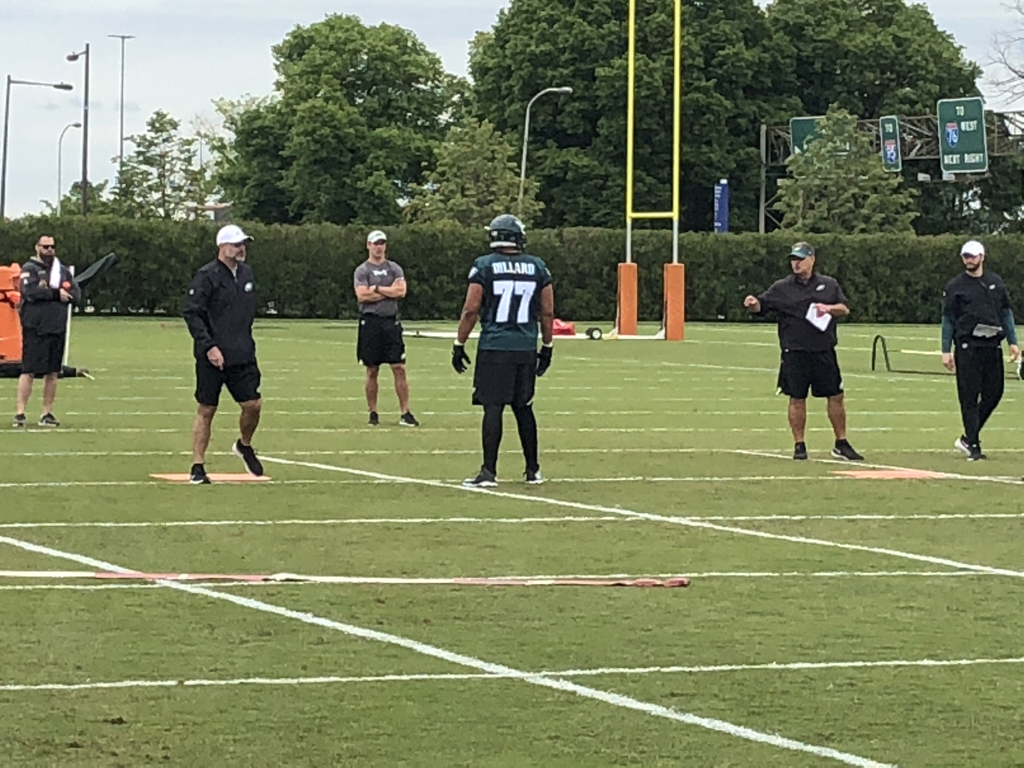 Eagles first-round pick Andre Dillard getting his first taste of life under o-line coach Jeff Stoutland. Doug Pederson said while several tackles will cross-train this offseason, he's going to keep Dillard, Jason Peters' heir-apparent, at left tackle exclusively while he gets his feet wet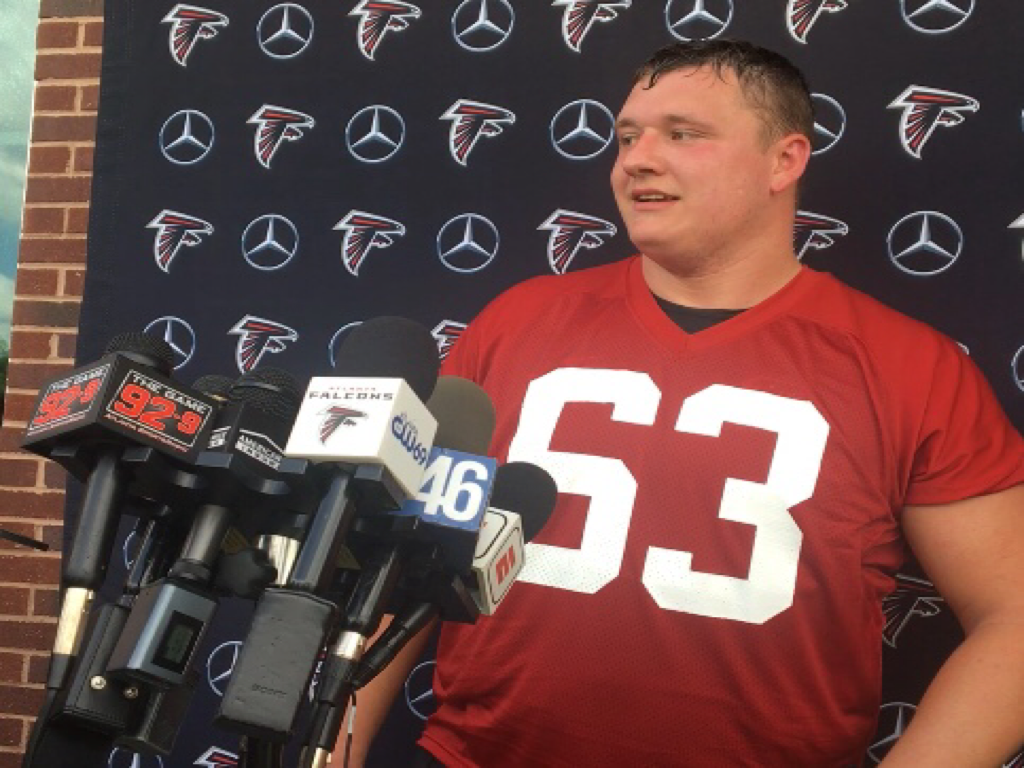 Falcons first-round pick Chris Lindstrom, the offensive guard from Boston College, came to Atlanta at 308 pounds. The Falcons want him to put on a little more weight, which he has no problem doing. "I've been comfortable at so many weights," Lindstrom told ESPN. "I've been up to 317 in camp last season. I started at 230 in high school, so I've been all over the place. But I feel really good around 310." Lindstrom moved around well during the first two days of rookie minicamp. He lined up at right guard and worked well in unison with fellow first-rounder Kaleb McNary, who lined up at right tackle.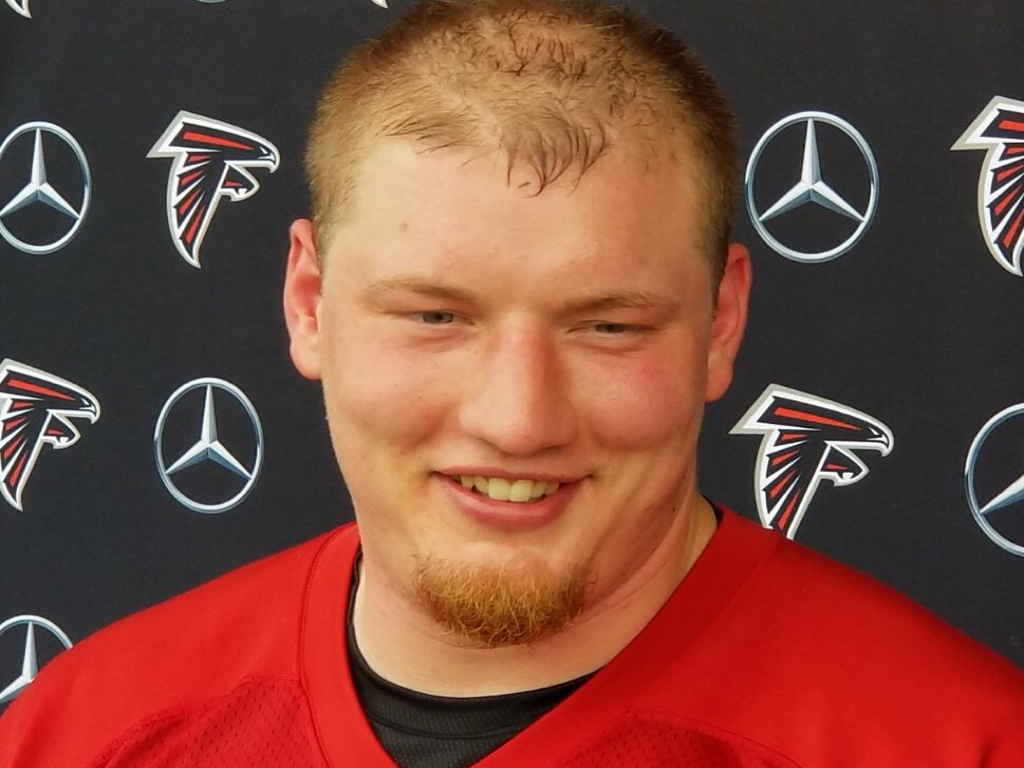 Falcons first-round pick Kaleb McGary, who said his goal on Day 1 of rookie camp was not to look like an "idiot" appears to bring a lot of personality to the ballclub while playing right tackle. It was hard to get a real feel for McGary's ability just yet, but it will be interesting to see him perform vs. Vic Beasley and Takk McKinley when the rookies join the veterans. McGary's goal as an offensive lineman is to "throw people on the ground."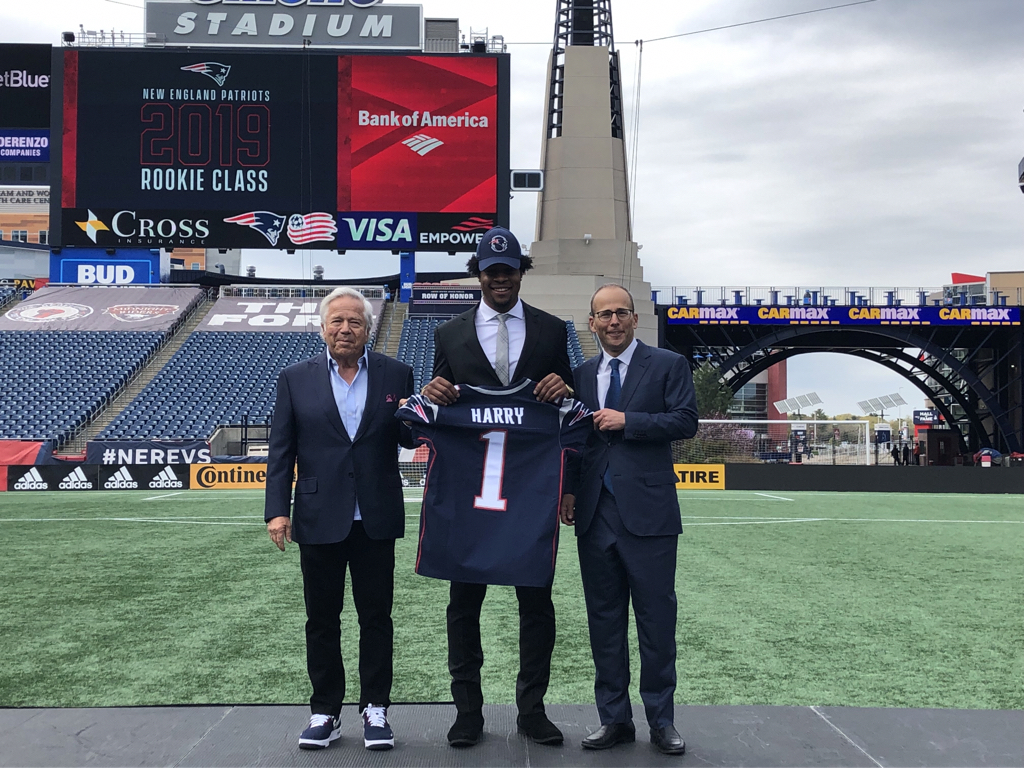 Patriots first-round pick N'Keal Harry is joined by owners Robert Kraft and Jonathan Kraft for the traditional No. 1 introduction of the top choice. Harry said he took a red-eye flight and arrived in town at 5:30 a.m. ET. When asked one thing he'd like to do after signing a four-year contract that is projected to be worth $10.1 million, Harry said it will be helping his family and where he came from, the Caribbean island of St. Vincent.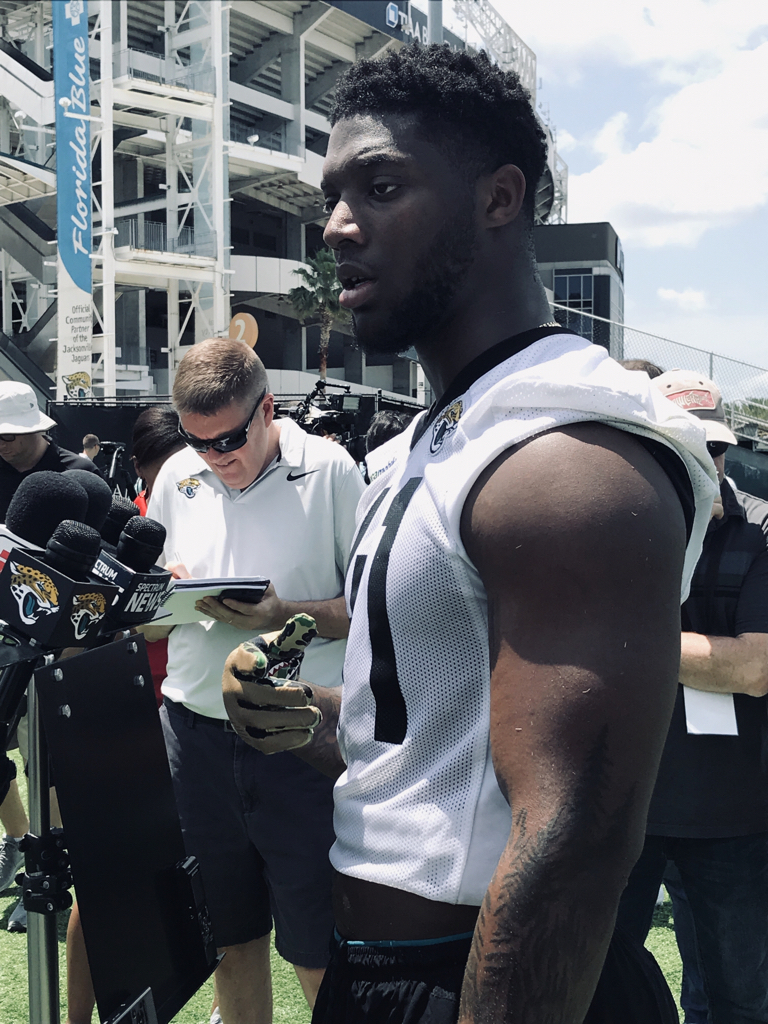 Jaguars coach Doug Marrone said first-round pick Josh Allen showed up in great shape for the team's rookie minicamp. Marrone says they're intrigued with how he fits in the defense. "There's a lot of things we can do," Marrone said. "We just got him here. He'll play both up (at linebacker), play down (at defensive end). We'll see how he beat fits our team."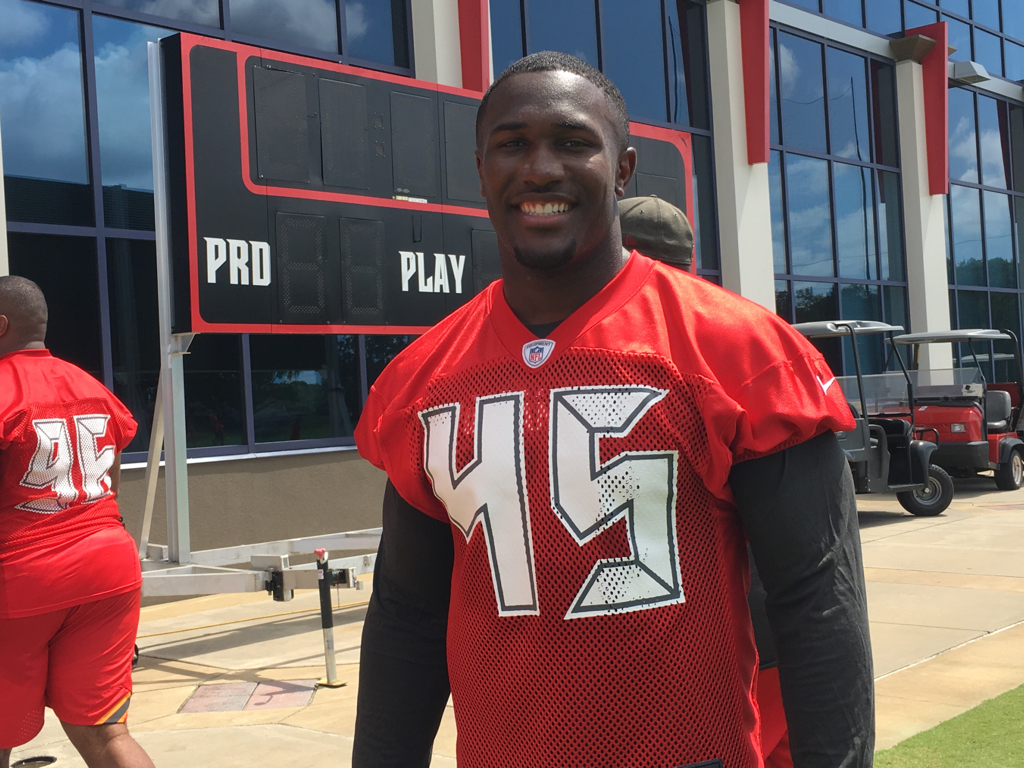 Here's a first look at Bucs' fifth overall pick Devin White, who ultimately settled on No. 45 for his jersey. His favorite, No. 40, already belonged to Buccaneer Ring of Honor member Mike Alstott. He said there wasn't even a conversation about it. "When you see his name in that stadium, that's the ultimate respect," White said. "A change is sometimes good and I feel like this was a good change, just because of who I have to respect. And one day someone might have to respect me that way."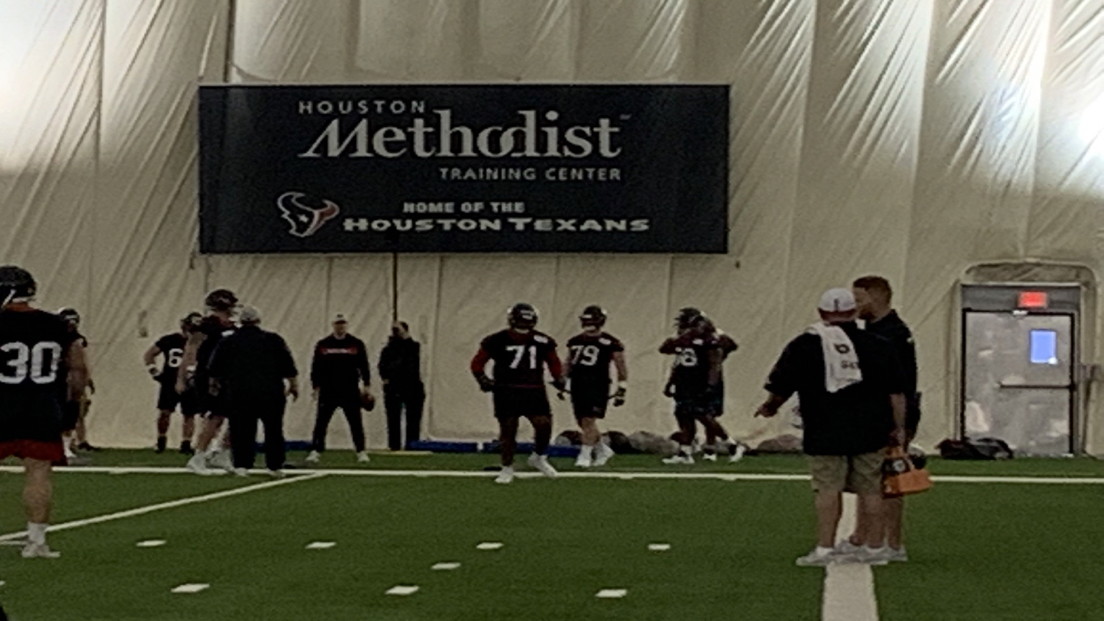 It's only been one day of rookie minicamp, but Bill O'Brien said Texans' first-round pick OT Tytus Howard impressed despite being given a lot of information in a short amount of time. Howard will spend a lot of time at both tackle spots this offseason, but can play guard as well.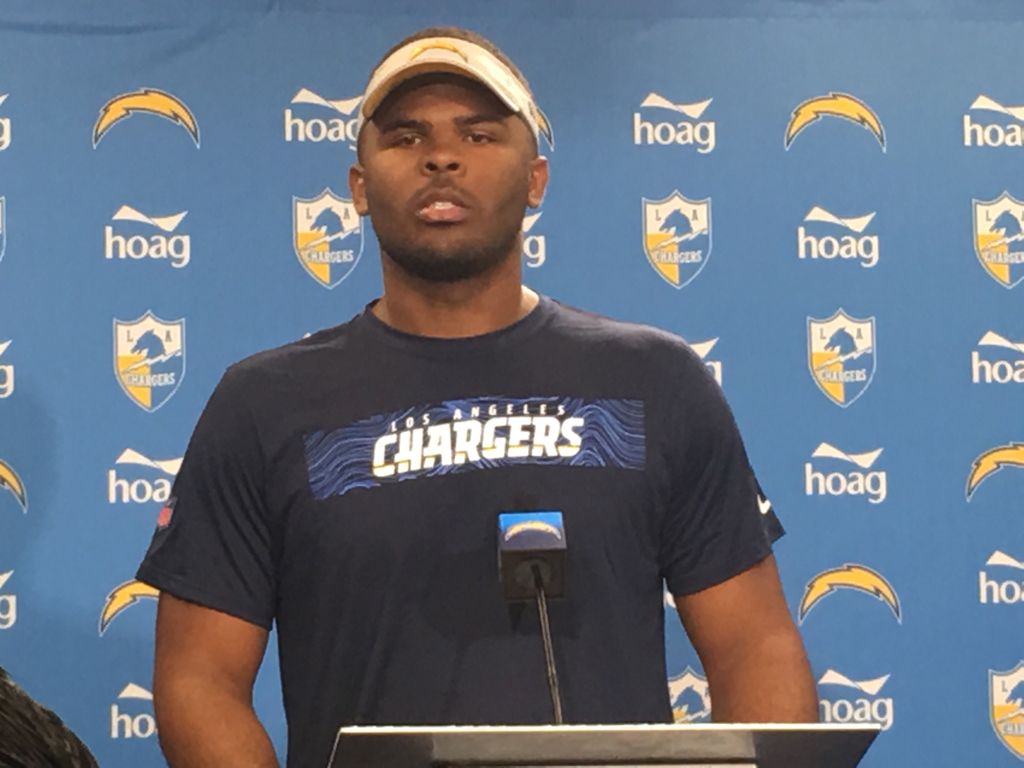 Chargers first rounder Jerry Tillery watched practice from the sideline as he recovers from labrum surgery on his shoulder in March. Since he cannot practice, Tillery said mental reps and film study will be important this weekend.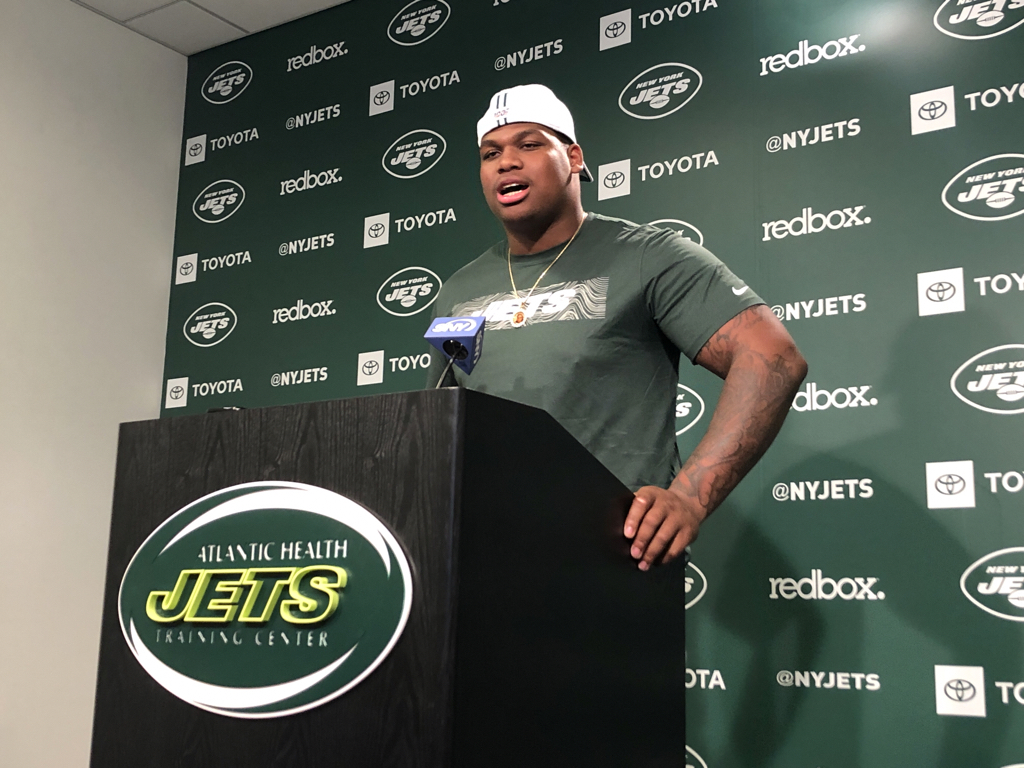 Jets first-round pick Quinnen Williams expressed a fun-loving air of confidence in his first news conference. He referred to himself as a "dominant player" who can play every position on the defensive line. He said, "I want to go out there and sack every last quarterback." Williams said it would be "crazy" to sack Tom Brady, claiming Brady's NFL career started before he was born. (Not quite: Williams was born in 1997, Brady began in 2000.) A personal takeaway: Williams appears smaller than his listed size (6-3, 303). Not disputing the numbers, just an observation.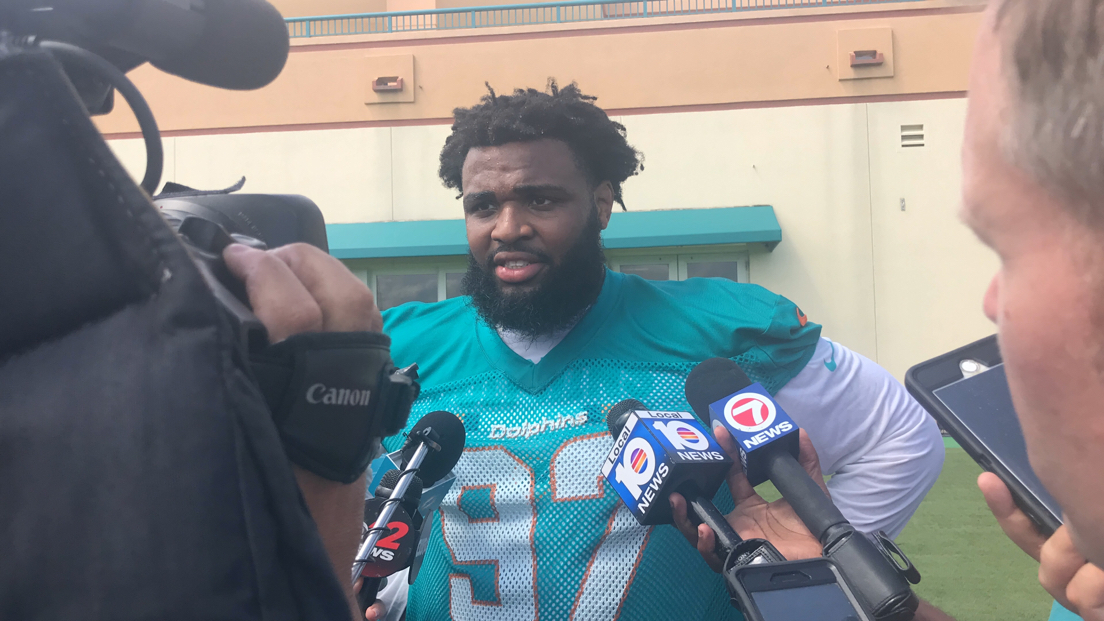 Dolphins rookie DL Christian Wilkins, dripping in sweat, said he could tell it was Day 1 for him & his teammates back on the field. "I was working hard before I got here but this Florida heat, this Miami heat is a little different."‬ Rookie minicamp consisted of teaching primarily, but the on-field drills tested Wilkins' eyes, hands, feet and conditioning. Brian Flores couldn't help but smile when discussing Wilkins and his "fun-loving" personality. Flores also noted the contrast been Wilkins' vibe and his own "straight-edge personality." Wilkins says he knows the balance between fun and hard work, and the Dolphins are expecting him to make an impact at DE, DT and the locker room.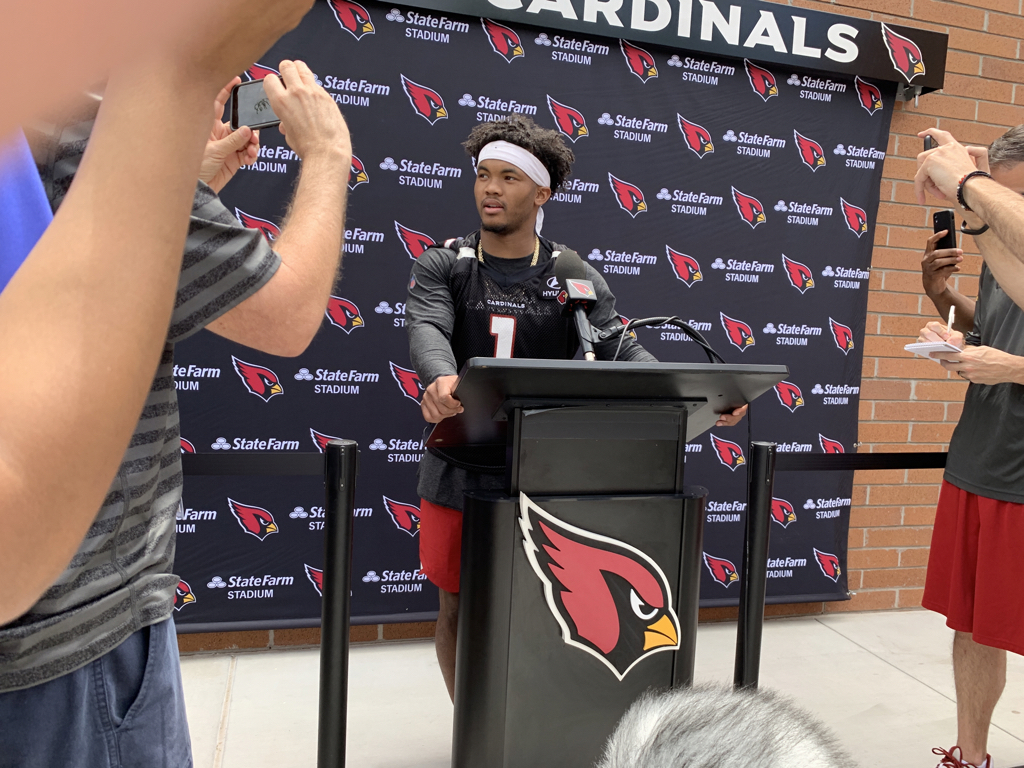 Despite having the wrong cleats, Cardinals rookie quarterback Kyler Murray felt good about his first rookie camp practice and he enjoyed finally uniting with coach Kliff Kingsbury seven years after Kingsbury started recruiting him in high school. Murray felt he threw the ball "alright" on Friday but, overall, he thought it was a good first day.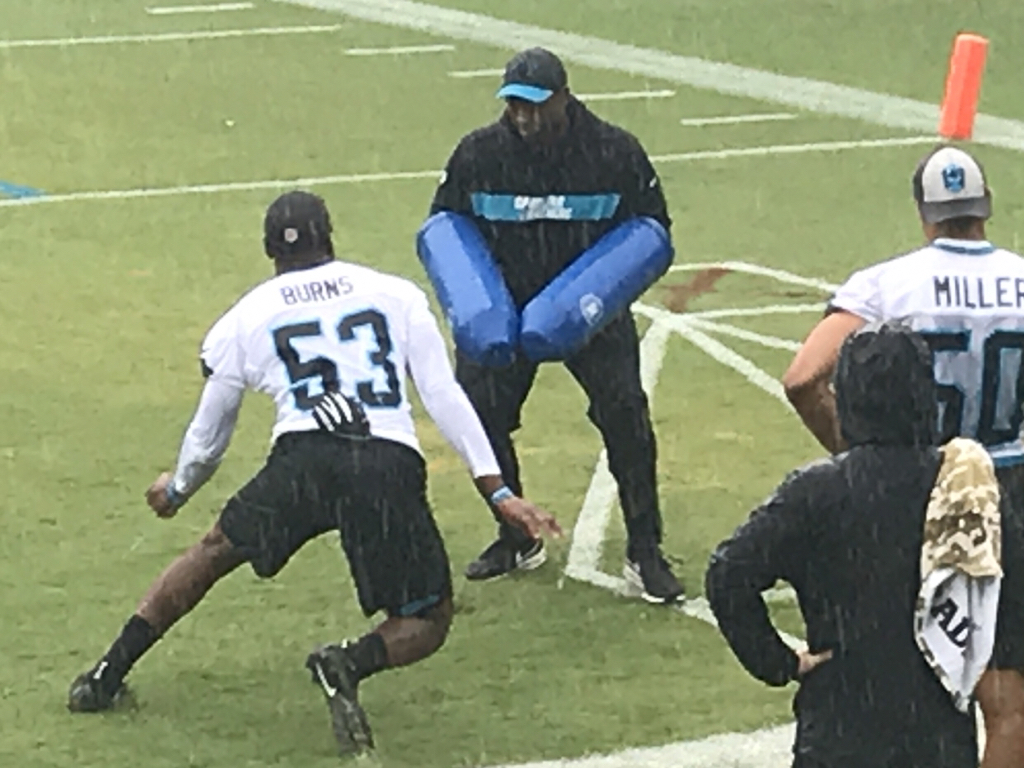 Not quite a ''Spider-Man'' pose as Panthers first-round draft pick Brian Burns was known for at Florida State. And evaluating how the 16th overall pick did during a steady downpour as rookie camp began wouldn't be fair. After all, Burns wore a cap. But he initially lined up as an OLB as Carolina blends the 3-4 front into its traditional 4-3 scheme. Burns' ability to also play DE in the 4-3 was one of the things that made him so attractive to coach Ron Rivera, who says what defense he calls will be situational.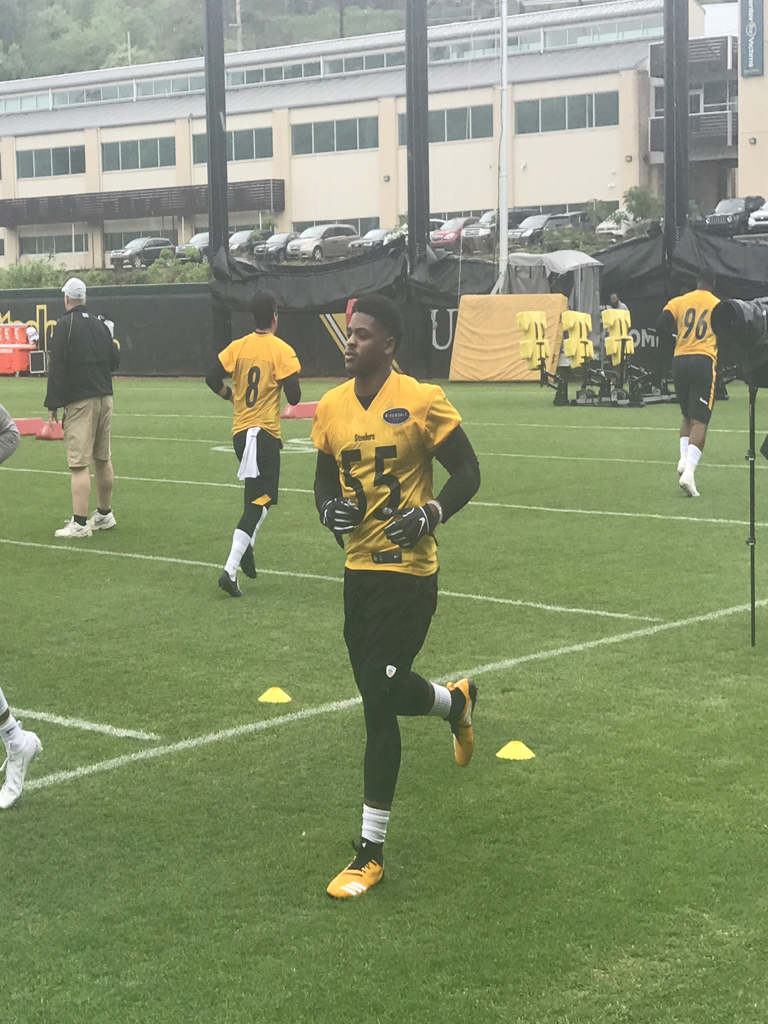 Steelers first-round pick Devin Bush called the defense on his first day of rookie minicamp. The linebacker's athletic ability was on display, but Bush said he was more focused on "being vocal as much as I could, whether I'm right or wrong, trusting what I see." Fellow rookie Justin Layne isn't concerned with Bush's accuracy in that area. "Bush is a dog. I'm not too worried about him," Layne said.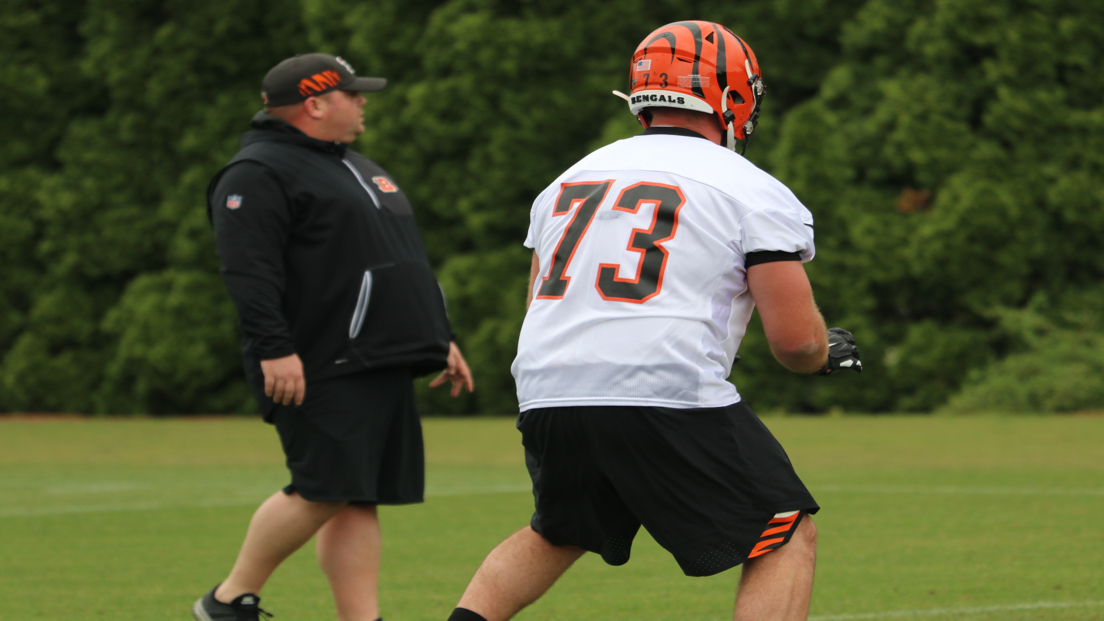 Bengals new first round pick Jonah Williams is practicing for the first time as they begin rookie minicamp. It's unclear where exactly they'll use him the most this early in the process.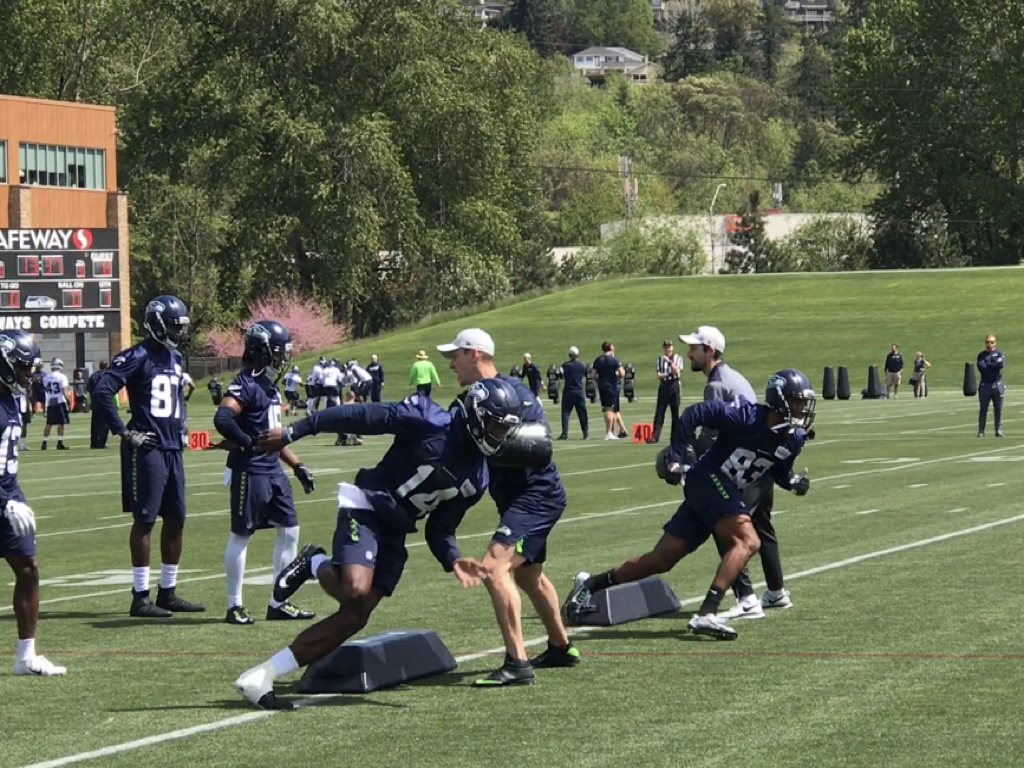 DK Metcalf had what Pete Carroll called a "great weekend" at Seahawks rookie minicamp. Seattle's second-round pick looked as fast as advertised and showed natural catching ability while hauling in one deep ball after another. He was clearly the favorite target of the three quarterbacks in camp. Some caveats apply. Skill players are set up to stand out in non-contact practices like these, where defenders aren't contesting catches. And a bigger test awaits for Metcalf when he faces veteran cornerbacks. But he made as strong of a first impression as he could have.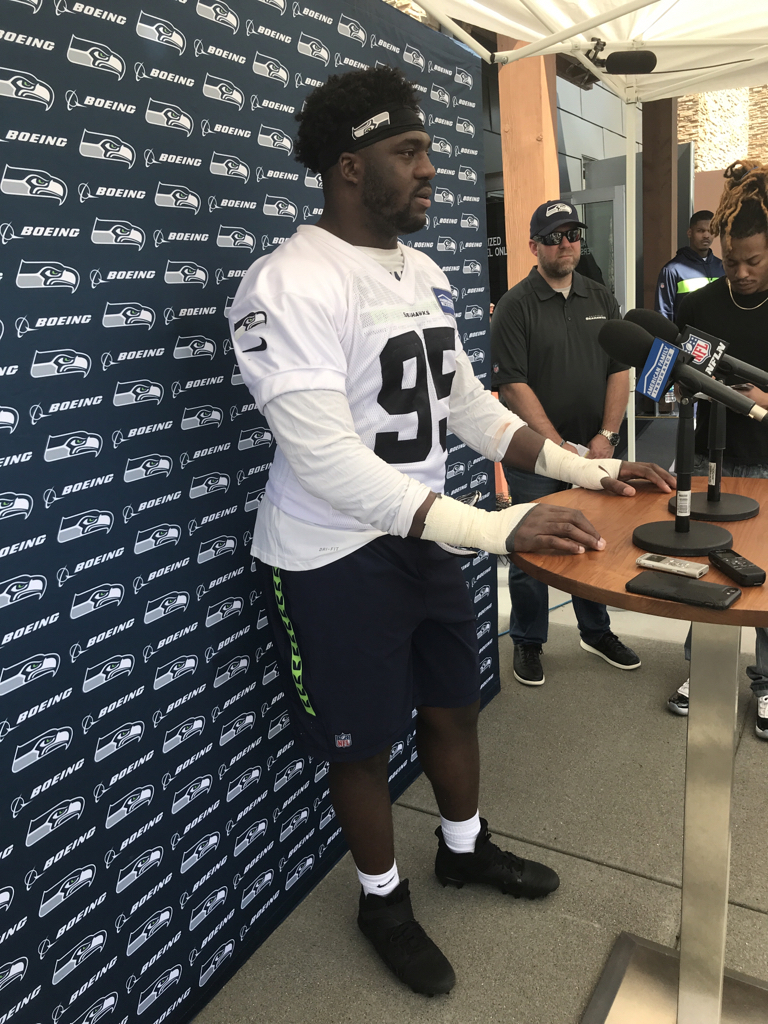 Seahawks first-round pick L.J. Collier looks the part of a five-technique, which is the bigger of the two defensive ends in Pete Carroll's defense and primarily plays on the strong side opposite the smaller Leo end. Carroll said that while it's hard to glean much from defensive lineman in non-contact settings, he again noticed how well Collier uses his hands. "That's a special characteristic that he already has," Carroll said. "So technique-wise, he's been coached very well also and there's stuff that we can do with him. I think it's going to be a really exciting guy for us to fit into the scheme. Like we said before, he'll play the spot where Michael Bennett played and we'll ask him to do a lot of similar things."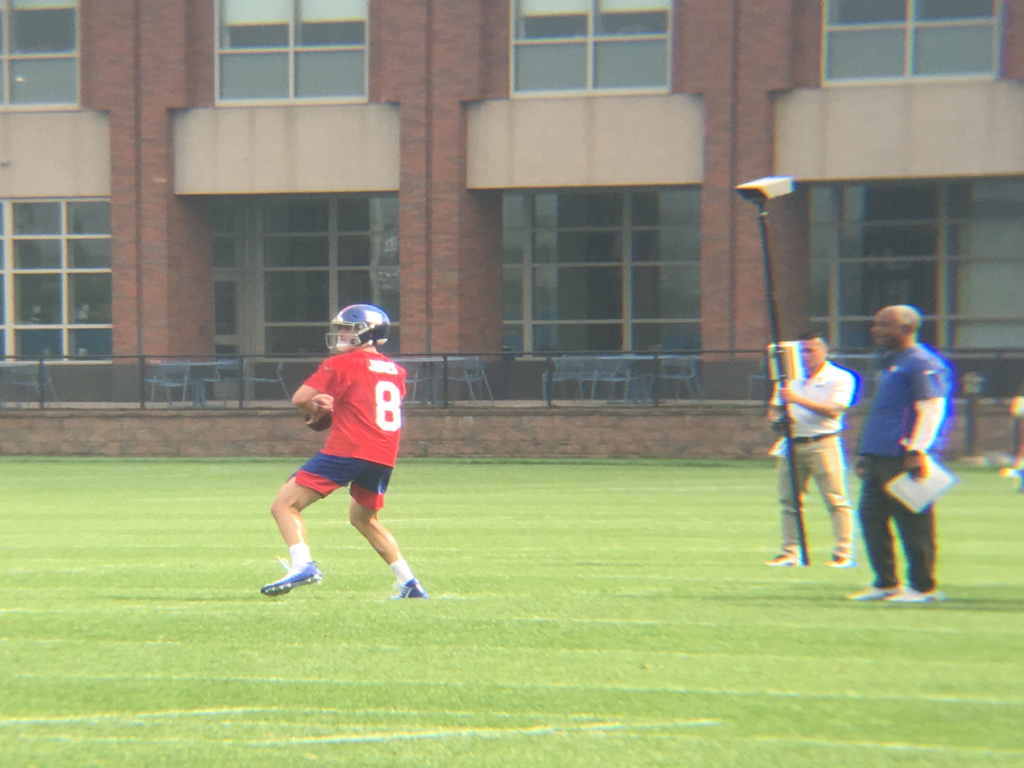 Practice 2 of the Daniel Jones era in the books. Had some ups and downs (an INT, great throw downfield on deep post). Also stayed after practice with some receivers for extra work. "This is the way Daniel operates," coach Pat Shurmur said.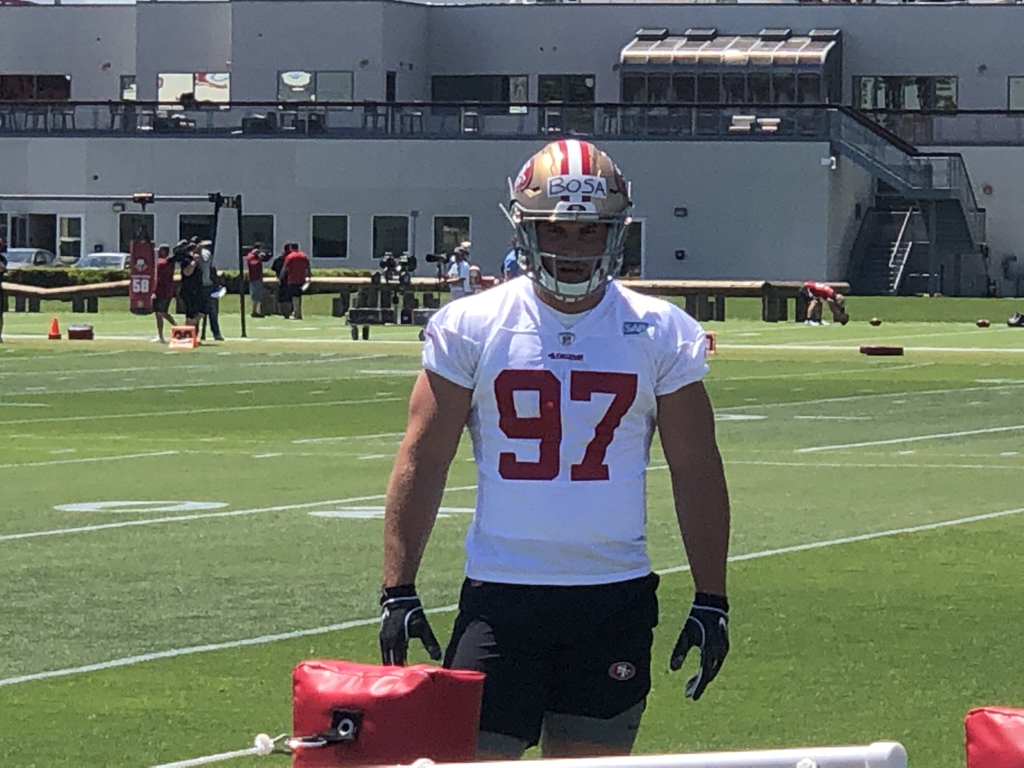 New 49ers DE Nick Bosa didn't participate in team drills during Friday's rookie minicamp practice but did do one on one drills (and was successful as would be expected). Niners easing him back into football as he returns from core muscle injury.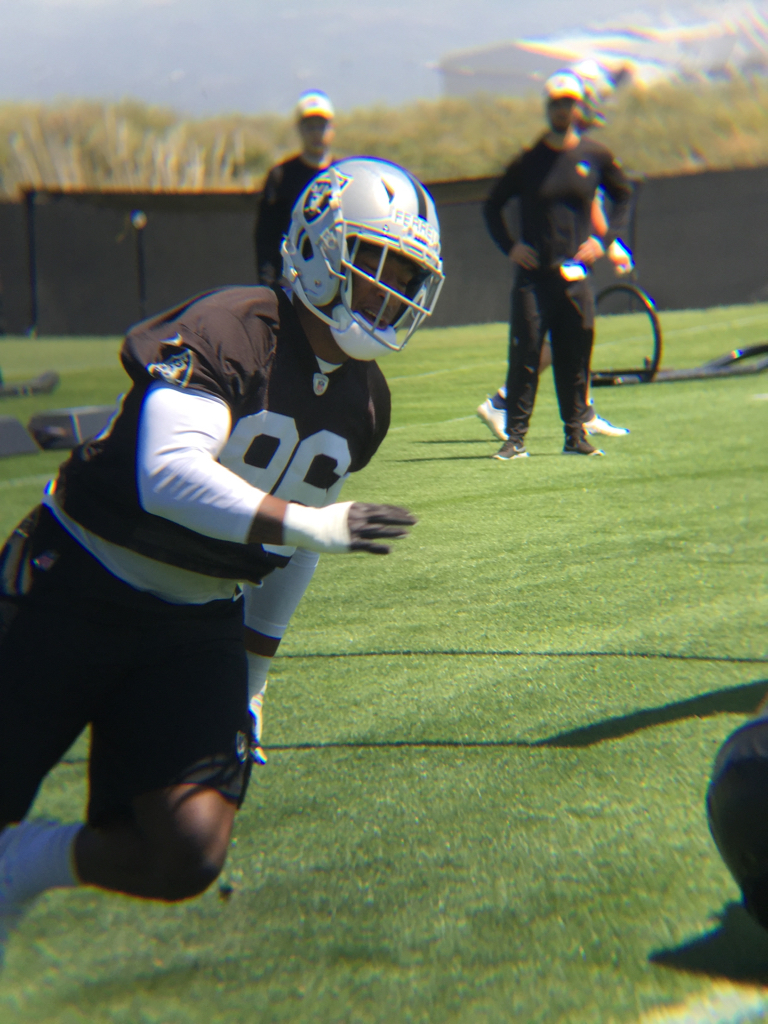 Rookie defensive end Clelin Ferrell has been a Raider for all of a week and has already impressed with his work ethic. "The play is going to come with itself." Ferrell, the No. 4 overall draft pick, said Friday, as Oakland opened its rookie minicamp. "But I just want to earn the respect of my teammates, that's the biggest thing. So much going on around because you're a rookie and don't know much. Everything is just knew, it's a whole new situation, whole new playbook, whole new teammates, everything. So, just come in with the right mindset and right attitude, work hard."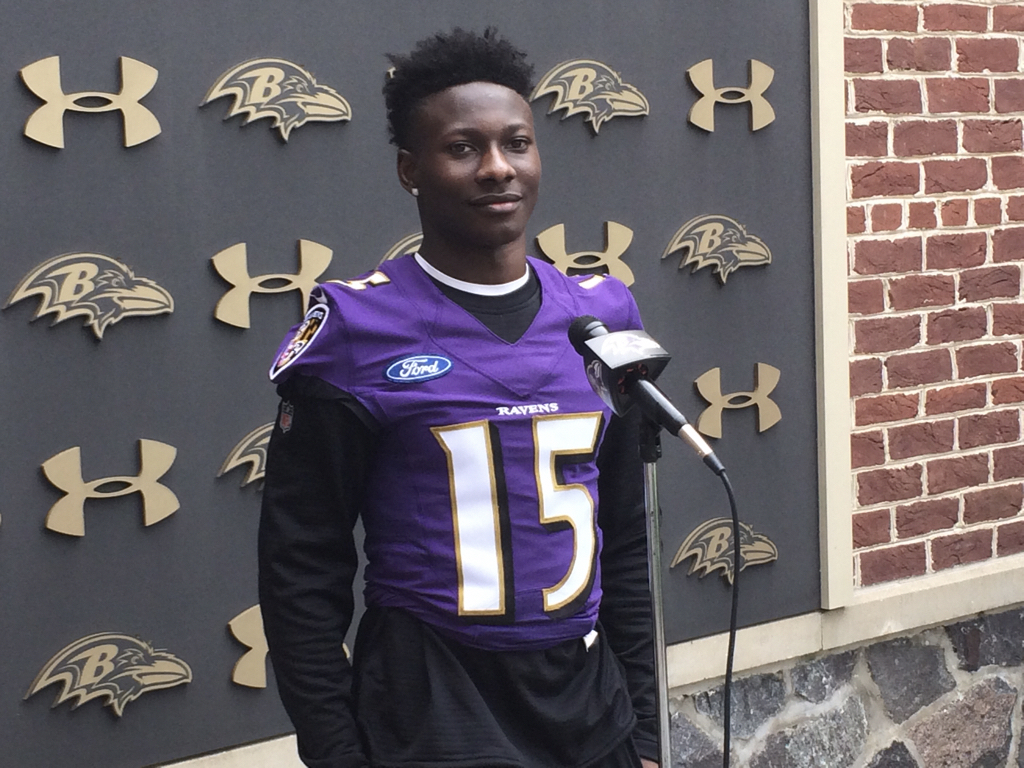 Wide receiver Marquise Brown, the Ravens' first-round pick, sat out rookie minicamp as expected after undergoing foot surgery four months ago but should be ready for the start of training camp. "It's tough," Brown said. "But at the same time I have fun taking those mental reps, because I kind of have an advantage getting back and being able to watch."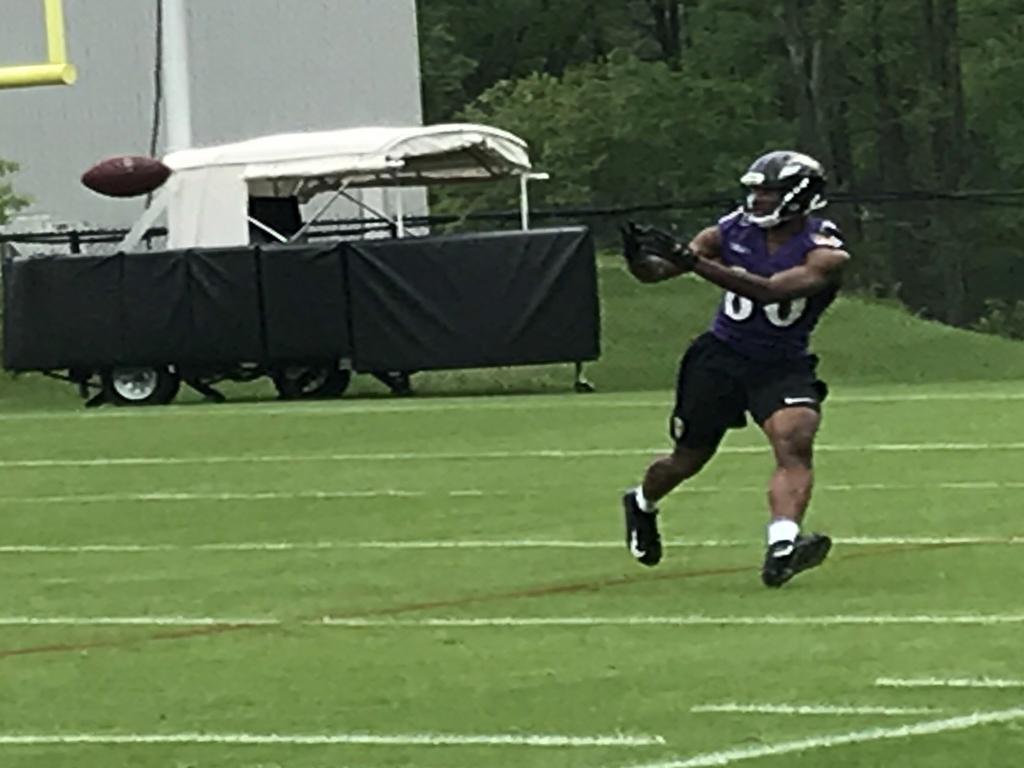 Wide receiver Miles Boykin, the Ravens' third-round pick, was impressive catching the football at rookie minicamp. Known for his hands coming out of Notre Dame, Boykin didn't have any drops and made a great catch on a low-sailing pass, plucking it before it hit the ground. Boykin is also a long-strider who can cover a lot of ground in a few steps.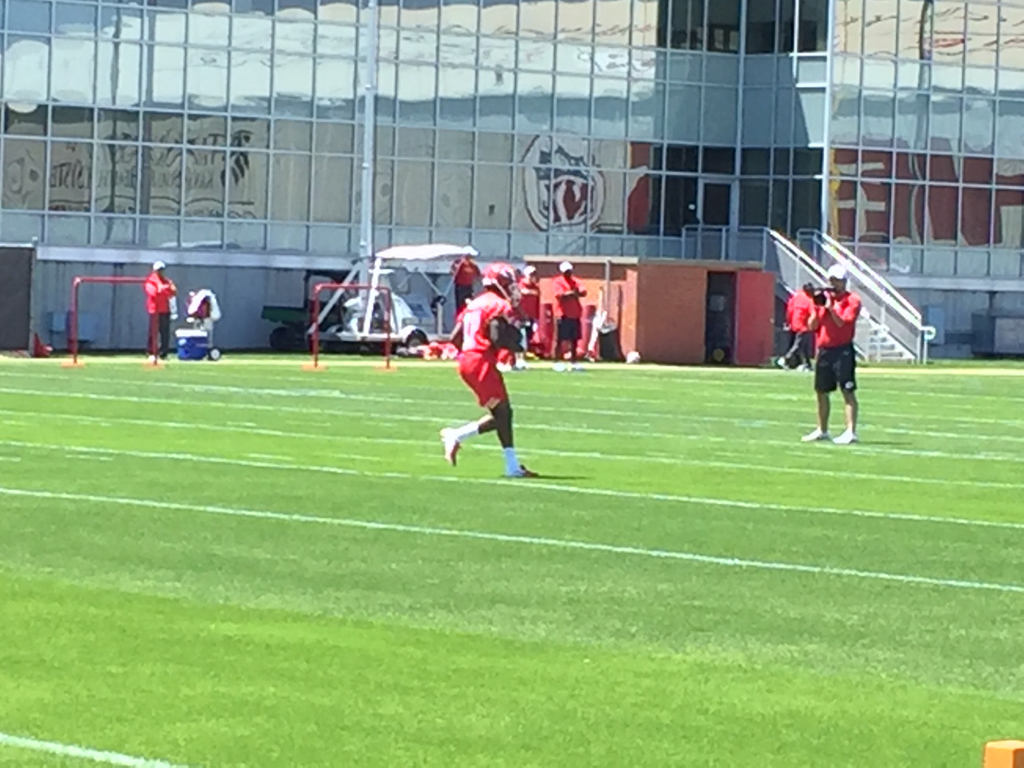 WR Mecole Hardman, a second-round draft pick, flashed his 4.33 40 speed at the opening of Chiefs rookie camp. He lined up in a variety of spots, both in the slot and split wide. "The things coach (Andy) Reid (does) in this offense suit me well," Hardman said. "I feel I can do a lot of things in the offense. I'm versatile. I feel wherever he needs me to go, I can go. Whatever he needs me to do, I can do." Hardman is the obvious choice as a replacement for Tyreek Hill if he's released or suspended.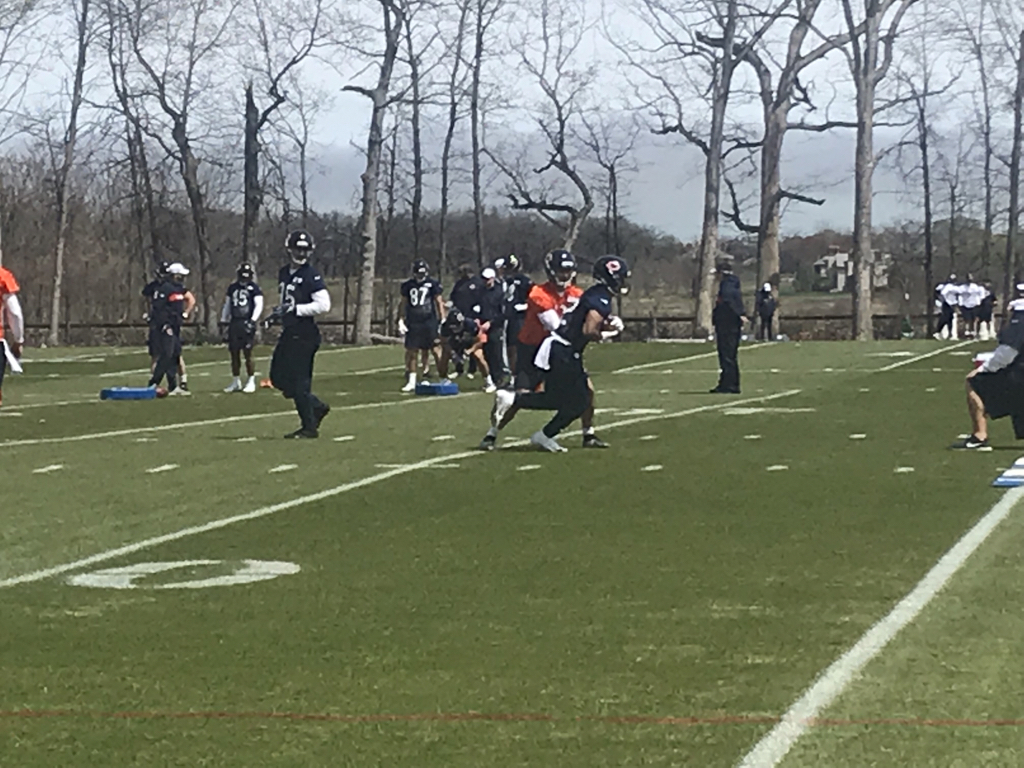 Bears third-round pick RB David Montgomery made a strong impression thought rookie minicamp. "He's very, very … he's extremely focused when he's in practice, which I love, Bears head coach Matt Nagy said. "He's very dialed in to whatever his assignment is. He loves being out here." Montgomery projects as a future every-down running back, and he did nothing to dispel that notion over Chicago's three-day rookie camp. Montgomery may lack elite breakaway speed, but his quick feet and above average lateral movement was easy to spot during drills.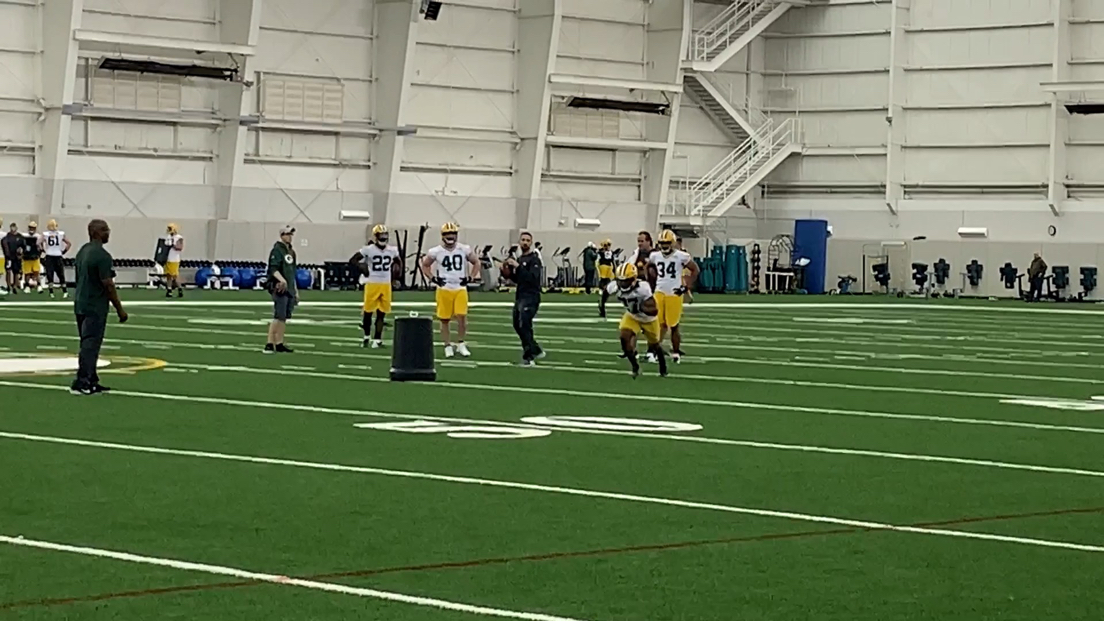 A Saginaw Valley State QB and current NFL head coach threw during drills at Packers rookie practice.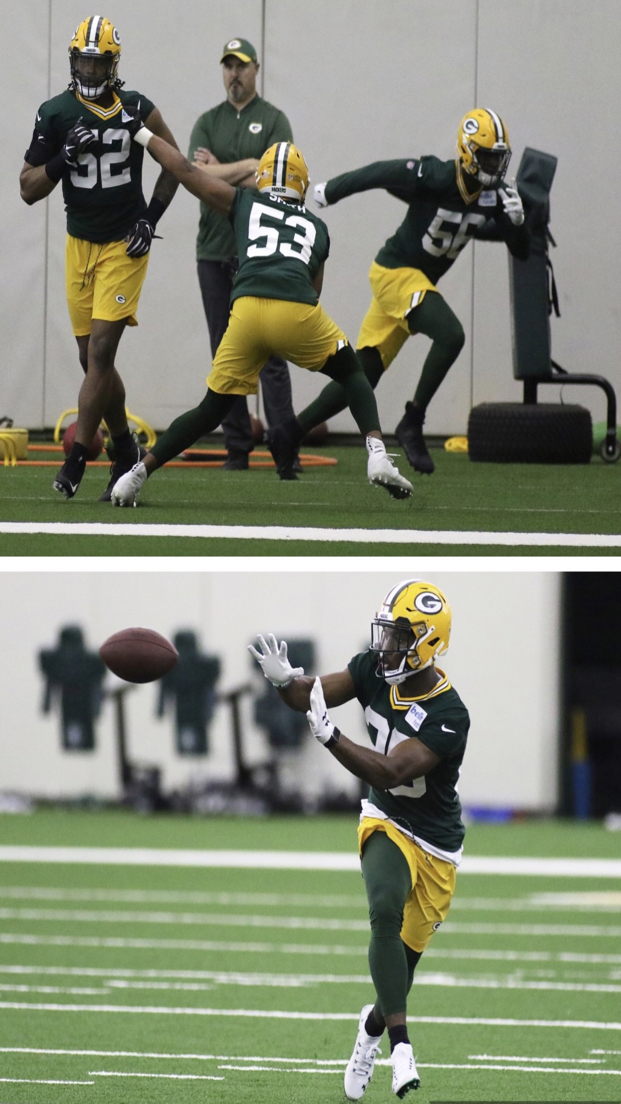 Rashan Gary and Darnell Savage Jr. will be forever linked as 2019 first-round picks, but the two said despite playing in the Big Ten they didn't know each other before the Packers picked them. But it's clear they expect and the Packers expect Gary to help increase pressure on the quarterback and Savage to make plays on the ball in the secondary. "I told him, 'Don't worry, man. you cover, I'm going to make sure you get a couple interceptions,'" Gary said. "So we're having fun."
Packers' first-round pick Rashan Gary requested No. 52, Clay Matthews' old number, and here's why: "Five minus 2 equals 3. I wore 3 in college. But Clay Matthews was a guy, I used to watch his game a lot. I'm a bigger type of guy, but watching what he used to do, his passion for the game, man I loved it. As soon as I saw it was open, I had to take it."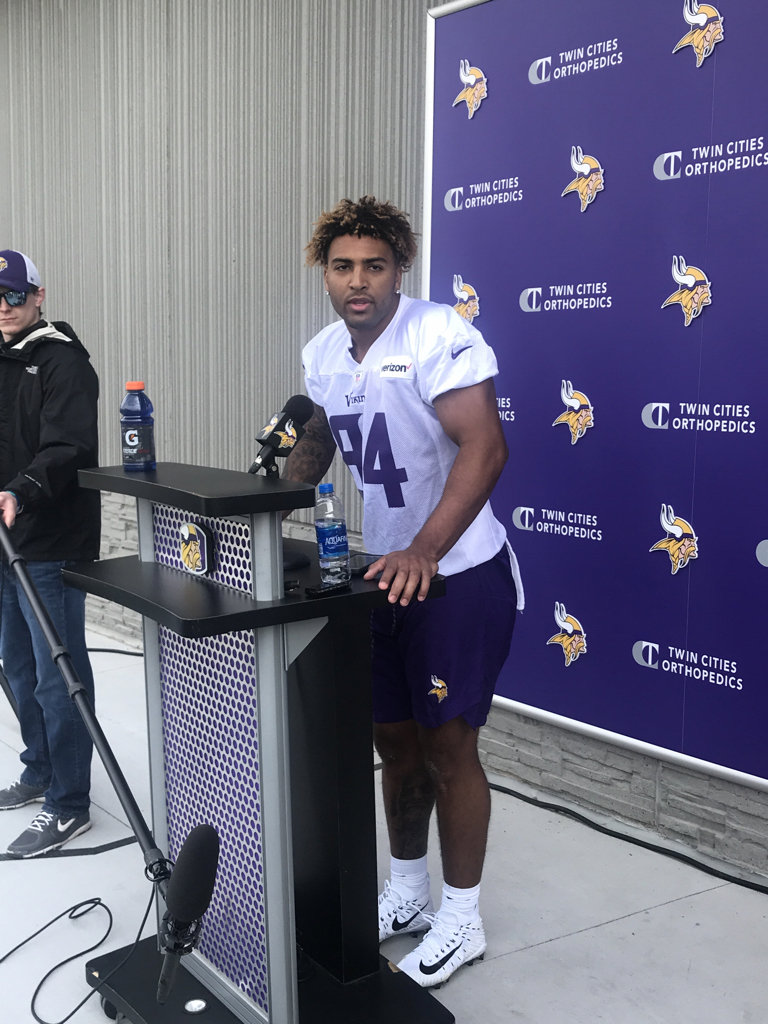 Irv Smith Jr. says he embraces the blocking element of his position and has improved upon it each year. "I don't want to be classified as a receiving tight end. I want to be classified as a complete tight end."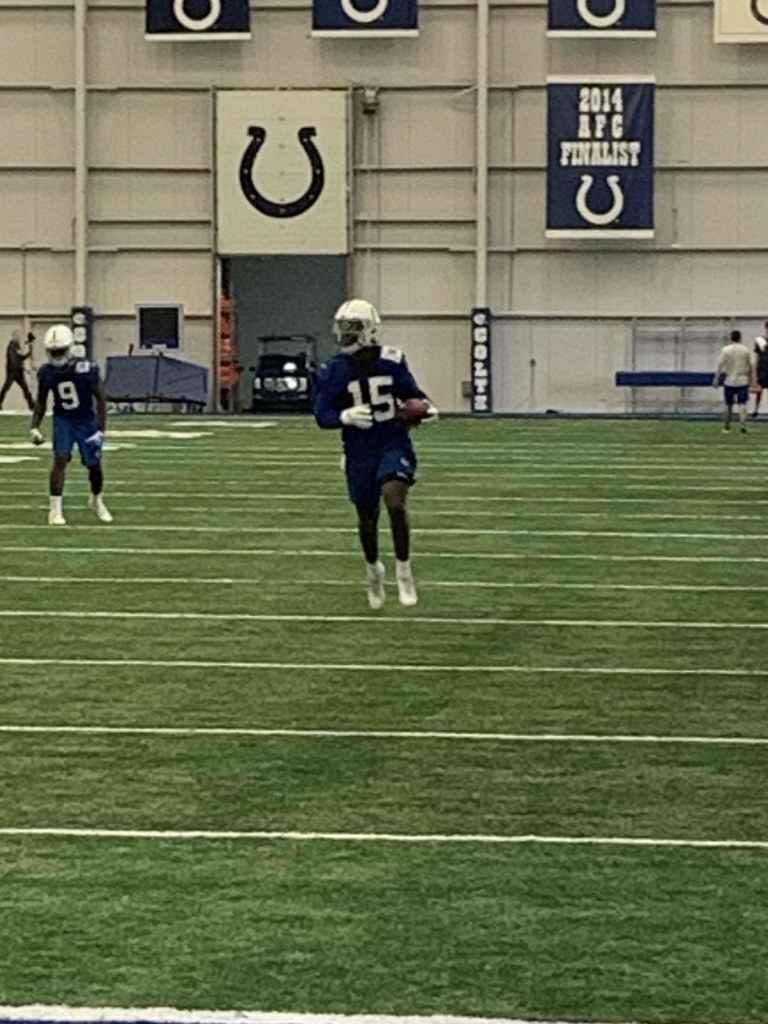 Colts receiver Parris Campbell's speed was clearly evident on the first day of rookie minicamp. What also was evident from the second-round pick out of Ohio State is that head coach Frank Reich and offensive coordinator Nick Sirianni will be able to use Campbell in the slot and on the outside. "It's exciting because I'm kind of out of that hybrid role that I was in at Ohio State," Campbell said. "So, just being able to show (my) skill set is a huge opportunity for me. I think the question coming out was can he run routes? Since I'd never done it, everyone just kind of put a no on it. But I'm not going to lie to you: That's something that I needed to work on because I didn't have experience. That was kind of my main focus throughout the whole (pre-draft) process." Being able to line Campbell, who had 90 receptions for 1,063 yards and 12 touchdowns during his senior season at Ohio State, up in multiple spots will be huge for the Colts considering they also have T.Y. Hilton, new addition Devin Funchess and the use of tight end Eric Ebron as a hybrid receiver.