The final WWE pay-per-view of 2018 lived up to the hype, as WWE TLC 2018 delivered on all fronts. While Raw and SmackDown were in very different positions heading into this event, both shows have a chance to end the year on a high note after a tremendous showing throughout.
SmackDown ruled the night, with a WWE championship match for the ages and a triple-threat TLC match for the SmackDown women's championship that will almost certainly stand one of the key milestones for women in the annals of WWE history.
Matt Wilansky and Sean Coyle recapped the action throughout the night, along with a rating for each match. This file was updated in real time.
---
(c) - indicates defending champion
Triple threat TLC match for the SmackDown women's championship: Asuka def. Becky Lynch (c) and Charlotte Flair
It was supposed to be about Becky Lynch and Charlotte Flair and Asuka. It was supposed to be about the women in a main event of a pay-per-view for only the third time. It was supposed to be about the first-ever women's Tables, Ladders and Chairs match.
But just like it was almost a year ago at the Royal Rumble, in the final moments of an awesome match and an incredible show, it was all about Ronda Rousey -- and an ill-timed visit from the Raw women's champion, who exacted her revenge for the past two months to bring an end to an otherwise absolutely brutal, relentless affair by pushing over the ladder and opening the door for Asuka to win the SmackDown women's championship.
Whatever you think about the ending, this was an insanely brutal bout -- one only a select few daredevils would ever even think to attempt. At one point, standing near the peak of the ladder, Becky leaped off, landing square on Charlotte, who was on the announcer's table. How her ribs were not broken is anyone's guess.
It's #WWEEvolution all over again!!!! #WWETLC #ThisIsAwesome #TLCMatch @BeckyLynchWWE @MsCharlotteWWE @WWEAsuka pic.twitter.com/K3GHf37mHG

- WWE (@WWE) December 17, 2018
As you can imagine, that moment elicited some excited chants from the crowd. From there, Flair and Asuka each took turns wailing each other (and Lynch) with Kendo sticks, before Flair obliterated Asuka with a massive spear through the barricade.
The chants became louder and louder as the match went on, as did the violence. Miraculously, Charlotte either wasn't affected from the assault she took or adrenaline completely took over; she and Becky simply beat each other back and forth with little regard for either themselves or their opponent. How anyone was standing at this point was beyond comprehension, especially after Charlotte's 360 splash, which nearly split Becky in half along with the table beneath her on the outside of the ring.
It wasn't long after that moment that Rousey emerged, ultimately quashing all the momentum and basically handing the title to the one person many didn't think had a shot to win it. Whatever you think of the ending, history was made. The women put on a performance that will be talked about for years to come. They put everything on the line. They stole the show. They wowed the crowd. They did everything right.
And then Rousey happened. It was a frustrating ending on the surface, but no question, this is just the beginning of what will be a fascinating inter-brand feud that could easily spill into WrestleMania 35 and a historic main event. In the meantime, Asuka will certainly benefit from the title win.
While the match was not featured as Sunday's main event, no program in the WWE has gotten more attention than Seth Rollins vs. Dean Ambrose over the past couple of months; the Intercontinental championship is a secondary element in this heated rivalry. The primary theme revolves around Rollins seeking revenge coming off Ambrose's betrayal in October, following their Raw tag title win on the same night that their Shield comrade Roman Reigns announced to the world that he was battling leukemia.
The rivalry is personal, emotional and figures to stretch well past tonight's event. Tonight's outcome should shed some light on its initial direction, as Ambrose ultimately became three-time IC champion with his win.
Rollins controlled the early sequences, until Ambrose gained an advantage on the outside of the ring -- smashing Rollins face-first onto the announcer's table. The match slowed down dramatically at that point, as Ambrose continued to wear Rollins down with submissions, clotheslines, elbows and eventually targeted his left leg; the sequence culminated with a Texas cloverleaf.
The Rollins comeback began when he hung Ambrose neck-first over the top rope. He followed that up with a sling blade and a blockbuster, and Rollins was right back in the fight. He proceeded to connect with two straight suicide dives to the outside of the ring. A slugfest by the two exhausted combatants ensued in the middle of the ring, until Ambrose nailed a maneuver reminiscent of Beth Phoenix's Glam Slam -- but one Rollins ripcord knee later, and the champion was once again right back in the match. The crowd, on the other hand, most certainly wasn't. "This is boring" chants began to ring through the arena.
Rollins attempted to revive the crowd with his superplex/falcon arrow combination. Ambrose tried to imply that he had had enough of battling, as he tried to fist bump in a halfhearted attempt at reconciliation. Rollins wasn't buying it and it led to Rollins power-bombing Ambrose into the barricade on the outside of the ring.
Back inside, and truly out of nowhere, Ambrose suddenly caught Rollins with his Dirty Deeds double-underhook DDT, and won the match and the title.
Despite the poor reception from the crowd, the match was most certainly not boring. It wasn't a spectacular effort, but it was a compelling battle. The rivalry will undoubtedly continue, as Rollins chases the Intercontinental championship -- hopefully under better circumstances than they had on Sunday night.
The success of Daniel Bryan's heel turn cannot be praised enough. From 2013 up until just about a month ago, Bryan thrived as one of the most popular performers in the history of professional wrestling. "Yes" chants became a part of pop culture and Bryan was as likable a character as there was in the WWE. He was able to put a sudden end to all of that in brilliant fashion.
After defeating AJ Styles last month by nefarious means to become WWE champion, Bryan unleashed some of the most well-executed promos of the year in the weeks that followed -- turning those "Yes" chants into unanimous boos.
Their rematch at TLC offered Styles a chance to right the ship and Bryan a chance to continue what has been a superb, albeit brief, WWE championship run thus far. They did all of that and more, and while Bryan walked out of the SAP Center with the title still in hand, everyone in attendance walked out a winner.
Bryan began the match by acquiring a psychological advantage, as he slid in and out of the ring to frustrate Styles. Eventually, the two got going and put together some crisp opening flurries. The first true highlight of the match came when Styles vaulted himself to the outside of the ring, only to be caught in the ribs by a Bryan boot.
With that, Bryan had his target, which he honed in on consistently throughout the match.
Styles found a bit of breathing room by way of a vicious clothesline, which turned Bryan inside out. He then unleashed a significant amount of vicious strikes and effectively displayed his fury. However, he wasn't the only one who had strikes in his arsenal; Bryan fought back with a nice knee strike/neck breaker combination from a unique angle.
Shortly after, Styles obtained a target of his own, when he caught Bryan with a dragon screw leg whip. After following that up with some time on the ring post, Styles then focused all of his attention to Bryan's left leg.
Back and forth they fought. Styles locked in a half crab, and then Bryan locked in a LaBell Lock; Bryan caught Styles with a roundhouse kick, and Styles responded with an enziguri.
The first true near fall came after Styles nailed a springboard 450 splash onto Bryan, though the latter was able to kick out just in the nick of time. Styles followed that up with a calf crusher, but Bryan was able to break the hold via the ring ropes. Styles then caught Bryan with a phenomenal forearm on the outside of the ring. As he looked to do the same inside the ring, Bryan ducked, the referee narrowly escaped being in the crossfire and Styles snuck in a small package. Just as he beat the Miz earlier this year, Bryan managed to reverse the move and earned the victory with a roll-up of his own.
In all, it was a wrestling clinic by two of the absolute best in the world, and this rivalry can go as long as it wants, as far as I (and many others, I'm sure) am concerned.
The women's evolution unquestionably took major steps forward in 2018, but as much momentum as the women have at this moment, there's a pretty obvious inequity on Monday Night Raw.
Of late, it has been Ronda Rousey, and then everyone else -- especially with Alexa Bliss out of action. No one is on the same level in terms of popularity as Rousey. But she still needs opponents, right?
Nia Jax has been a force since she made her Raw debut more than two years ago, but she has struggled to find a consistent identity, waffling between being a sympathetic role model and a mean-spirited, evil antagonist. In recent months, Jax has taken her heel character to the next level, and fortuitously she has gained even more heat from the fans after inadvertently breaking Becky Lynch's face before Survivor Series -- making her public enemy No. 1 after that injury kept the ever-popular SmackDown women's champ from competing in one of the biggest events of the year.
Jax wasn't to be taken lightly Sunday. She slowly and methodically beat down Rousey, first power-bombing the champ and then working on Rousey's left arm. From there, Jax took things to the outside, tossing Rousey like a rag doll into the barricade. While this match was hardly the most talked-about on the TLC card, it was packed with action and Jax lived up to all expectations. At one point, Jax landed a Samoan Drop, which narrowly missed giving her the win and the title.
Moments later, Rousey escaped a precarious position on the second rope and power-bombed Jax, but that still wasn't enough. Back and forth they went, and the cadence picked up in a big way, and just as Jax was flashing her fist, which she has aptly named the face-breaker, Rousey caught Jax in an arm bar, and that was it.
This was a terrific showdown, one that did as much for Jax and showing what she's capable of as it did for Rousey's tenure as champ. While there's likely no long-term fallout from this match, for now, it's exactly what the Raw women's division needed.
Chairs match: Rey Mysterio def. Randy Orton
Hidden within a card featuring a number of intriguing match-ups was this battle between two future WWE Hall-of-Famers. The rivalry hasn't attracted the buzz it deserves, as both Orton and Mysterio are all-time greats doing impressive work for where they are in their respective careers. They've created compelling television in the past, most notably in 2006 when they, along with Kurt Angle, were a part of the world heavyweight championship match at WrestleMania 22 -- a match Mysterio won.
Twelve years later, here they were at TLC, still on top of their game, battling it out in a chairs match.
The chairs were a factor from the get-go, as Mysterio pelted Orton with chair shot after chair shot just minutes into the match. One of the most innovative moments of the night occurred when Orton was lying on the outside of the ring. Mysterio got a running start inside of the ring, used a chair as a surf board of sorts and slid under the bottom rope and onto Orton.
A missed seated senton by Mysterio allowed Orton to gain control of the match, as he dropped Mysterio face first onto a chair, which he placed on the announcer's table.
Orton and Mysterio continued to trade chair-aided advantages back inside the ring. The closing sequence of the match saw Orton set up a row of four chairs in the middle of the ring as he looked to deliver an RKO to devastating effect. To his surprise, Mysterio countered and used one of those chairs to assist him with a roll up out of nowhere to pick up a sudden victory.
It's no surprise that two of the best performers in the history of the WWE put on the match of the night so far. The suddenness of the conclusion would seem to indicate that there's more to come.
LOOK WHO'S HERE, @DMcIntyreWWE!!! #WWETLC @HEELZiggler @FinnBalor pic.twitter.com/jE9T7bnUhw

- WWE (@WWE) December 17, 2018
In every sport (and most related endeavors), we talk next-big thing. And while Drew McIntyre is hardly a rookie in the wrestling business, he has been earmarked as not only a future champ, but the face who will be the premier star.
He's as close to a five-tool player as anyone his size, but that doesn't mean he wasn't going to have his hiccups along the way.
Though he ultimately lost on Sunday, it took two men to defeat McIntyre at TLC. He dominated Finn Balor, both physically and mentally, for much of their match. But his momentum came to a sudden halt when Dolph Ziggler, McIntyre's partner in crime for most of his time since returning to the WWE, made a not-so-surprise appearance and super-kicked the stuffing out of McIntyre.
Although McIntyre was able to regain his equilibrium and take out Ziggler, the damage had been done. Balor connected a low running dropkick that sent a chair into McIntyre's face and then finished it all off with a Coup de Grace for the win. But make no mistake, while the creative team decided not to bury Balor -- and, for that matter, give him some momentum -- this was a dominant showing by McIntyre.
It's plausible McIntyre will be a secondary player for the next few weeks leading up to the Royal Rumble. But you have to imagine he is going to have a major role in the near future. He's a likely favorite to win the Rumble and could find himself facing Strowman or Lesnar come WrestleMania.
Anything less will be a disappointment for McIntyre. Not bad for a guy who, before Sunday, made had his last one-on-one PPV appearance six years at the Royal Rumble, losing in 65 seconds to Brodus Clay.
The personal nature of this rivalry has revolved around Ruby Riott's taunting of Natalya, by using her recently deceased father, Jim 'The Anvil' Neidhart, as the Riott Squad's subject matter. While tasteless on the surface, it has elevated Riott's heel persona a bit, and one would have to imagine that Natalya signed off on the approach.
Subject matter aside, Riott and Natalya are two of the best workers in the Raw women's division, and Sunday night's tables match was an opportunity for both of them to begin their climb toward the championship conversation.
Ruby Riott and the Riott Squad made their entrance carrying the table they revealed this past week on Raw, which had an image of The Anvil on it. It was Natalya who first utilized a table, though. As Natalya charged toward Riott, who was on the ring apron, Liv Morgan jumped up and attempted to make the save. Natalya collided with Morgan and sent her flying from the ring apron through a table on the outside of the ring.
Shortly after, Sarah Logan attempted to get involved, but she too felt the effects of a table when Natalya body slammed her through another wooden table.
Riott then brought the table with the image of The Anvil on it into the ring, as she realized this was now a true one-on-one match. After some attempts by both women to put the other through the table, Natalya had a surprise of her own. She pulled a table out from under the ring with an image of Riott on it and proudly put on a jacket once worn by her father. A few back-and-forths later, Natalya delivered a power bomb from the second rope, driving Riott through that table to win the match.
The match was nothing to write home about, but it provided a satisfying end to this rivalry.
(If Corbin won he would have become permanent Raw GM; if Strowman won, he got a Universal title shot at Royal Rumble)
Surprise, surprise, eh? It appears Baron Corbin made a few enemies in his time as general manager-elect on Monday Night Raw.
There was never a question as to whether or not Braun Strowman would show up for a match with Corbin that carried huge ramifications in both directions, but wow, who would have thought Strowman -- a one-man wrecking machine for most of his tenure at WWE -- would have brought so many allies to the ring.
Sure, part of it had do with Strowman's real-life shoulder injury, but with Apollo Crews, Chad Gable, Bobby Roode, Finn Balor, (the match's referee) Heath Slater and, yes, even long-absent Raw GM Kurt Angle, all coming out to help Strowman in a no-disqualification match, the Monster Among Men had no work to do in pinning Corbin.
First, Gable landed a moonsault, Crews a frog splash, Balor a Coup de Grace and Angle, who would make his way from the backstage area, converted an Angle Slam as Strowman looked on.
From there, Slater, put his referee short back on as Strowman walked into the ring and put one foot on Corbin and counted to three.
It was a wild sequence of events and a smart way to handle Strowman's injury. But the bigger picture is that Strowman, with the win, gets a Universal title shot at Brock Lesnar at the Royal Rumble, and you have to imagine Strowman is ready to carry the torch for Raw -- and what better place than at such a high-profile event.
As for Corbin, he has made significant strides in his recent storyline as GM, and has drawn a lot of heat. He might not have any authority after Sunday night, but he has proved he can, and will, be a big player moving forward. As far as the future of Raw, we'll have to wait until Vince McMahon's appearance Monday night to see what the show's next step is going to be.
Are there three better tag teams in the WWE than the ones taking part in Sunday night's championship match? I'll answer that. No. The Bar, New Day and Usos are the top teams in the company and any time they collide in the ring, it's must-see TV. They looked to add another compelling layer Sunday.
As expected, the match offered its share of nicely designed sequences with a high level of athleticism complete with believable near falls. An early moment saw Cesaro catch Jey Uso with a European uppercut when Uso attempted to leap over the top rope. Immediately thereafter, Sheamus caught Xavier Woods with an Irish curse backbreaker as he bounced off the ropes looking to do the same thing. This allowed the champs to control the early portion of the match.
Later on, as Cesaro held Kofi Kingston up for a suplex, Jimmy Uso delivered a cross body block from the top rope as they all crashed to the canvas. The Usos followed that innovative maneuver with a barrage of super kicks to their opponents. As the match closed in on its finish, Woods appeared poised to springboard into the ring towards Sheamus. However, Cesaro provided a momentary distraction from the outside of the ring. The delay provided Sheamus enough time to hit Woods with a Brogue kick as the Bar retained their titles.
While this wasn't a classic tag team encounter, it was highly entertaining and proved that the SmackDown Live tag team division is in great hands.
It speaks to the quick, if not surprising, ascent of the pairing of R-Truth and Carmella that they were the first two entrants into the final pay-per-view of the year. They might not dominate the WWE when it comes to winning titles (even though Carmella was a recent SmackDown women's champ), but they might lead the business in terms of fun factor.
It took Truth and Carmella only about two minutes into their match, the final of the Mixed-Match Challenge, against Alicia Fox and Jinder Mahal before a brief stoppage for -- you guessed it -- a dance break. Oddly enough, the Singh brothers joined in as well, before they were tossed out of the ring.
Beyond the entertainment, Truth and Carmella worked well together, dominating their foes for a majority of the match. Ultimately, Carmella locked in the Code of Silence submission on Fox to win the battle, with each earning the coveted 30th spot in next month's Royal Rumble.
Does that give them an advantage? For sure. Will either win? Highly doubtful. But will we have fun watching them for a few minutes at the Rumble? No question.
WWE TLC Kickoff Show
Elias def. Bobby Lashley in a ladder match (guitar hung over the ring)
Elias ultimately got the victory in what was a brief, if occasionally entertaining match, but any positivity he built up was immediately nullified as Bobby Lashley and Lio Rush got the upper hand post-match.
---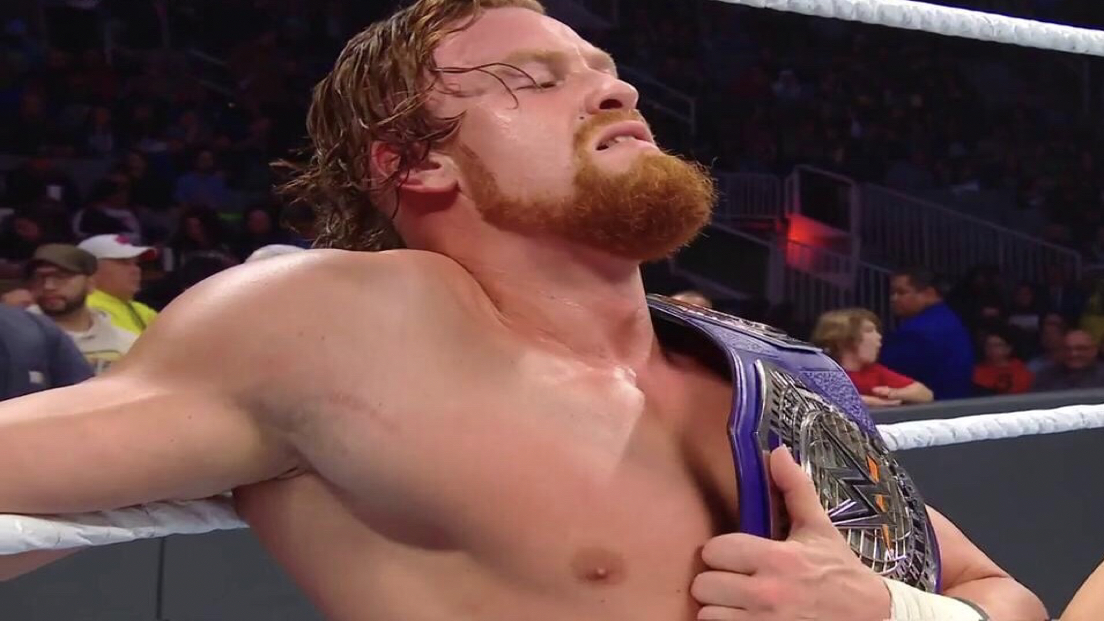 Any time the cruiserweights of 205 Live have a chance to step up and shock some people, they typically take advantage. Buddy Murphy retained his cruiserweight title against Cedric Alexander as part of the WWE TLC kickoff show, and between all of the stiff strikes and high-impact offense, it was a match not to be missed.